Last updated: 28-Jan-2020
Overview
Amex Express Checkout is a fast and secure payment method allowing US cardholders to quickly finalize the checkout process without being required to provide any sensitive payment information. Shoppers authenticate using their American Express account while card details and other relevant billing information get automatically filled within the checkout page.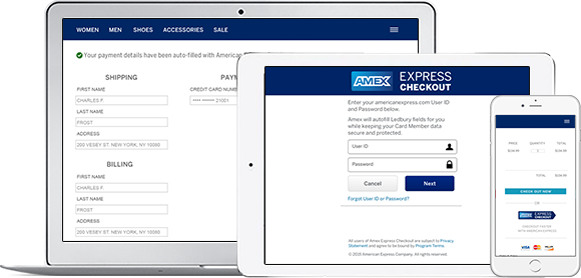 Availability
Contact 2Checkout for activation.
Requirements
Amex Express Checkout activation requires you to have registered US shopper transactions within the past 2 months.
Supported currencies
All Amex Express Checkout transactions are processed in USD.
Benefits
Amex Express Checkout enhances the checkout experience through multiple optimizations:
Faster checkout process. Shoppers can finalize the order with just a few clicks.
Increased conversions. Eliminating the friction caused by manual data entry in the online, mobile or in-app checkout form leads to a quicker checkout process and reduced shopper efforts.
Enhanced security. Amex fraud-detection and authentication mechanisms are seamlessly integrated with Amex Express Checkout, ensuring safe, fast and easy payments.
Activation steps
Contact us and request Amex Express Checkout activation. Your request will undergo an evaluation.
Amex Express Checkout is available without any customizations on the hosted shopping cart. If you're using a customized shopping cart, we will evaluate whether additional work is needed to accommodate the Amex Express Checkout activation.
For Amex Express Checkout to appear in the shopping cart, make sure the buy-links include the URL parameter DESIGN_TYPE=2 (Express payments checkout flow). See more information about the Express payments checkout flow here.
Important: Amex Express Checkout shows automatically in the shopping cart only for shoppers with IP address based in the United States.
Purchase flow
Shoppers click the Amex Express Checkout on the checkout page.
American Express triggers an overlay where shoppers can authenticate.
Shoppers select their card and go through any required secondary validation steps.
2Checkout receives the payment information (card and other billing details).
Shoppers review their billing information and place the order.

They can edit the billing information after being directed back to the checkout page.

Webhooks and Control Panel impact
2Checkout sends the same IPN for Amex Express Checkout orders like the one used for classic Amex orders.
Transactions placed through Amex Express Checkout are shown as classic American Express transactions in the Control Panel, keeping all other functionalities in place, such as:
Recurring billing
2Checkout myAccount card updating
Amex Account Refresher
Lead management for unfinished payments
Decline reasons
Chargebacks
F.A.Q.
Is the classic American Express flow still available?
Are there any additional fees for using Amex Express Checkout?
There are no fees associated with using Amex Express Checkout aside from the commission 2Checkout charges for American Express.
Is Amex Express Checkout a secure payment method?
The high-security measures employed by Amex keep your card number and personal information secure during the checkout process while leveraging multi-factor authentication to reduce the risk of fraudulent transactions. Transactions are managed via a special token that Amex sends us, thus your card number is never shared with 2Checkout.