Last updated: 30-Apr-2018
Introduction
Automated Clearing House (ACH) is a form of electronic funds transfers similar to Direct Debit in Europe. 2Checkout supports online payments from shoppers and business customers in the United States who prefer to pay directly from their bank accounts.
2Checkout can collect funds directly from your customers' bank accounts for both in-cart payments, such as first time purchases or upgrades, and for recurring charges, such as subscription renewals.
Market overview
48% of US shoppers use credit cards for online shopping, 30% use debit cards and 12% pay via PayPal. Consumers and businesses also use ACH payments or checks, for bills, payroll and other large transactions.
Consumers and businesses spend more when they use credit cards over any other payment method.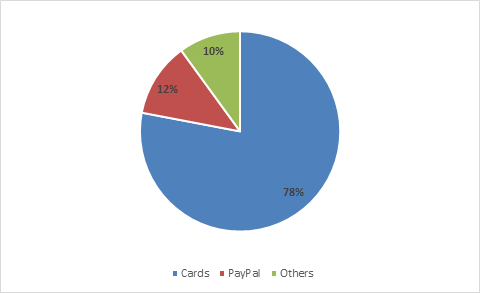 Source: 2Checkout data
Flow diagram
ACH workflow
Shoppers fill in their billing details and select ACH as their payment method.

They fill in their bank details and select the type of account to use for fund transfer.

Shoppers place the order.

2Checkout redirects them to the Thank You page.
2Checkout marks the transaction as pending.

2Checkout receives the payment confirmation (or decline) message from the bank.

The transaction switches to one of two statuses:

Complete

– when 2Checkout receives the payment confirmation message from the bank.

Pending– when 2Checkout receives error messages from the bank. ACH transactions can fail from various reasons: incorrect account numbers, insufficient funds, incorrect bank account settings etc.
Fulfillment/Delivery
Not being an instant payment method, ACH payment processing may take up to 5 business days. Order delivery takes place after payment confirmation. Shoppers can see the payment on their bank statement soon after being charged. They can see if payment succeeded before the bank notifies 2Checkout.
Notifications
Following the payment, shoppers receive a series of 2Checkout emails.
Order confirmation

. Email informing the shoppers that the payment is about to be processed (may take up to 5 business days)

.

Payment receipt. 

Email confirming the payment has been received.

Electronic delivery

. Email containing product activation keys (if applicable).

Abandoned cart

. Email informing shoppers about recovering unfinished transactions using other payment methods such as Visa/MasterCard or PayPal.

Unfinished payment follow-up

. Email informing shoppers that the transaction has been refused (e.g insufficient funds). As an alternative, shoppers are given the option to pay through wire transfer. This email requires an active Lead management campaign.
Descriptors
Descriptors are strings of 10 characters used by 2Checkout to reflect the merchant name set in the Control Panel. If you haven't set a descriptor in the Control Panel, bank statements will show the short URL. Statements include the descriptor along with the order status:
PENDING orders display the AVANGATE INC descriptor.
COMPLETE orders display the AVANGATE INC [Merchant_Name] descriptor. [Merchant_Name] is limited to 10 characters.
Chargebacks
The largest benefit of providing ACH support is lowering the risk of dealing with fraudulent consumers, consequently lowering chargeback rates.
According to ACH regulations, shoppers are allowed to dispute ACH charges in three specific scenarios:
The account holder never authorized the transaction.

The charge was processed earlier than the account holder had authorized it.

The account holder authorized the transaction for a different amount.
Limitations
ACH transactions are only supported by US bank accounts and can only be made using USD.
Shoppers can see the ACH charge on their account statements a couple of days after the charge is made.
FAQ
Does ACH support recurring billing?

ACH supports recurring billing for automatic subscription renewals.

Does ACH support refunds?

Yes. You can request a refund from the 2Checkout Control Panel. Shoppers can also contact 2Checkout directly to request a refund.