Last updated: 01-Apr-2020
Availability 
BigCommerce integration is available only for 2Checkout accounts that handle their own tax and invoice management (2Sell and 2Subscribe accounts). 
BigCommerce settings:
To integrate 2Checkout into your BigCommerce store you need to follow the steps below:
Create a BigCommerce account.
Once your store was created, navigate to Store set-up > Payments and select the 2Checkout set-up by clicking the Set up button.
Fill in the form:
Choose a display name.
Fill in the Seller ID. (the Seller ID is the Merchant Code assigned to your 2Checkout account. To see your Merchant code, log in to your 2Checkout Merchant Control Panel and go to Integrations > Webhooks and APIs > API > Merchant code.)
Fill in the INS Secret Word. (The INS Secret Word displayed in your 2Checkout Merchant Control Panel, under Integrations > Webhooks and APIs > Secret Word > Instant Notification Service (INS) secret word.)  Your INS secret word should be the same as the buy-link secret word (can be found under Dashboard → Integrations → Webhooks & API, scroll down to the Secret Word area, under the INS Secret Word). Edit your INS secret word and buy-link secret word to match each other, then copy and paste them into your BigCommerce admin.
Choose if your account is in test mode or not. If your site is ready to go live and you can start selling right away, select 'No'. If you are still testing your site and your store, then select 'Yes'.
4. Click Save to save your settings.
2Checkout settings:
Follow the below instructions in your 2Checkout Control Panel to finalize the BigCommerce integration process.
Create a 2Checkout account.
Log in to your 2Checkout Merchant Control Panel.
In the Redirect URL section, check 'Enable return after sale'.
For the Redirect URL section, set the Approved URL to your BigCommerce URL (you can find it in your Bigcommerce Admin > Store Setup > Payments > 2Checkout. Also, the integration steps shown on the right of the BigCommerce Payment methods page will display the value you should use, as shown in the image below.)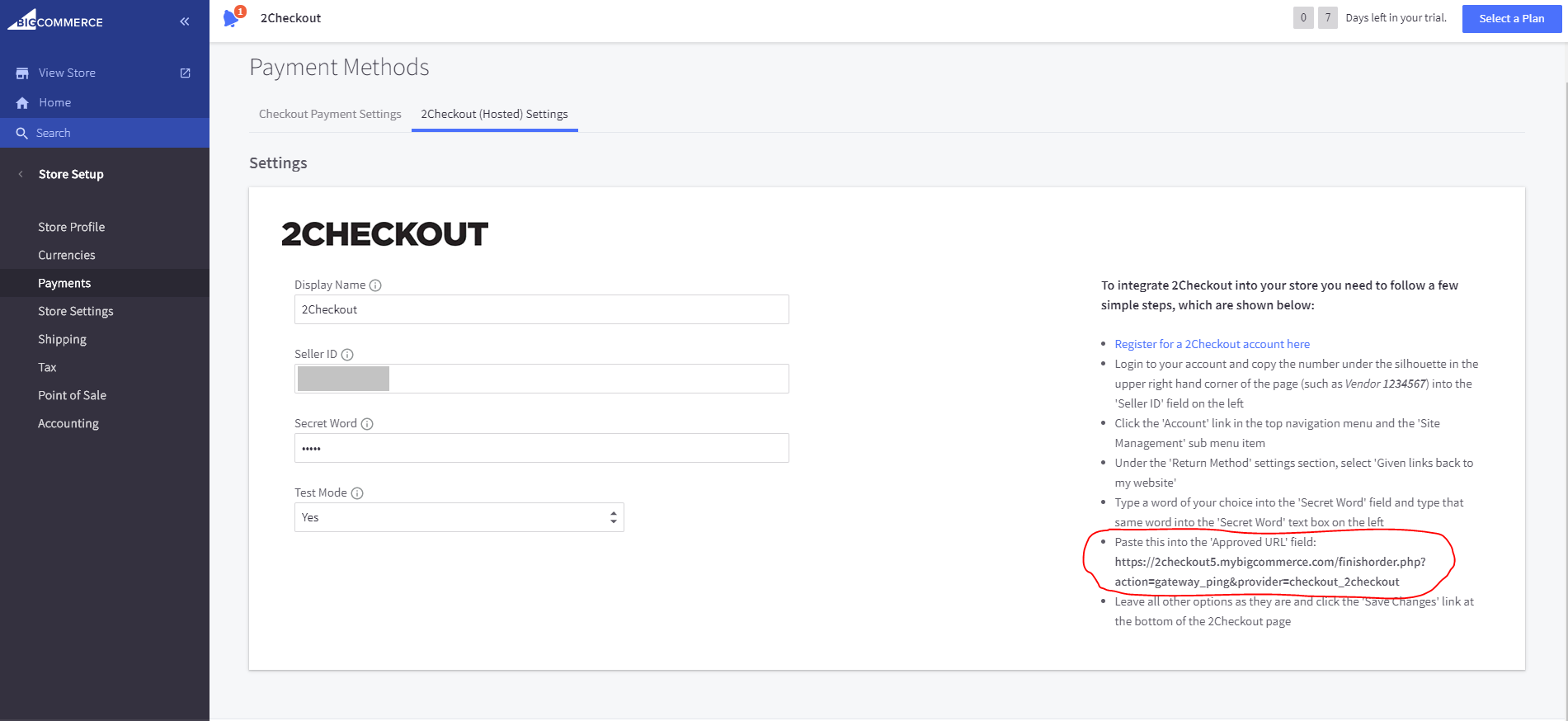 5. For Return method, select Link in 'Thank you' page.
6. Click Update to save your settings.
1. To avoid potential delays with account activation, ensure that you have created your store in BigCommerce, and that your store is visible so that the required reviews can take place. Please refer BigCommerce site here for instructions detailing their system's operation.

2. If any changes are made to your domain (to a custom BigCommerce domain/other) please e-mail us the new URL at supportplus@2checkout.com in order to update your 2Checkout account. Having different URL's on your accounts will cause a communication mismatch resulting in orders being registered only on one of them while on the other orders will appear as an abandoned cart.
About BigCommerce 
BigCommerce is an all-in-one e-commerce platform, currently one of the biggest on the market. Founded in 2009, BigCommerce currently helps merchants sell in over 120 countries and generates over $17B in sales. Packed with every feature you need to build, run, and scale an online store, BigCommerce Essentials is your one-stop-shop selling companion, so you can focus your time and resources on what matters most. Find out more details about BigCommerce here.