Last updated: 07-Mar-2023
Introduction
Verifone's Cloud Service is a suite of products and services that create an ultimate safety net to run and grow business while making the complex world of payments simple and seamless.
Verifone POS Cloud Integration is a powerful solution to integrate Verifone terminal(s) with Merchant applications developed using the centralized POS cloud Integration management system capabilities. It transforms the customer's journey into a simple walk-through by adopting a solution that bests suits them.
With the power of Verifone POS Cloud Integration solution, retailers can customize the point of sale with innovative features that build customer loyalty, generate new revenue, and drive brand preference all while managing their estate.
This is the primary source of information for the Verifone POS Cloud Integration solution useful for technical and the Verifone POS Cloud Integration Solution deployment teams.
Verifone POS Cloud Integration is a complete solution catering to a wide range of business needs. It facilitates the management of a multifaceted estate with globally distributed devices. It also enables the integration of those devices with the POS cloud-based transaction service.
It is a significant centralized cloud-based POS solution for merchants to manage their estate successfully with the customized transaction software for Verifone devices. It has the capabilities to integrate merchants under an organization, devices under each organization, and transaction service capabilities accommodating small merchants and resellers. It is a one-stop solution that can integrate the customized transaction application with any Verifone terminal(s) on the POS cloud.
It is also referred to as Software-as-a-Service (SaaS), a web-hosted Point of Sale solution that manages the data on a remote server, and lets you harness the power of the cloud to gain flexibility, enhance scalability, and reduce the cost.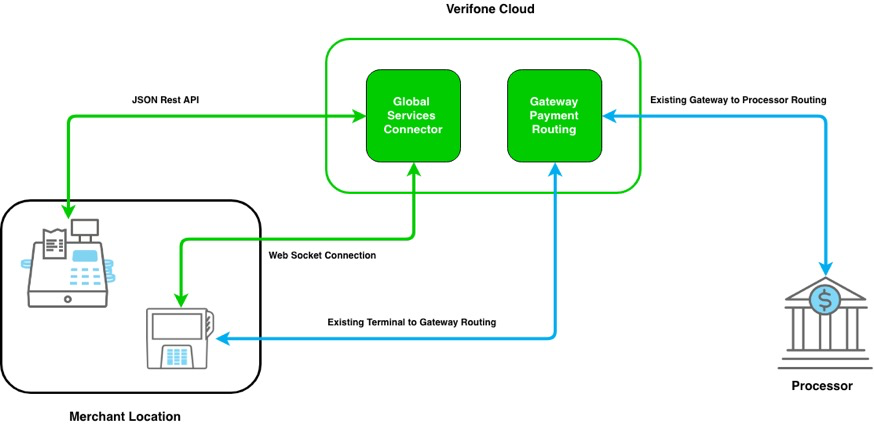 Features and Benefits
One solution across different transaction requirements - it becomes very easy to accommodate payment application capabilities suitable for different transaction requirements, product pricing, and strategies while making it easy to extend the capabilities to accommodate new Verifone POS solutions. 
Plug and Play capabilities – it becomes easier and faster to develop the customer-specific food ordering web interface application using the Verifone POS Cloud transaction capabilities.
Streamlining the operations for new opportunities – it becomes easy to customers to order from anywhere and anytime. It also opens up the opportunity to reach more customers and make the brand more accessible maximizing revenues by adding additional ordering avenues.
Reporting & Analytics- High-quality decisions require access to high-quality data. Merchants require not only fast and reliable payment processing but also the ability to monitor and analyze their transactions whenever they need. Verifone's transaction reporting solutions give merchants the flexibility to generate a wide variety of reports and analytical intelligence to improve their decision-making and business performance.
Supported Countries - Currently, Verifone POS Cloud Integration Solution is available only in the United States, EMEA, and Australia.