Last updated: 24-Nov-2020
Overview
The United States Government has enacted a law (Internal Revenue Code Section 6050W) which requires payment processors to send an IRS the 1099-K form annually, to all US sellers starting with 2011.
The 1099-K form, Payment Card and Third Party Network Transactions is an IRS information return used to report certain payment transactions to improve voluntary tax compliance.
Read the instructions below on how to update your 2Checkout account to meet these requirements. 
Recommended resources
Offload back-office financial operations and let 2Checkout deal with reconciliation, refunds, chargebacks, tax/VAT handling, invoicing, while you focus on growing your business. Find out how you can stay up-to-date with worldwide financial and legal requirements.
Availability
Form 1099-K applies to all US sellers.
2Checkout requirements
2Checkout will ask affected Sellers/Merchants to confirm and/or update their 2Checkout account by providing a tax ID number and the appropriate corresponding contact information.
Your tax ID number is one of these:
• Your Social Security Number (SSN)
• Your Employer Identification Number (EIN)
• Your Individual Tax Identification Number (ITIN)
Please use the guidelines below to determine which tax ID number to provide.
Business Entities with an EIN
Provide your company EIN and company name.
Sole Proprietors with an EIN
Provide your company EIN and your own name.
Individual Sellers and Sole Proprietors without an EIN
Provide your SSN or ITIN and your own name.
2Checkout will also need affected Sellers/Merchants to confirm that their account name matches the tax ID number provided and to confirm their physical address so that if Form 1099-K is issued, we can report your information accurately to the IRS.
Updating the 2Checkout account
Follow these steps to update your 2Checkout account in order to meet the fiscal compliance requirements.
1. Log in to your Merchant Control Panel account.
2. Click the Settings tab.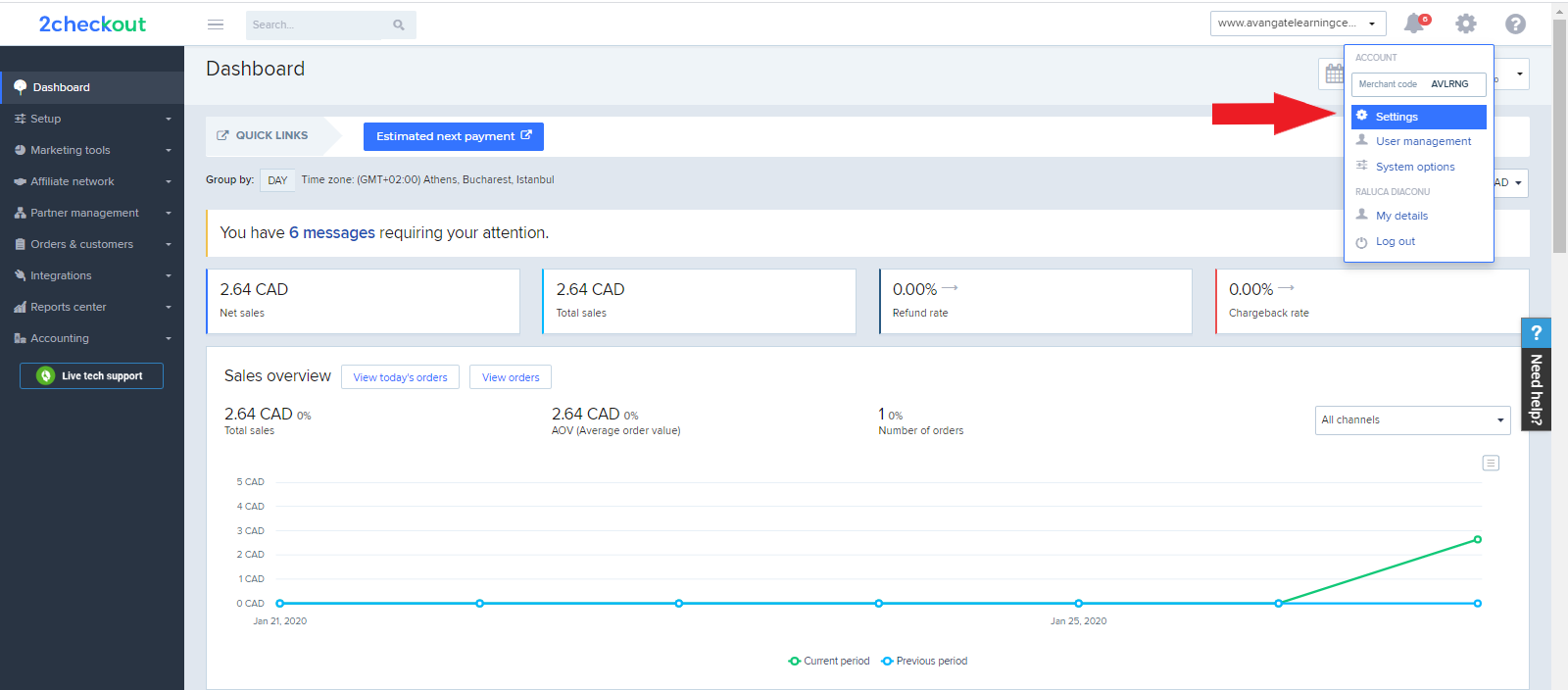 3. In the Account Settings page, click on the Edit Details tab, under Account Information.
4. On the Account Information page, edit the necessary details, and confirm your account information is correct.
5. Click Update at the bottom of the page to save your new settings.
6. Confirm that the Company Name listed is correct. If your company is incorporated, make sure that the company name listed on your 2Checkout Account is exactly as it is listed on your incorporation documents. If your Company name is incorrect on this page, send an email to supportplus@2checkout.com for assistance in updating this field.
7. Confirm that the Business Office E-mail, Mailing Address, and Physical Address listed on the account are correct. Update if necessary. If the physical address listed on this page is incorrect, send an email to supportplus@2checkout.com for assistance in updating this field.
FAQs
1. How do I receive my 1099-K form?
The platform will automatically generate the PDF for the 1099-K form for all merchants. You will receive an email notification that the file was generated and you will be able to download the file from your Merchant Control Panel, under Account information → Edit account information.
Every year 2Checkout will generate a file for the IRS that will contain all your payments from the previous year.
2. What if I don't provide my Tax ID number?
If 2Checkout is unable to verify your information because it is incorrect or incomplete, your account will be put in a Restricted status, so you will not be able to receive payouts. The restriction will end once you provide your tax ID number and corresponding contact information, and your information is verified by the IRS matching system.
If you need additional information about this law you can read more details on the IRS website.