Activate and set up your 2Checkout account
Last updated: 15-Nov-2022
Overview
After you create your account with 2Checkout, you need to request the activation of your live account by completing a form and providing information that will help us verify the business and identity of the individuals involved in your business.
Your activation request will be analyzed manually by 2Checkout's Underwriting team and it is a mandatory step before you can start selling. Do make sure you check your email for any requests you may get from 2Checkout that are needed to finish the activation process.
Activate your 2Checkout account
1. Activate your 2Checkout account by clicking on the Start activation button, as shown below. 
2. Upon clicking on the Start activation button you'll be prompted with an application form that you need to fill out to provide information about your business.
All application fields are mandatory. It will take you about 5–10 minutes to complete the form. In case you don't have all the information at hand, you can always save the application and continue at a later stage.
Make sure that you have the following documents ready to upload during the application process:
A company registration document (chamber of commerce extract or articles of incorporation)
A valid passport or official identity card (not a driver's license) of the person signing the contract and of shareholders who, directly or indirectly, have 10% or more of the shares or voting rights. (Note that the MRZ code needs to be clearly visible.)
3. If you haven't started the account activation, you will see an orange button that displays the text "Demo mode" at the top of your Merchant Control Panel and asks you to "Add information about your business to activate your account and start selling".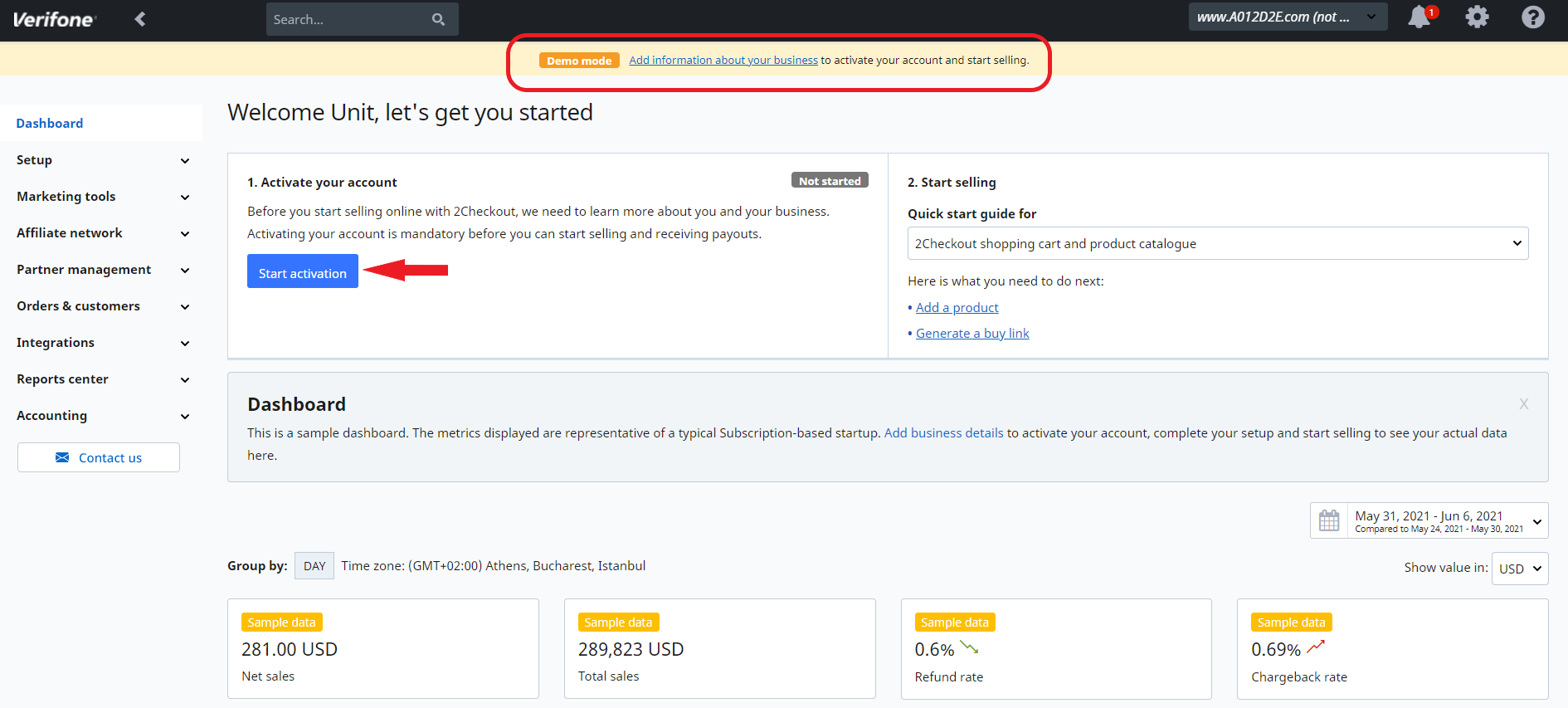 4. If you are on the PSP business model (2Sell or 2Subscribe accounts), the Start selling steps in the drop-down will look like this:

Complete the application form
After hitting the Start activation button as described above, you'll need to fill out the activation form in order to be able to sell with us. 
Before you start filling out the form, you'll be prompted with a page that:
informs you about your pricing plan
states the purpose of the form
explains the activation process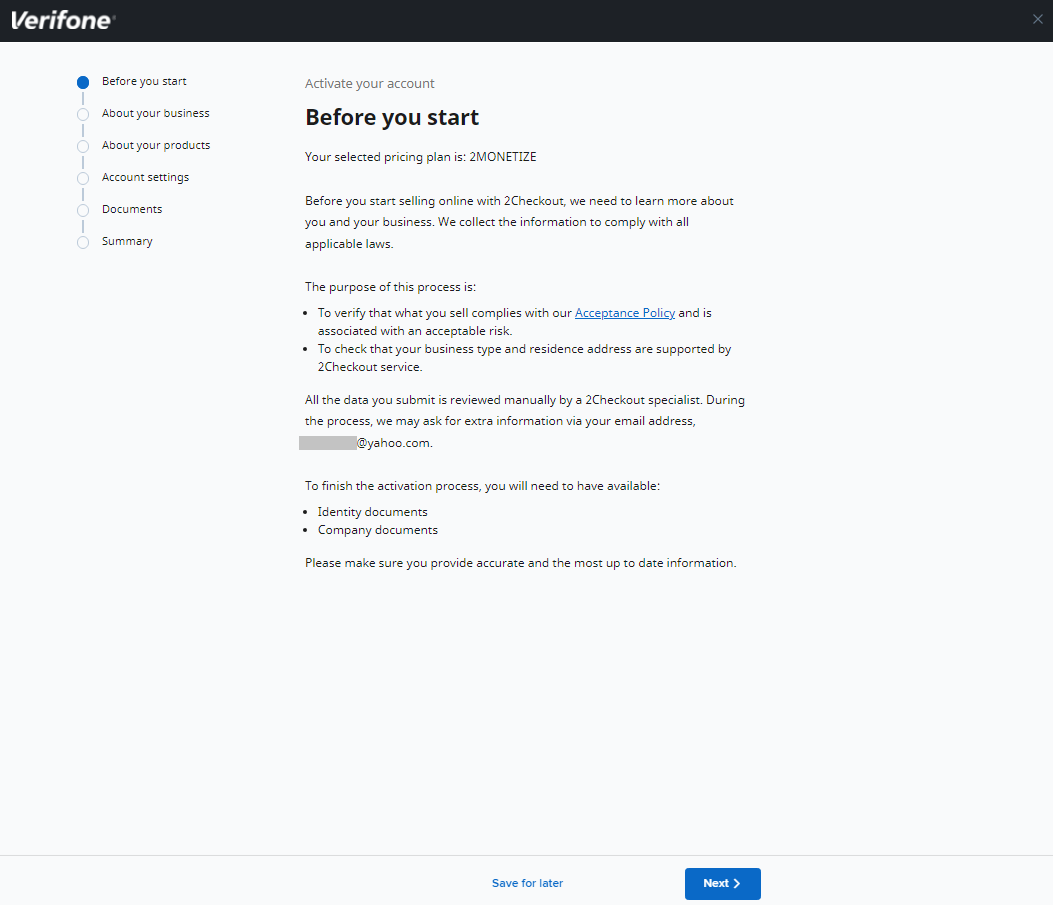 Once you click Next, you can see all the required info and also how to fill out the form.
About your business
Tell us the basics of your business.
Let us know what is the Trade name of your business. This can be your business registered name or your full name as seen in your National ID if your business is not registered yet. The name of your business will be displayed to your customers during checkout.
Select the Business type for your company from the drop-down list:


Individual or Sole proprietorship – your business is unincorporated and you are the only person responsible and liable for all your company's profit and debts
Partnership – your company's profit and debts are owned and/or shared by two or more individuals
Private corporation – your company's shares are not publicly traded and are held by a small number of stockholders (shareholders)
Public corporation – your company's shares are publicly traded and are held by a large number of stockholders (shareholders)
Limited Liability Corporation (LLC)
Non-profit – your company serves the public interest and runs charitable activities or is raising funds from the public
Other

If you select the business type as Individual, you need to add your personal details (date of birth, ID number as printed on your national identification documents, such as ID-card, passport or residents permit, and your phone number), and your fiscal address details (country, city, address, ZIP/postal code). In the unlikely event that we need to contact you, a phone number is our preferred alternative to email. Verifone will not spam you.
If you select any of the other business types, you need to provide the company registration date (date when your business was established) and the Registered business address (country, city, address, ZIP/postal code). The company address cannot be from a Virtual Box or a P.O. Box.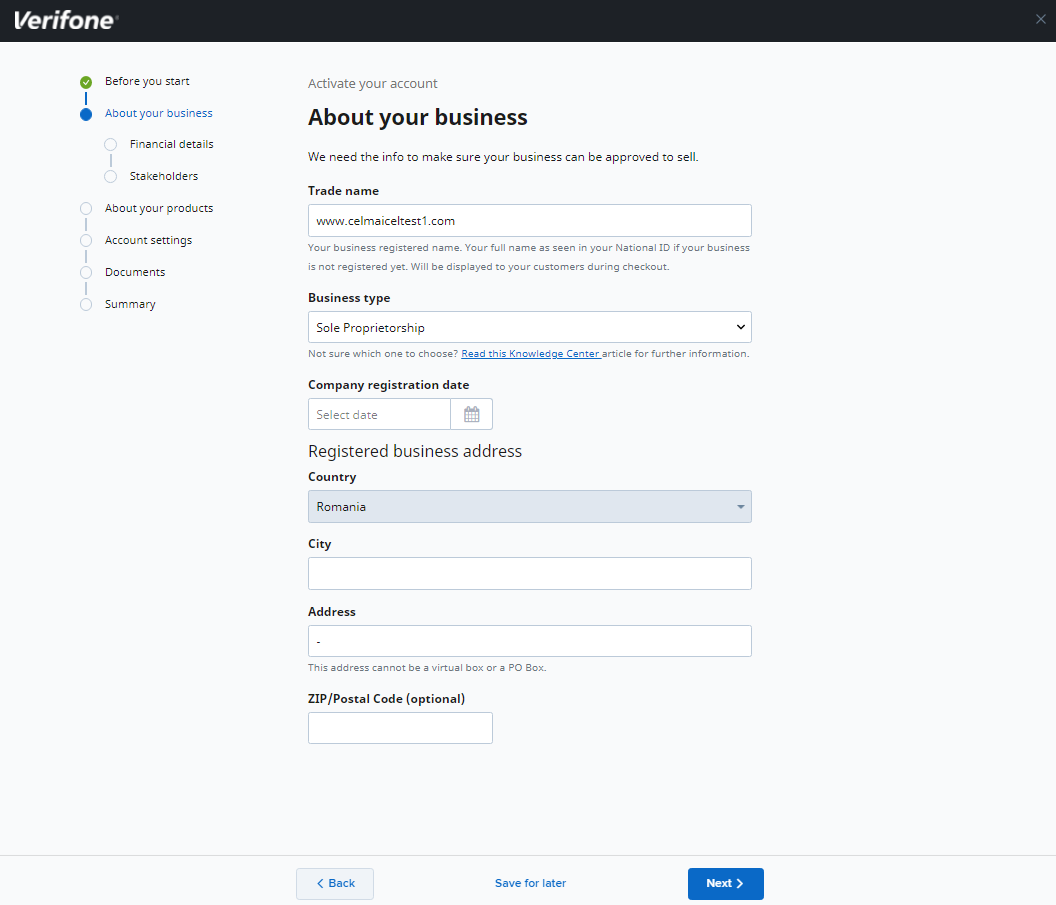 5. Click Next to continue with the Financial details of your business. Verifone needs this information to assess your company financially from a risk standpoint. You need to provide the following details:
Company Registration ID
Tax registration number – Same with company registration ID in some cases. Depending on your country, the tax registration can have different names (Tax ID in USA, VAT in EU, GST in India, etc.). The Tax or Value Added Tax number (VAT) is issued by the Tax Office at the moment of registration of the business. You can provide your Tax or Employer Identification Number, or, in case you use your Social Security Number for business tax purposes, you can provide that instead.
Annual online transacted volumes (in US dollars) – for start-ups with no processing history, we recommend entering $10,000 - $30,000 or less, unless you have some special circumstances around your launch. Otherwise, use your current processing statements as a guide.
Average order value (in US dollars)
Chargeback rate for the past 12 months and an estimation for the next 12 months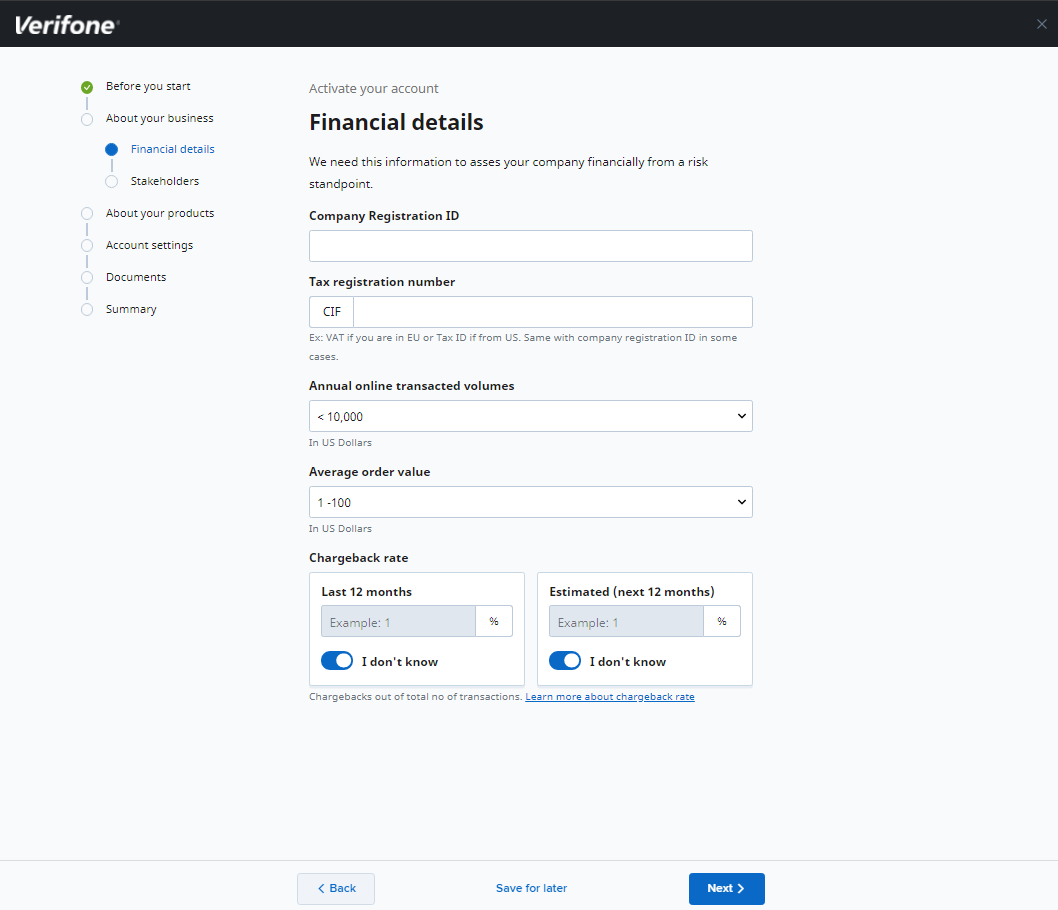 6. Click Next to provide details about the Stakeholders. To be compliant with financial regulations and anti-money-laundering laws, 2Checkout is required to know the identity of the individuals who substantially control or own your company.  
Click Add stakeholder to provide details either about yourself and/or about any beneficiary having 10% or more voting rights, shares, or other direct or indirect control in your company.
First name
Last name
Stakeholder type – Owner/Legal representative or both
Role – The position/role the stakeholder has within your company.
Ownership share – Share percentage that the stakeholder has in the company.
Email
Phone
Country
City
Address
ZIP/Postal code
Date of birth
National identification number – This is your national identification number and depending on your country it can have different names. This will be used for identity verification and soft credit check that will not affect your credit score.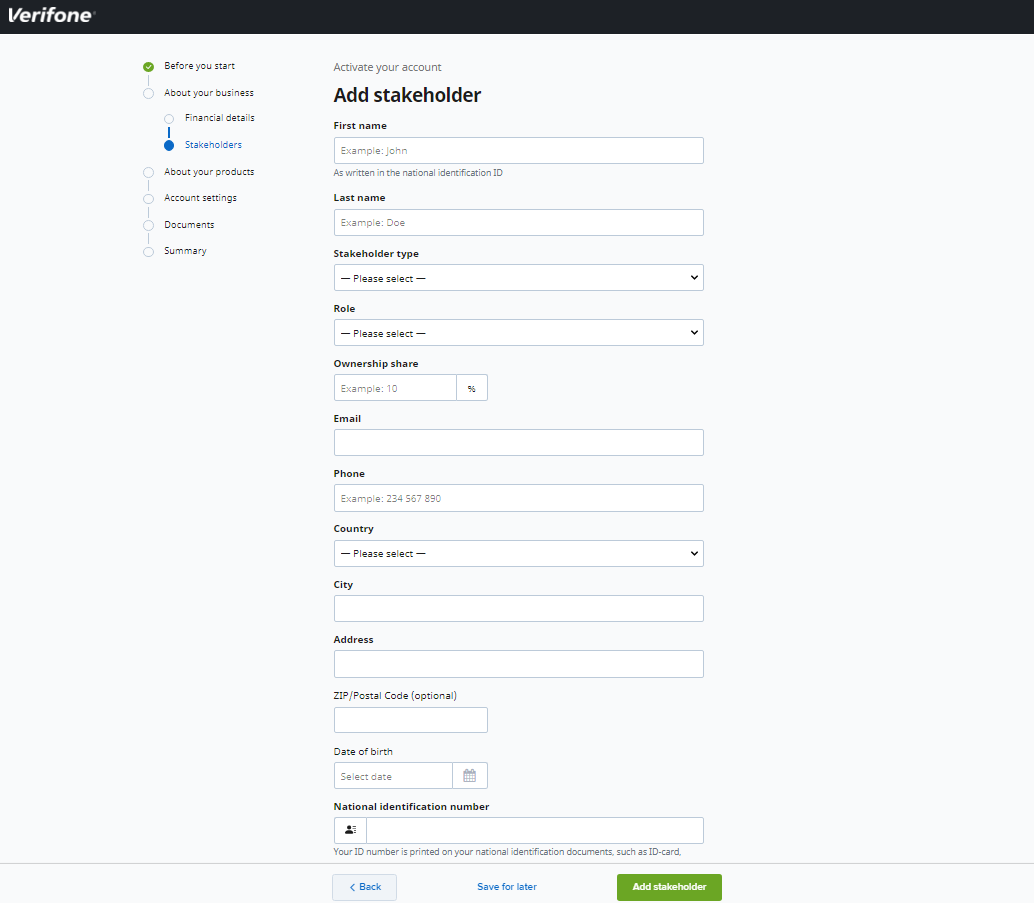 About your products
Tell us more about the products and services you provide. The information you provide will help us to verify and understand what your customers will receive.
You need to add information about:
Product or services category

Online services – Selling access to online services without physical or digital delivery, either software as a service such as hosting or access to educational content
Digital goods/software – Selling digitally deliverable goods, such as software licenses or access to files (such as PDF) downloads
Offline services – Offline services such as yoga classes

Have you processed online transactions before for this type of business?
Product access instruction for review


We need access to your product in order to understand what you sell and to test your product for compliance purposes. For most popular product types, access can mean:

Username & password (for SaaS products)
Download URL + username & password and license key if applicable (for products that can be downloaded)
Your business must operate within the permitted use of Verifone services outlined in our 
Acceptable Use Policy
.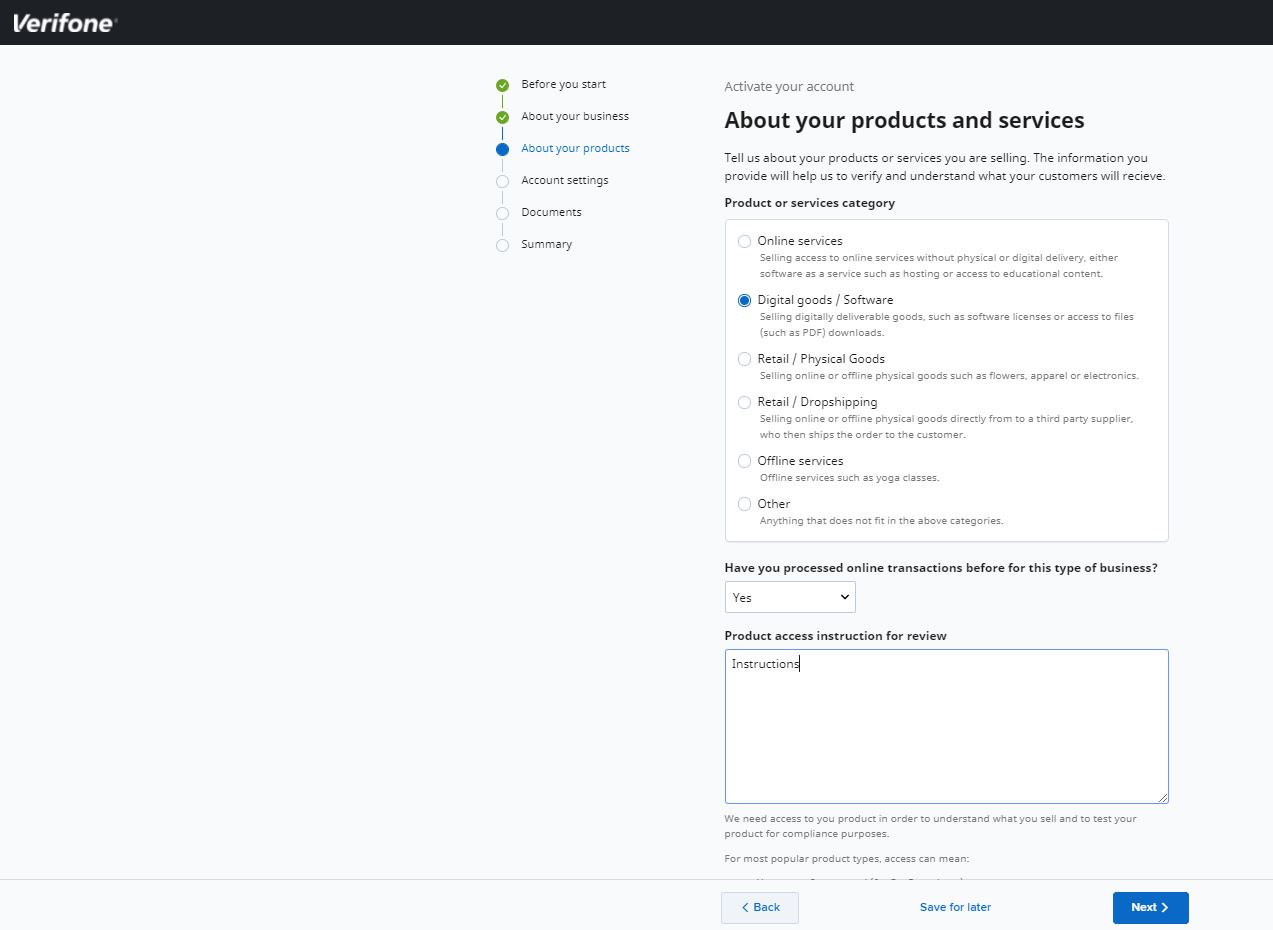 Account settings
Select the payout method you would like Verifone to use for issuing your transfers. These are the possible values: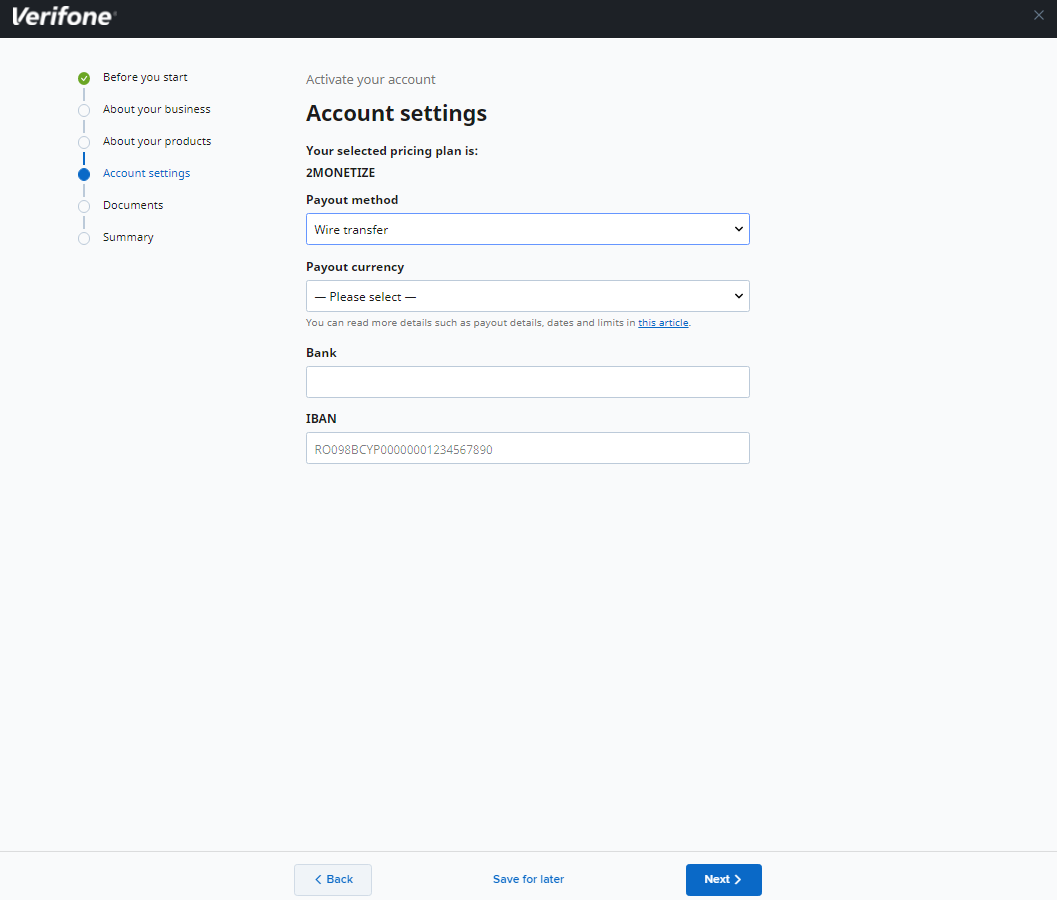 Documents
After saving your account settings you can proceed with uploading the necessary documents to prove your identity and thus, be able to sell with us. For this, you need to upload a a copy for each of the below document types:
Accepted formats for documents to be uploaded are: .docx, .jpg, .png, .pdf, and .gif (<10MB).
Valid government-issued ID – This can ID card, passport. Make sure the uploaded file includes your photo.
Valid proof of address – Name, full residential address, and date of issue should appear on the document to be acceptable. Utility bills and bank statements should not be older than 3 months.
Business documents


Company ownership documents – Certified Certificate of Incorporation or equivalent registration document
Tax identification documents – For Europe, TIN, or other relevant documentation, and for the United States, SSN/TIN/PTIN or other relevant documentation.
Valid proof of address – This can be an electricity bill or telephone bill that states your name, full residential address, and date of issue. Utility bills and bank statements should be not older than 3 months.
You can also upload any other valid and relevant documents that can prove your identity and offer proof of ownership for your company.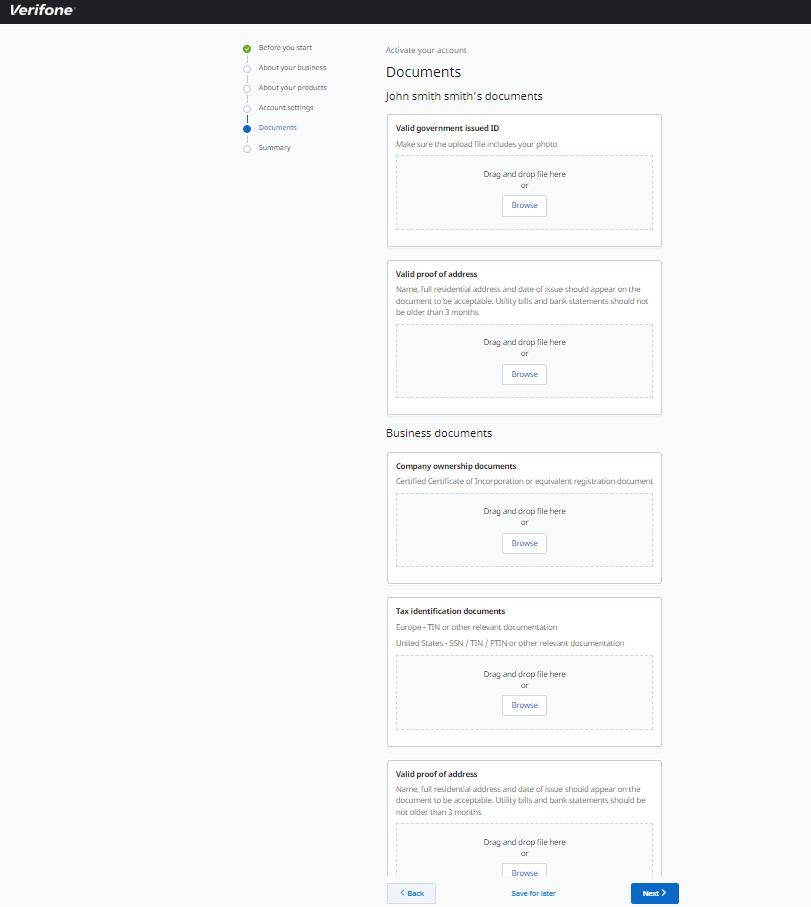 Summary
Once you upload the required documents and before hitting Submit, you can have a look at your application form and update/edit the missing details or modify the incorrect or incomplete information highlighted in red.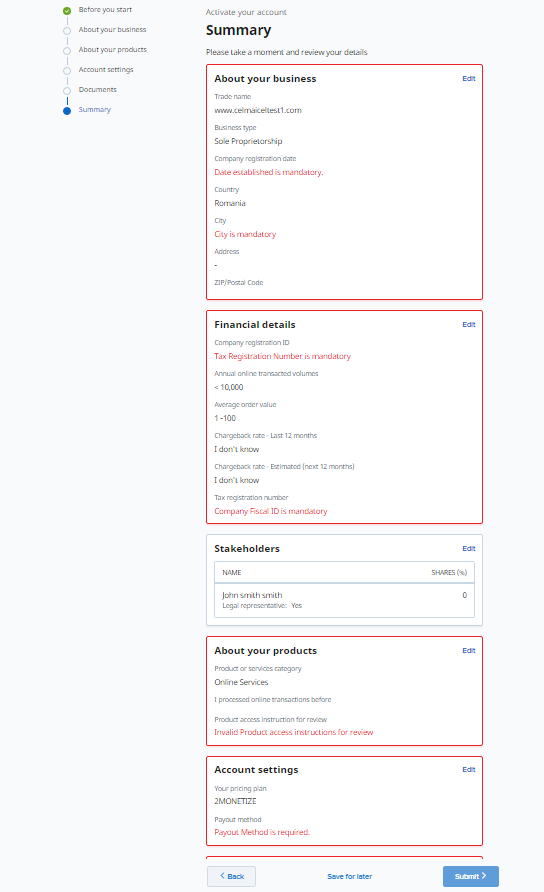 Application review process
After filling in your information, you can submit the application for review. If there are any empty fields or missing information, you will not be able to click the Submit button.
Once submitted, Verifone's Underwriting team will review your application and will contact you, in case additional more details are needed or notify you about the resolution.
If additional information is required:
You will receive an email notification
The first activation step on your Dashboard will display the message "Action required"
You can update your request and provide the additional information requested by Verifone's underwriting team by clicking on the Add required information button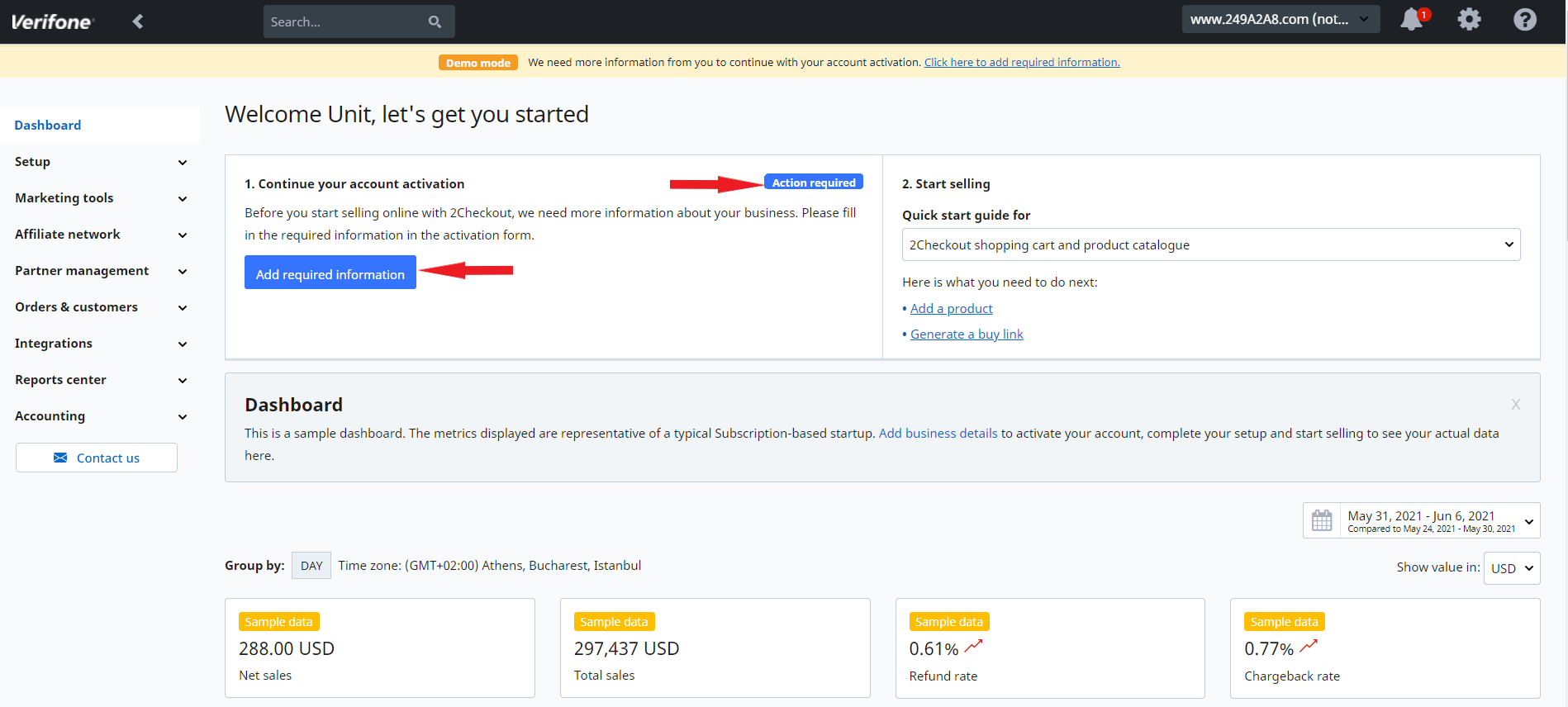 Upon submitting the required information, your Dashboard will clearly display messages that your application is currently "In review", and you can view it by clicking on the View application button.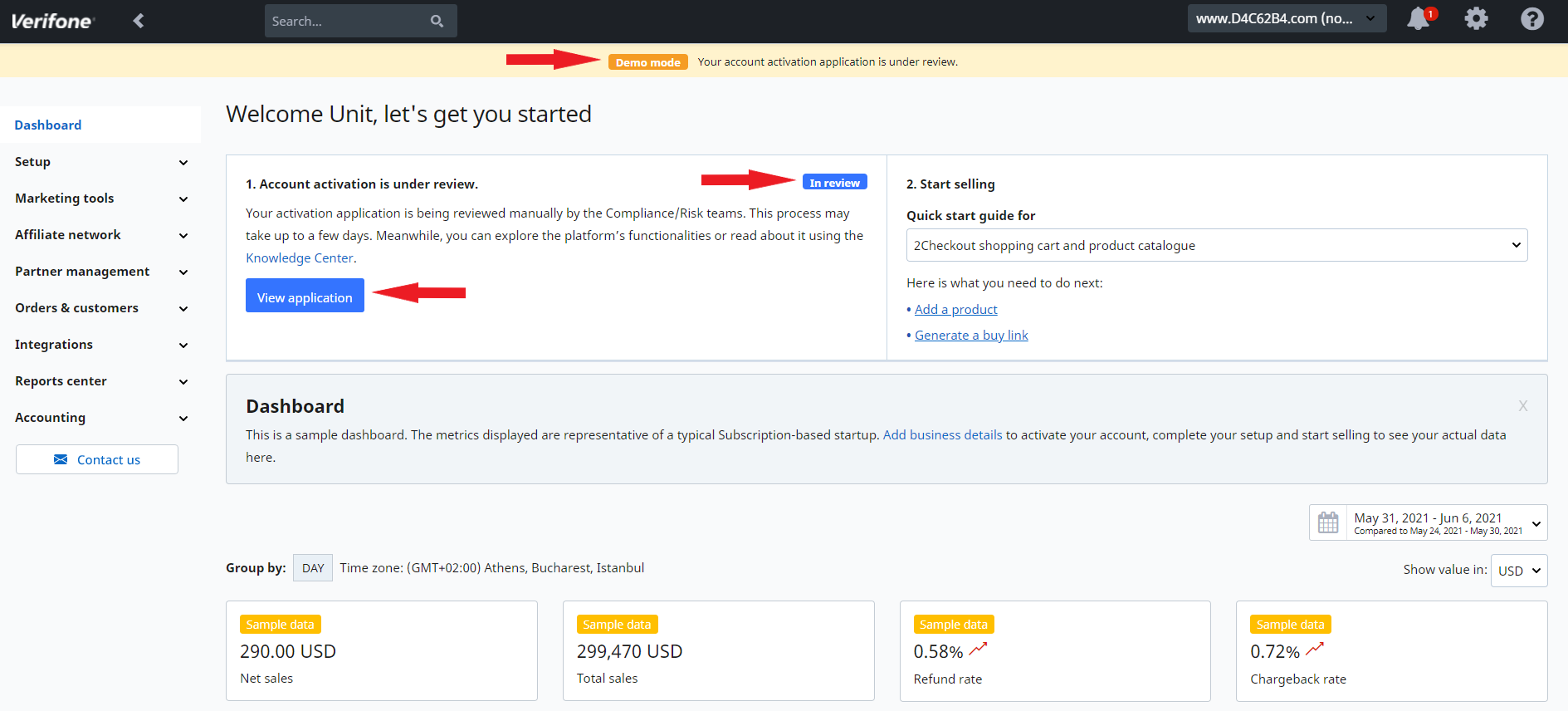 Sign the contract and go live!
By submitting the application for review you will also acknowledge and accept the Terms and Conditions and Services Agreement that will become your binding contract as soon as the application is approved by Verifone's underwriting team.
Once your application is approved, your account is live and can be used for real transactions. Verifone strongly recommends that you test your integration one last time before you publish your buying links and start processing live payments.
Your Dashboard will continue to display sample data until you process your first real transaction.
Want to sell worldwide? Learn how Verifone can help with over 45  payment methods and 100 display and billing currencies.