Last updated: 22-Sep-2022
Overview
Verifone Central serves diverse types of users and helps them access multiple applications and functionalities using one single portal.
Depending on the users' needs, the portal serves associated features based on user roles and user permissions: from building reports to device management, payment tools, dispute management to administration.
Merchants can host their payment tools and information in a centralized location to analyze segments of data from multiple sources, for the settlements they receive.
Verifone Central is a platform that unites and covers the needs of different business types, that are divided into the following modules, namely: 
MOP – Merchant Onboarding Portal is an online portal which enables and eases out creation of merchant applications by the sales representative in Salesforce. The sales representative can use the MOP portal for creating merchant applications either sitting face to face with the merchant or over the phone. 

Payments Portal – provides all types of data on your business, gives the opportunity to execute payments and generate reports. 

Device Management – is an Estate Management System catering to a wide range of business needs. It facilitates the management of multifaceted estates with globally distributed devices and provides enriching functionalities such as Asset Tracking, Device Management, Device Health Management, Download management, App-parameter Management, Secure Key Management, Content Management, Tenancy Management, Reports Management, and User Management. For more information on this service, visit Device Management.

Petro – Petro is an application which focuses on all hardware and software in and around a gas station. Using Petro Cloud, our clients can manage the fuel level, product pricing, cameras and much more.

Marketplace – Marketplace is an application similar to an app store. Verifone offers a marketplace to develop and download applications for terminals.
Accessing Verifone Central application board
To access the Verifone Central application board:
Log in to your Verifone Central account. 

Click on the dots close to the Verifone logo.

4. You will be directed to the central board that hosts Device Management, Payments Portal, and Marketplace apps:

Availability
Verifone Central functionalities and services are linked to the types of accounts merchants have. The fields and tabs of the portal application will configure differently depending on the type of merchant user and the permissions one user is granted. 
Verifone representatives will manage services merchants are subscribed by enabling and disabling features in the Portal based on the agreement a merchant has. 
For more information on user roles and permissions, consult the Creating new users section.
Benefits
Verifone Central empowers both merchants and resellers with the following possibilities, which include, but are not limited to: 
Business setups 
View the organizational structure, manage tokens, and secure card capture key for your business. 

Data analysis 
Powerful Reporting
Our portal offers many ways of filtering and reporting transactions. A user can load a complete list of millions of transactions, then filter them instantly by date, organization,  status, and many other criteria, to boil them down to whatever set they require. 
Accessing a given transaction reveals all the detailed information relating to it, e.g., the country in which a payment card was issued, or the country from which the customer's IP address originates.
Data Analytics/Dashboard
We use big-data technology, designed for analytics, to generate precise visualizations that can render billions of transactions into a variety of interactive charts and graphs designed to show trends and relationships relevant to payment transactions. 
   3.  Transaction execution 
Omnichannel transaction management
Diversify and simplify the way you manage transactions - accept payments in-store using POS (Point of Sale) and make refunds online using Verifone Central interface. 
 
Alternative Payment Methods
Accept wallet payments, such as Apple Pay or Google Pay, using POS and ecommerce. 
  4.  Powerful API 
Comprehensive API and Portal 
Verifone offers a comprehensive API capable of accessing and controlling ecommerce payments and payment modifications, and process transactions. 
Our portal is layered above the API, relying on it to implement every user interface feature. One benefit of this approach is that the use of our portal is optional, as all its capabilities are also available via the API. Typically, our customers will mix and match their use of the portal and API, according to their specific needs and preferred business processes. 
  5.  POS devices management 
Setup and monitor your POS devices, locations, and tenant.
Verifone Central - The Payments Portal
Dashboard
Verifone's powerful reporting and data analytics help you understand and manage your business.  
The Dashboard offers centralized information on the total number of transactions and transactions amount values, refunds, payment methods, authorization rates and other key performance indicators for business strategy.

Reports
The Reports service allows you to generate reports and view in one place all your reporting issues regarding transactions, 3DS, settlements, invoices payouts, based on the role that you have.
Reports turn data into insights that help merchants optimize their business. Using filters will help you get the information you need quickly and easily. Filters let you create a smaller subset of their data and isolate the information they require. 
Based on the report, there are different filters, such as: Organization, Merchant ID, Created/Settled Date, Currency, Channel, Product, Transaction type, Status, Stored Credential, Wallet, .etc.

Payment Tools
Verifone Central makes you able to perform payment actions using the Payment Tools services: Virtual Terminal and Pay by Link. 

Virtual Terminal is a tool that can be used to initiate payments for card-not-present (CNP) transactions. Virtual Terminal allows merchants to accept payments (when the physical store is closed) over the telephone or email. 
Payment actions like capture, refund, cancel/void are actions that can be performed on payments triggered by the Virtual Terminal. These actions cannot be performed through the Virtual Terminal, but only via the transaction details which can be accessed through the transaction reports.  
Pay by Link is an easy and secure way that allows merchants to receive payments from customers. You will generate a payment link by providing payment details (amount and currency) in Verifone Central. You can then share the link with your customers through the desired engagement channels. When your customers visit the link, they are prompted to complete the payment. After they have completed the payment, you can review the payment status and transaction details in Verifone Central under the Payment Links page. This integration method is available via Verifone Central and API.
Administration
The Administration panel provides a unified service to display information on Organizations, Payment Provider Contracts, Points of Interaction, 3-D Secure Provider Contracts, Users, Wallets, Blocking Rulesets, Notifications and Checkout Themes.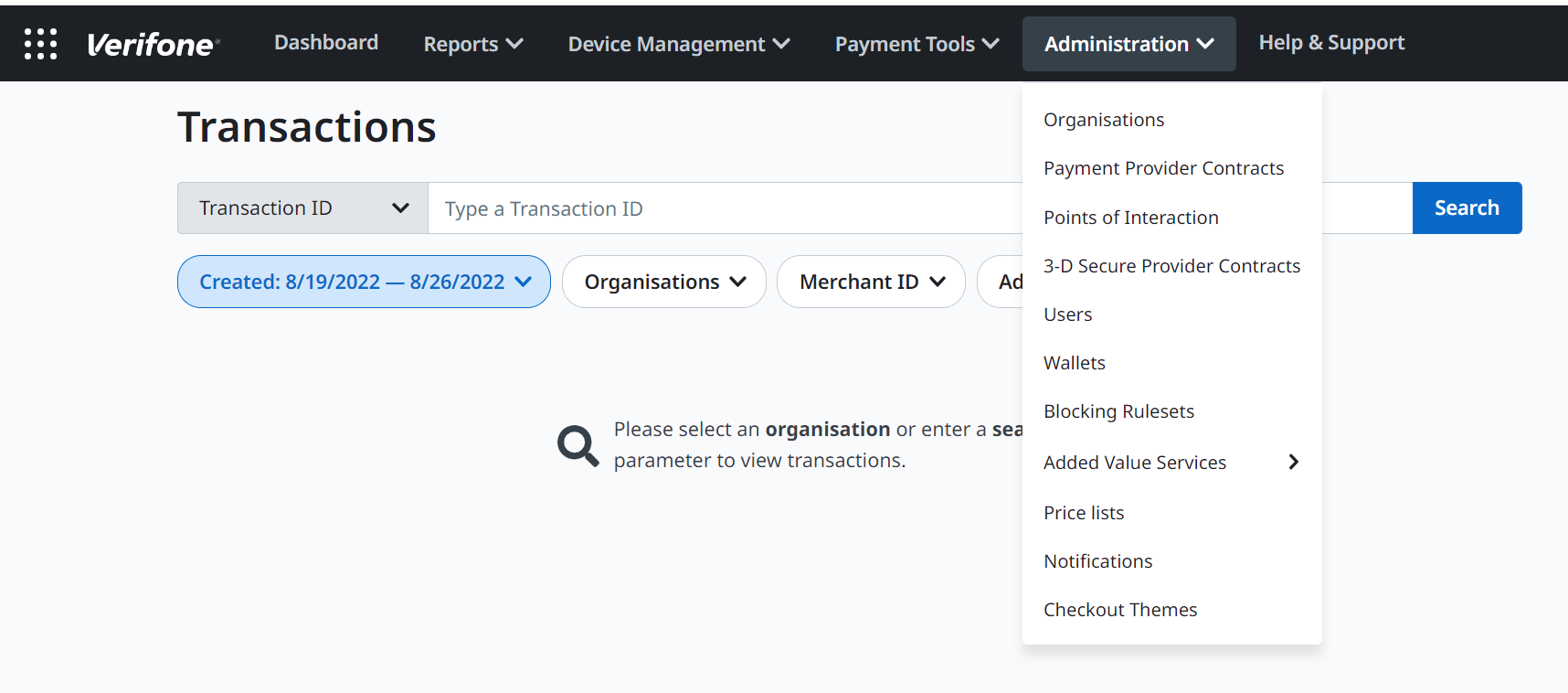 Everything related on the portal belongs to your user organization.
Help & Support 
Based on your country and region you will get information to contact Verifone Support Center.