Overview
The new dashboard brings the most important operational data in one place. With the launch of the Verifone Central Dashboard we provide insights enabling decisions that will move move your business forward. ​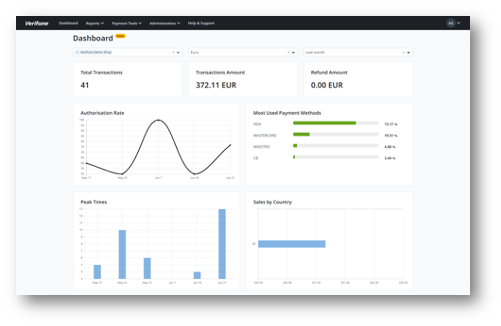 From the navigation bar, in the top of the Verifone Central you can access the Dashboard where you can see the transaction KPIs (Key Performance Indicators) for your organization(s) in a selected timeframe. The report is generated based on all transactions from all your payment channels such as Hosted Checkout, Pay-by-Link, Virtual Terminal, and POS.
Besides, selecting the organization or multiple organizations available for your account, you can also use the following filters:
Select the organization
Click organization to search and select organization one or multiple organizations available for your account for you want to the KPIs.
Select the currency
Use the currency drop-down to show the transactions processed in that specific currency. If transactions are being processed with more than one currency you will be able to filter per currency.
Select the timeframe
Use the timeframe filter to control the interval for which the data is being displayed, by selecting one of the predefined timeframes: Yesterday / Last week

/ Last Month​. Timeframes are calculated based of UTC time zone. Weeks start on Mondays.
 Track business metrics
All the information displayed on the Verifone Central KPI Dashboard is based on the timeframe previously selected: Yesterday / Last week / Last Month​ and includes the following transaction KPIs:​
Total Transactions​:

Measures the total number of transactions in a given period. Will count only transactions processed

in the selected currency. Transactions that end up being refunded, voided or cancelled are also included in the total number of transactions.

Transactions Amount​:

Measures the total authorized

sales amount performed over a period of time, across locations including physical stores and online transactions, per selected currency. Cancellations and refunds do not effect the total authorized sales.

Refund Amount:

T

he value of the total processed refund amounts in the selected timeframe.

Authorization Rate:

R

epresent the

percentage of transactions successfully authorized from the number of unique authorization attempts made.

Most Used Payment Methods​:

Shows an ordered list of most popular payment methods per selected organization and currency.

Peak Times​:

Payment traffic for all the reported transactions (declined, authorized, failed) over the selected timeframe.

Sales per Country:

Measures the total amount of settled transactions over the selected period per country, based on the merchant location.