Last updated: 15-Mar-2023
Overview
Verifone offers a native CPQ (Configure Price Quote) application on top of Salesforce that provides B2B merchants a two-way integration with the Verifone platform, as follows:
Verifone pushes Products, Pricing Catalog, eCommerce Orders, Settings information into Salesforce via the Salesforce API.
Salesforce pushes the Offer information into the Verifone platform via APIs.
Salesforce pulls the Pricing Configuration, Product Options information, and currency exchange rates via API.
The Verifone CPQ application for Salesforce can be used to manage existing product subscriptions coming from a customer's eCommerce website (via Verifone), and to create manually new subscriptions or subscription amendments (renewal, upgrade, etc.).
Availability
The Verifone CPQ application for Salesforce can be used by merchants with a Salesforce account.
For CPQ Onboarding and further information on adoption, contact the Sales team, or your existent client success manager.
Key Features
Send proposals to main accounts.
Allow payment terms for key accounts with automated payment notifications and attach contract terms to your proposal.
Require management approval for custom terms and outbound proposals.
Synchronized data between back end subscription and order management system with sales facing CRM (Customer Relationship Management).
On the fly pricing and discounting on product catalog baseline products.
Through the Proposal Interface, a client can communicate within the system with the account manager and request changes on their deal.
Support for credit/debit card payments and offline bank wire.
Support for Purchase order flow.
Benefits
The sales team will have a one-stop-shop for account management and quote to cash processes.
Automated and streamlined quote to cash flow with payment capture, low processing fees, and lower CPQ costs for merchants 
All in one solution to drive costs down and not require integrated landscapes to provide payment and subscription management with sales channel support.
What is CPQ?
The Verifone native CPQ app is an add-on capability built on top of a CRM (Salesforce) that helps salespeople send out commercial proposals (offers) to the companies' major clients (key accounts). It is used to automate order placement, subscription management, billing, etc in the back-end based on what a salesperson does in the CRM.
Before going into detail about the CPQ application, we need to shed some light on a few key concepts that can help you have a better grasp as to what CPQ actually means.
In the current B2B commerce context, the need for an "all channels" approach has become evident, especially as traditional sales (through multiple channels) keep dropping while B2B customers and merchants have set their sights on all online channels and touchpoints.
The Verifone all-in-one solution for B2B offers a combination of self-service and assisted sales to help merchants get a revenue uplift of almost 15% and reduce complexity on their end.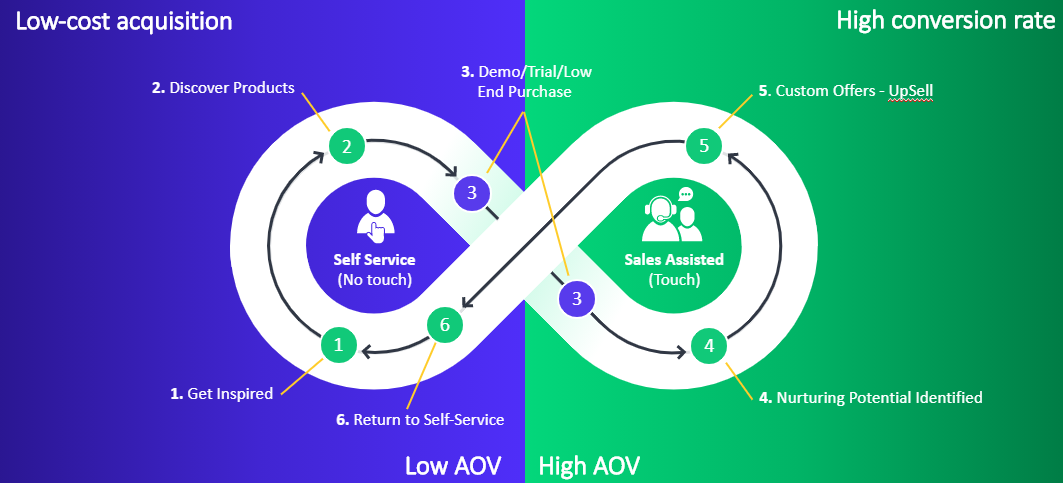 Verifone B2B Self-service
Merchants use the Merchant Control Panel self-service platform to manage and grow their business by employing a vast array of eCommerce tools and functionalities from the Verifone portfolio. They can manage subscription lifecycle length, product option groups, subscriber geographical location, product bundling​ to offer their customers seamless shopping experiences.
Merchants can benefit from out-of-the-box features such as:
Verifone B2B Sales-assisted (CPQ)
The Verifone CPQ app allows B2B merchants to create customized offers for key accounts and thus achieve a higher conversion rate and higher AOV in four simple steps:
Configure products
Select products​
Configure product variations​


Service level (basic, pro, etc.)​
Billing terms​
Additional options​

Set the quantity​
2. Set the price
Get price for configuration​
Get default discounts/promotions​


Add volume discounts​
Add tiered pricing​

Change discounts​
Change invoice/billing terms​
Taxation​
3. Create a customized quote
Get the internal approval for the customized quote​
Send out the quote (Proposal)​


Send the proposal to the business approver​

Start the negotiation process​

4. Get payment
Customer accepts and approves the proposal

Lands on Proposal Payment Page
Selects credit card or bank wire payment
Proposal is activated upon payment

Issue the invoice​


Send invoice to the billing entity​

Reporting​


Deal status/value​
Sales incentives​
Why use CPQ on top of a CRM
While selling through a CRM is a good strategy, in the current eCommerce context it is not enough when considering some key downsides such as longer sales cycles, less selling time for sales reps, rising quote error rates, and eroding margins. This is where the CPQ solution comes into play, as its value lies particularly in the integration between sales and back-end ordering, subscription, payment, and financial systems.
CPQ Capabilities
Product and service configuration
Custom pricing
Standard and non-standard deal management
Quote generation and amendments
Quote to order to cash conversion
Native Salesforce experience
Salesforce approval flow support
Client feedback loop
Proration calculations