Data Layer Integration (Workato)
Last updated: 13-Oct-2021
Overview
The all-in-one 2Checkout eCommerce platform offers three types of integration for the CPQ app:
While the integration through API and webhooks can cost the merchant time and money to implement, as these options are one-off and custom to each business case, Workato offers a configurable (not coded) set of rules to map data from one system to another​.
Availability
The Workato integration is available to all merchants, all accounts (2Sell, 2Subscribe, 2Monetize), for both B2B and B2C.
Pricing
Data Layer Integration is sold as a stand-alone capability for 2Checkout to provide data access to merchants' own data and share that data with the merchant IT landscape.​ Depending on volumes generated by the integration, special discounts and promotions will be available.​
Workato - Data Integration Layer Provider
Workato is a 3rd-party integration platform that allows 2Checkout to develop a connector to them and use it to connect to 400+ applications​. 2Checkout pushes order, subscription, and product information through the Workato connector, which will then be sent to any of the 400+ applications.
To find out more details about Workato integration and apps, check out this page.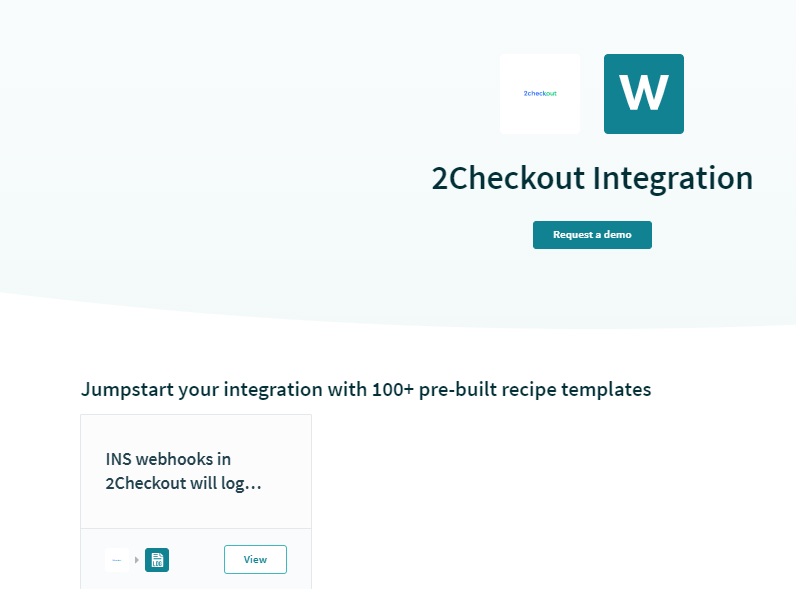 Key Benefits
Easy customized integration
Remove blockers when it comes to integration requirements and external reporting needs
Avoid complexities of API and webhooks integration
Cost-effective as merchants don't need to perform any development on their side
Key Features
Sync Product Catalog​
Quote/Proposal Sync​
eCommerce orders generating opportunities in Salesforce
Orders generating status updates in Salesforce
Subscription changes generating updates in Salesforce
Get started with Workato
For information on how to start benefiting from the Workato integration, contact our Sales team.
The Workato integration process takes merchants through the following steps:
Initial kick-off with the Sales team
Discovery session to establish implementation needs
Contract and Statement of Work signature
Delivery and UAT
Professional Services deliver the recipe requirements and structure ​
The integration team implements recipes ​
Merchant can start testing the integration together with Professional Services
*The service is offered by 2Checkout, not by Workato so no 3rd party contract is needed.​
*Service is invoiced as Professional Service fee (one time) + license fee/year (quarterly/annually invoice)
FAQ
1. Why would I use this service and not build my own integration?​
Integrations cost time and money invested in development work. Once the integration is done, any updates require new development work to change what you already have. With the Data Integration Layer, the work becomes a simple configuration (click-click) work.​
Ex: Integrating 2Checkout with Salesforce on your own means having 2Checkout and Salesforce consultancy and development. Using the Data Layer Integration service will require just Salesforce consultancy on top of our professional services fee (at a lower cost than development)​
2. Why would I not go directly to Workato?​
You can, but in order to leverage 2Checkout data, you will have to be intimate with our data structures in order to map them to other solutions.​ Working with 2Checkout means that we only need to worry about the target solution data architecture.​
Additionally, you will not need to approve new budgets or validate new service providers.​
3. If I get this service from you, do I need anything else?​
2Checkout Data Layer Integration will cover data mapping on the 2Checkout side and the implementation process. We still require you to provide us the data mapping on the other solutions that need to be integrated.​
Ex: Integrating SAP Hana with 2Checkout will require SAP Hana experts on the merchant side but will not require development on the merchant side.​