6 Strategies to maximize your recurring revenue
Last updated: 13-May-2019
Prevent Payment Failures
Intelligent Payment Routing enables you to match or route card transactions to the payment gateways best equipped to handle them and retry authorizations using a failover or back-up gateway. We recommend taking advantage of this feature to:
Provide automatic support for switching and optimization between multiple payment processors around the world.

Increase conversion rates.

Reduce the volume of unfinished payments.

Shift riskier transactions to secondary gateways to protect relationships with primary providers.
Analyzing a sample of 2Checkout vendors, we have seen an average uplift between 2% and 5% in their authorization rates using this fallback system.
An equally important aspect is routing transactions to local payment processors in countries such as the USA, Brazil or Turkey.
After using local payment processing, many of our vendors have seen up to 40% increase in authorization rates in the aforementioned markets.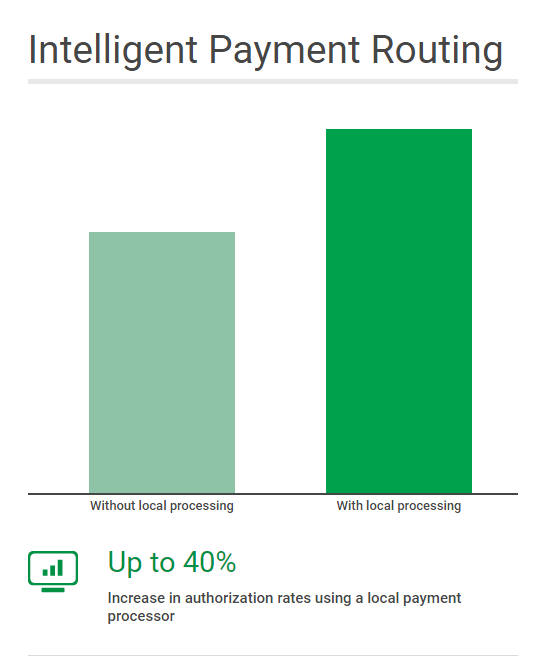 Ensure Billing Continuity
The best way to handle the incoming wave of account number changes is to use an Account Updater.
Account Updater is a generic term for programs such as Visa's Account Updater or MasterCard Automatic Billing Updater that are offered by the credit card networks to automatically exchange updated credit card account information between participating issuers, acquirers, and merchants.
The programs record changes to credit card account numbers and expiration dates due to mergers, portfolio flips (e.g., Visa to MasterCard), re-issued cards (from loss or security breach) account closures, and product upgrades. Companies that participate in updater programs have several ways to check the information in their subscriber database:
Automated nightly updates that check any card you have processed in the past six months.

Requests for information on specific cards that have been declined.

Requests for information on a set of cards due for their next billing installment.
The 2Checkout Account Updater has so far helped our vendors grow their recurring revenue in multiple ways:
Salvage over 90% of otherwise unusable cards used for recurring billing.

Seamlessly update state (out of date) credit/card accounts.

Increase retention by up to 40%.

Increase customer loyalty by eliminating service disruption.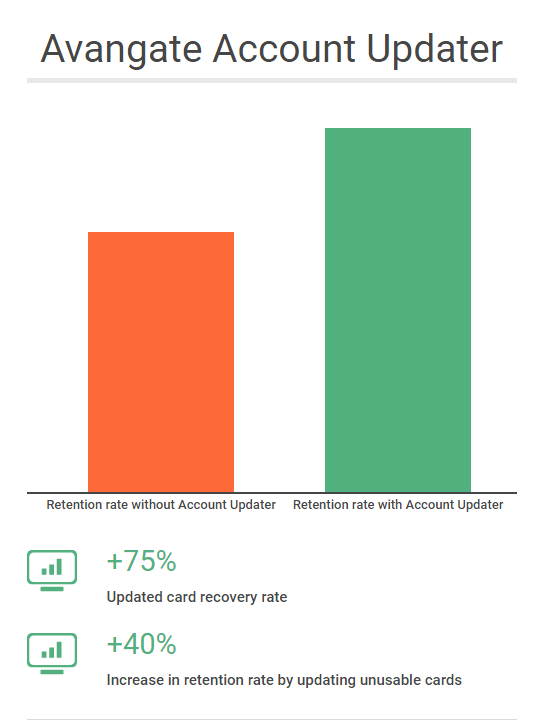 Increase Authorization Rates for Expired Cards
Credit cards in your database slip past their expiration date on a monthly basis. The account number hasn't changed, and the subscriber still wants to receive your service, but when you attempt to bill that card, the payment is declined -- or your gateway won't let you submit it at all -- because the card is expired.
2Checkout allows you to identify expired cards and update them on file (standard banking procedures to prolong expiration dates), so that stale expiration dates don't deny you revenues or threaten your relationship with a perfectly happy subscriber. You can retry those payments and recover up to 90% of payments that initially had been declined due to expired cards.
Our approach to expired card handling involves sending the card with the expired date first. If it's declined, we retry the payment up to four times in this sequence: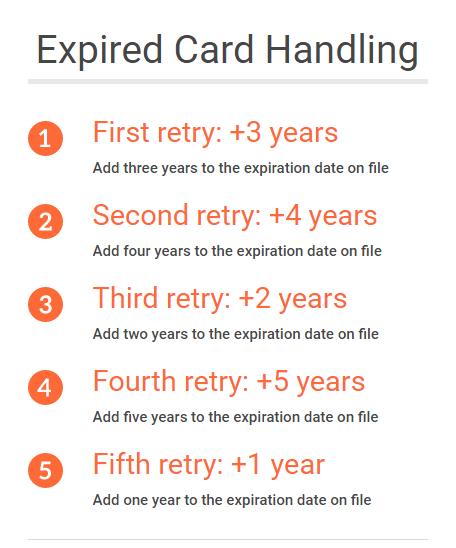 If the processor or gateway won't accept an expired date, then we jump immediately to adding three years to the expiration date. In case of errors, the 2Checkout Retry Logic comes into play and adds four years, then two years, then five years. Finally, we add one year to the expiration date.
We also recommend you create a report to track each retry attempt and its results. That way, you'll be able to see how many payments you're recovering at each step and notice any changes in the trend.
For instance, adding three years to the date tends to recover a higher percentage of payments now, but in the past adding two years was slightly more successful. The optimal approach is always a moving target, but with good tracking, you'll be able to adapt to the changes.
We've seen an average authorization rate uplift of 4% after some of our vendors started taking advantage of this mechanism.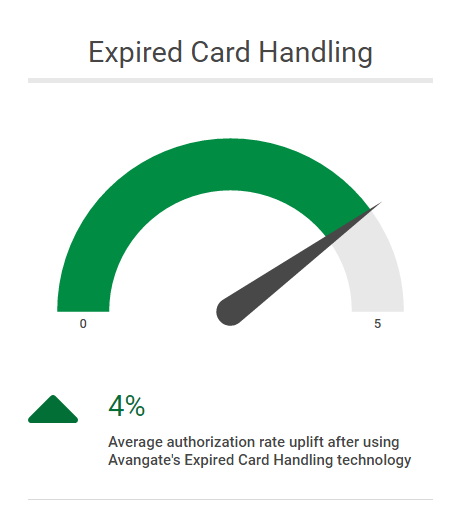 Increase Recovery Rate and Minimize Payment Failures
Configurable Retry Logic enables you to automatically recover payments for soft card declines. Soft declines refer to temporary issues, with a high probability that a subsequent try would be successful.
We recommend that you adapt the number of retries and retention strategy to your business and customer base, and we can provide guidance on optimizing conversion rates.
Soft decline reasons include:
Insufficient funds

Card activity limit exceeded

Processing failures due to system, technical or infrastructure issues

Expired cards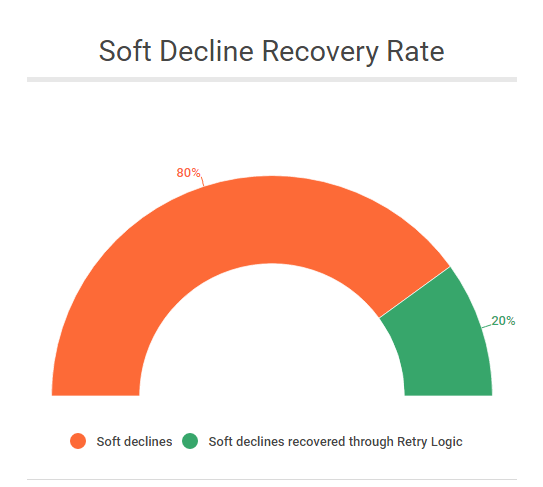 2Checkout's Retry Logic proved to successfully recover up to 20% of failed transactions due to soft declines.
More extreme situations may result in hard declines, due to stolen/lost cards and/or invalid card data. We no longer attempt authorizations for subscriptions for which the initial card charge results in a hard decline. Unless you target those customers with your own retention strategies, such subscriptions expire.
As part of the Revenue Recovery Tools, pre-expiration billing is available, allowing the configuration of renewal attempts before the subscription expiration.
Reduce Churn and Recapture Revenue
Use our Authorization and Revenue Recovery Dashboard to monitor the impact of your recovery strategies and use the insight to adjust and optimize your tactics to reduce churn and recapture more revenue.
Gain unmatched transparency and visibility into subscription renewals and recurring billing.

Access extensive authorization data to optimize retention strategies.

Gain granular-level insight at the subscription level into the activities of the Retry Logic and Account Updater tools.

Take advantage of data portability to support third-party marketing and retention campaigns.
Around 16% of successful automatic renewals registered by 2Checkout are currently recovered through our auto-renewal enrollment and churn prevention campaigns.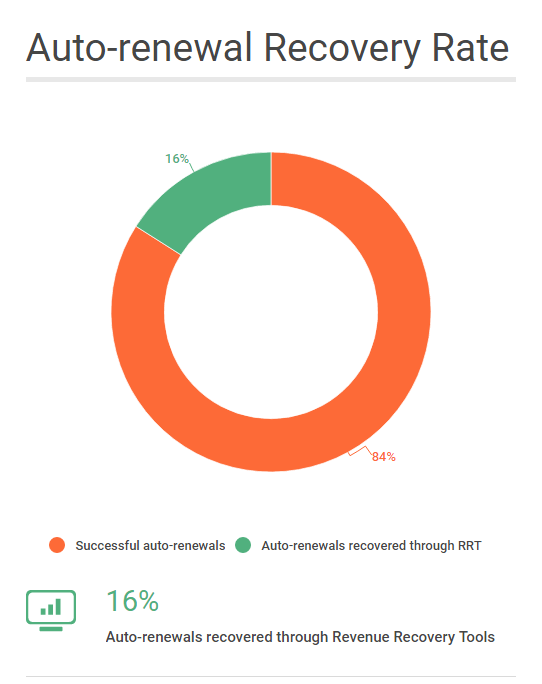 Recover Revenue from Unfinished Payments
Dunning is the process of methodically communicating with customers to ensure the collection of accounts receivable. Our dunning management tools help you reduce customer churn and recover lost revenue from failed authorizations. We notify customers via email about failed renewals, helping them update their payment information in myAccount.
We automatically attempt to authorize a recurring charge for a subscription according to its renewal deadline. If the authorization process fails with a hard decline - a permanent error from the payment processor/gateway indicating that any further authorizations would also be unsuccessful – then the dunning management tools come into play.
We send a single dunning management email immediately after each failed automatic authorization attempt made for subscriptions with the auto-renewal system enabled. As soon as the shoppers update their payment information, we automatically attempt to authorize the payment and renew the subscription.
2Checkout's dunning management tools led to an average of 1% increase in authorization rates.