Reducing churn through online retention strategies
Last updated: 08-Oct-2021
Overview
A common pitfall throughout the eCommerce landscape is represented by focusing on customer base growth at the expense of neglecting existing customers. While growing your customer base is key to a business's success, customer retention is equally important, especially from a financial standpoin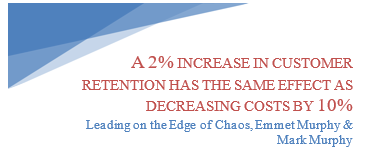 t. One of the most frequent mistakes businesses do in terms of customer retention is ignoring the customers once they brought them on board.
Analyzing customer data from hundreds of companies in our portfolio, we've concluded that shoppers are much more invested in continuing their subscriptions when approached through proactive retention strategies. As a result, online renewals proved to be more than twice as effective as offline ones, while automatic renewals saved three times more subscriptions than manual ones.
While developing your retention subscriber retention strategy, make sure to clearly inform your users about the incurred charges and billing cycles, and give them the ability to easily cancel automatic renewals, should they not need them. Keep in mind that placing your customers in control of their subscription management process is paramount to preventing and reducing your refunds and/or chargeback rates.

2Checkout's retention tools introduce a smart and easy way to reduce customer churn and gain useful insights about what drives customers to cancel automatic renewals. Use 2Checkout's out of the box retention capabilities to:
Leverage proactive subscription enrollment to increase renewals and generate additional revenue. Use special deals to deepen loyalty and incentivize your customers to enroll in automatic subscription renewals.
Decrease churn and prevent recurring revenue from "leaking" by converting cancelations into continued subscriptions. Offer the right incentives to the customers that decided to cancel their subscriptions and make them change their mind at the point of exit.
Turn threats into opportunities by capturing your customers' feedback at the point of cancelation.
Auto-renewal enrollment
If your customers purchased subscriptions from you and disabled the automatic renewal upon purchase, try to convert them to a recurring billing plan. An easy way to increase your revenue and customer retention rate is by proactively incentivizing your customers to enroll in auto-renewal campaigns. Do this via 2Checkout's retention tools and configure discounts for one or multiple billing cycles. Your customers see the discounts in 2Checkout myAccount and they can quickly enable automatic renewal from their account.
Important: 2Checkout triggers auto-renewal enrollment campaigns only for products/subscriptions paid for with online payment methods.
2Checkout recommendations
Based on existing auto-renewal enrollment campaigns, 2Checkout recommends starting with a 15% discount for one billing cycle.
2Checkout vendors have successfully configured proactive enrollment campaigns offering discounts from 15% up to 25% for one billing cycle. This ultimately led to increases in sales of up to three times the value of the awarded discounts without counting the entire customer lifecycle value.
We recommend testing such campaigns for specific products with different time intervals and with different tiers of discounts. This way you can choose the best discounts for your customers and increase revenue and their lifetime value.
Behavior
Use promotions to enroll your customers in auto-renewal campaigns by leveraging 2Checkout myAccount. Your customers will see campaign teasers such as the one below.

Churn prevention
Subscribers enrolled in auto-renewal campaigns are 3.5 times more likely to continue their subscriptions. Churn prevention tools help you prevent recurring revenue from "leaking" by converting terminations into continued subscriptions.
2Checkout gives you an easy way to configure churn prevention campaigns so that you can:
Engage and collect feedback from your churning subscribers to optimize your products, marketing campaigns, and business operations. You can extract valuable information from cancellation reasons, such as pricing, feature ideas, competitor information, or just service quality improvements.
Solidify your recurring revenue by offering discounts to customers who want to cancel recurring billing, incentivizing them to keep auto-renewal enabled for their subscriptions.
2Checkout recommendations
Based on existing churn prevention campaigns, 2Checkout recommends asking for customer feedback and subsequently offers a 15% to 35% discount for one billing cycle. This configuration ultimately led to an increase in recovered volumes of more than 4 times the value of the awarded discounts, not considering the entire customer lifecycle value.
Behavior
Once you've started the campaign, your shoppers are notified in myAccount whenever they try to stop subscription auto-renewals for the products included in the campaign. You can customize the message displayed to your shoppers and choose whether or not to gather feedback.
The first pop-up displays either the default message shown below or the one you customize.

The next pop-up asks for a cancellation reason and shopper feedback (if you choose to gather it).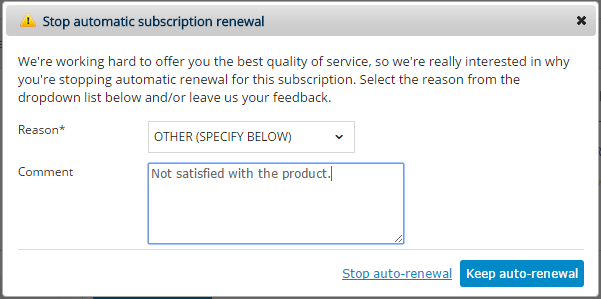 The last pop-up shows the discount that you offered for keeping the auto-renewal.
Should customers accept your discount, 2Checkout renews the subscription at the specified discounted price and improves your churn rate.
Conclusion
2Checkout's retention tools are a key feature in increasing your revenue and customer lifetime value through customer incentives. At the same time, they can help you get important insights on how your customers see your products, what they love and/or dislike about them and what you can do to stay competitive.
Make sure you configure retention campaigns and test multiple scenarios. Different customers have different needs, so they might react differently to unique discounts. Incentivize them to keep their subscriptions active and fine-tune your retention campaigns for maximum impact on your revenue and churn rate.