Integrate Shopify with 2CO ConvertPlus (by Verifone)
Last updated: 05-May-2022
Overview
Integrate Shopify with the ConvertPlus ordering engine to be able to process payments through the 2Checkout platform in over 200 countries and more than 100 currencies.
This integration helps you provide a localized checkout experience and multiple payment methods, and it's optimized to convert more visitors into customers.
ConvertPlus is a full-stack solution that enables you to increase conversion rates with faster loading time and optimized flows. Download this solution brief to learn more!
Availability
Before you are able to start accepting payments for your Shopify store, you need to request and finalize the activation of your live account by completing a form, and provide information that will help us verify the business and identity of the individuals involved in your business.
Shopify integration is available only for 2Checkout accounts that handle their own tax and invoice management (2Sell and 2Subscribe). 
If you already linked your 2Checkout account to your Shopify store using our legacy connector, you can switch to the new integration to benefit from the new ConvertPlus experience.
How to integrate Shopify with 2Checkout ConvertPlus (by Verifone)
Follow these steps to complete integration with Shopify:
1. Install the 2Checkout ConvertPlus Connector from this URL.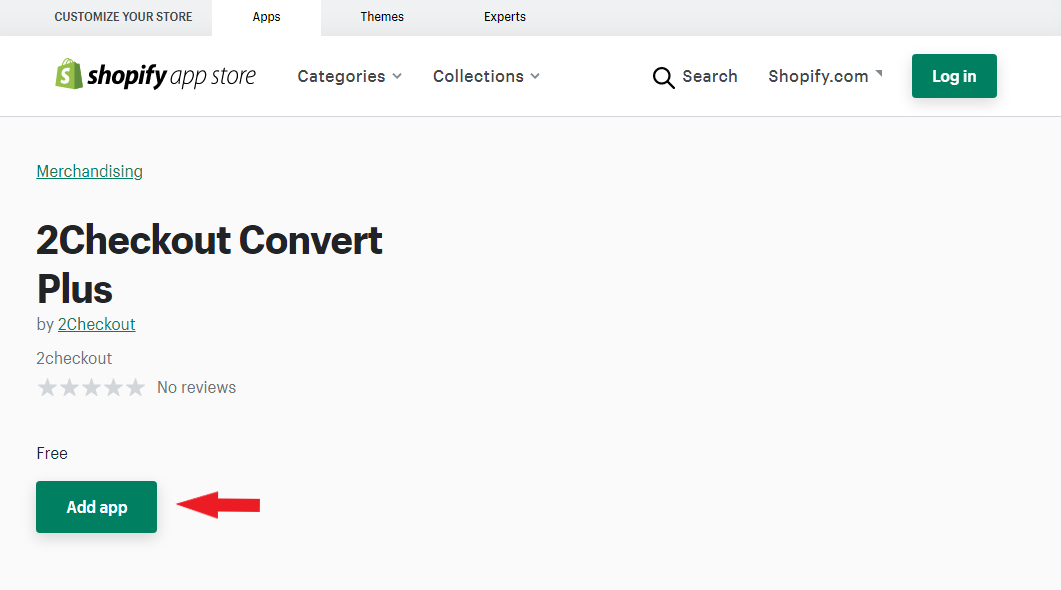 2. You will be prompted to log in to your Shopify account.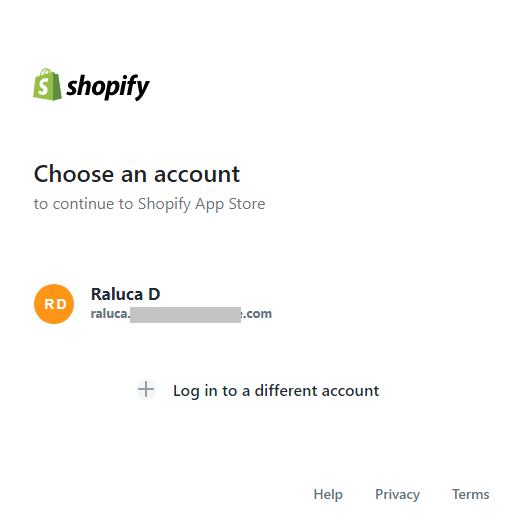 3. Once logged in your Shopify store, click on Payments.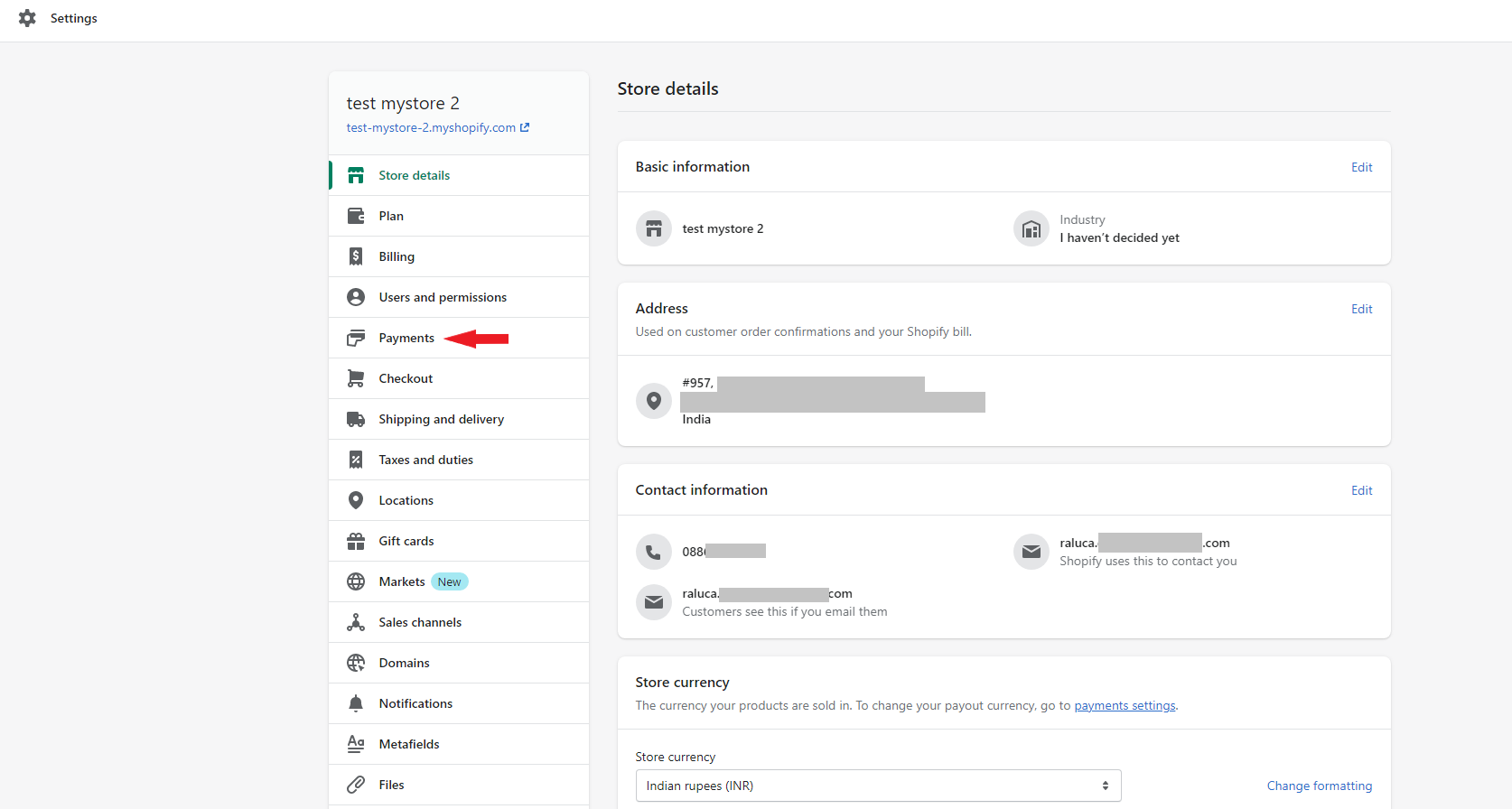 4. On the next page, click on Choose alternative payment.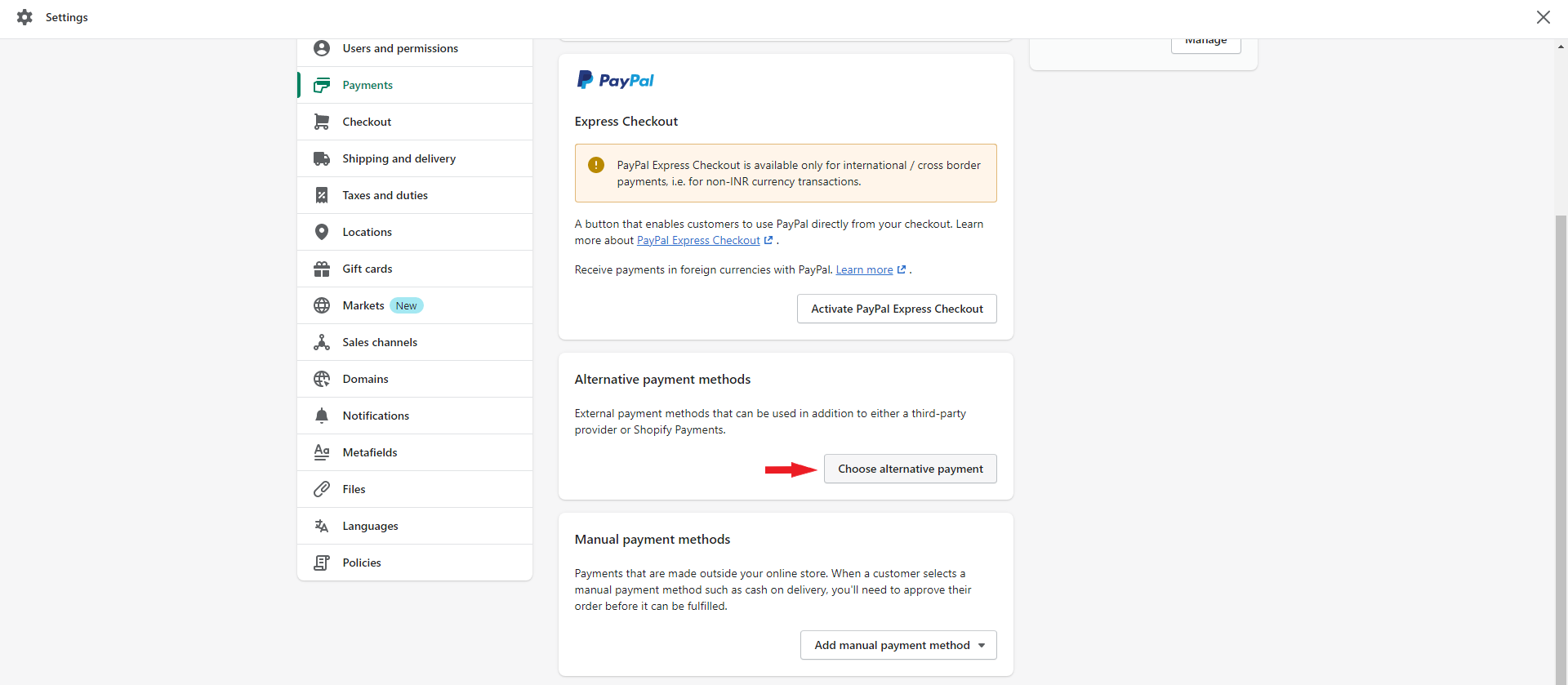 5. On the Alternative payment providers page, click on 2Checkout ConvertPlus (by Verifone).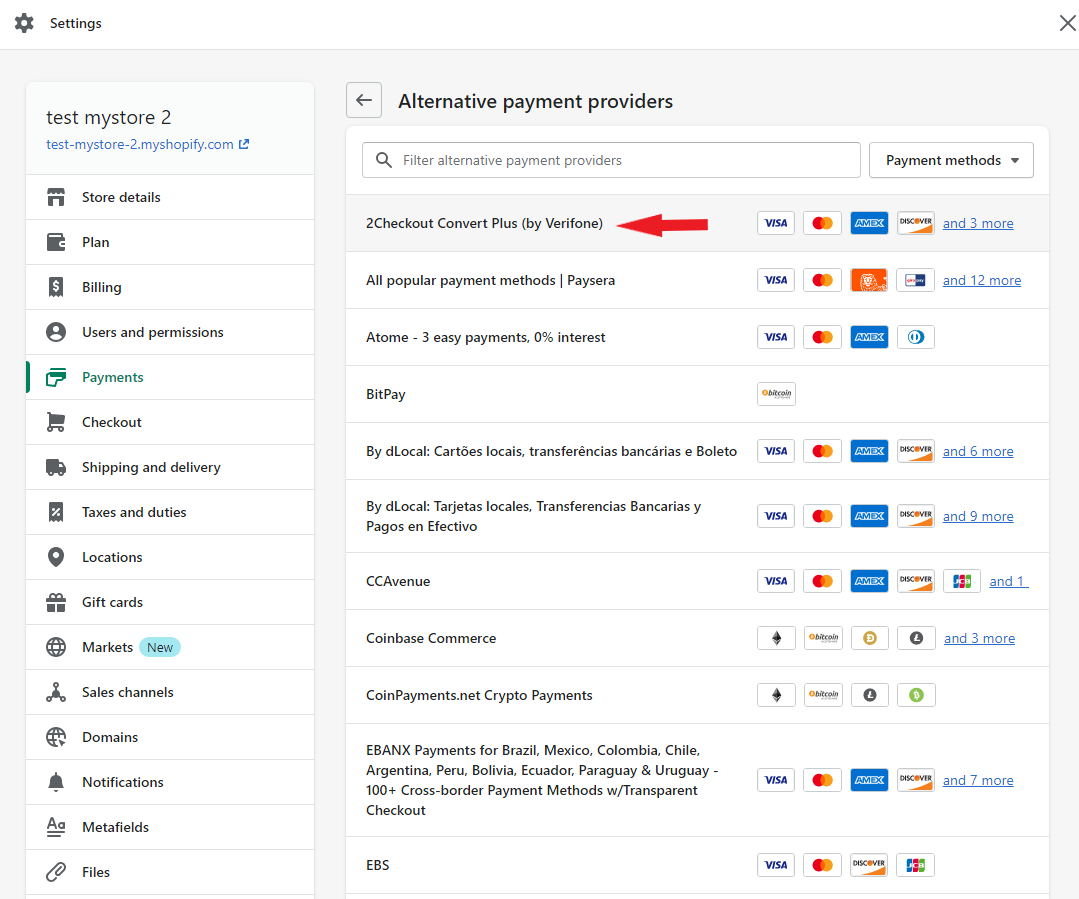 6. On the next page, install the 2Checkout ConvertPlus (by Verifone) plugin by clicking on Install app.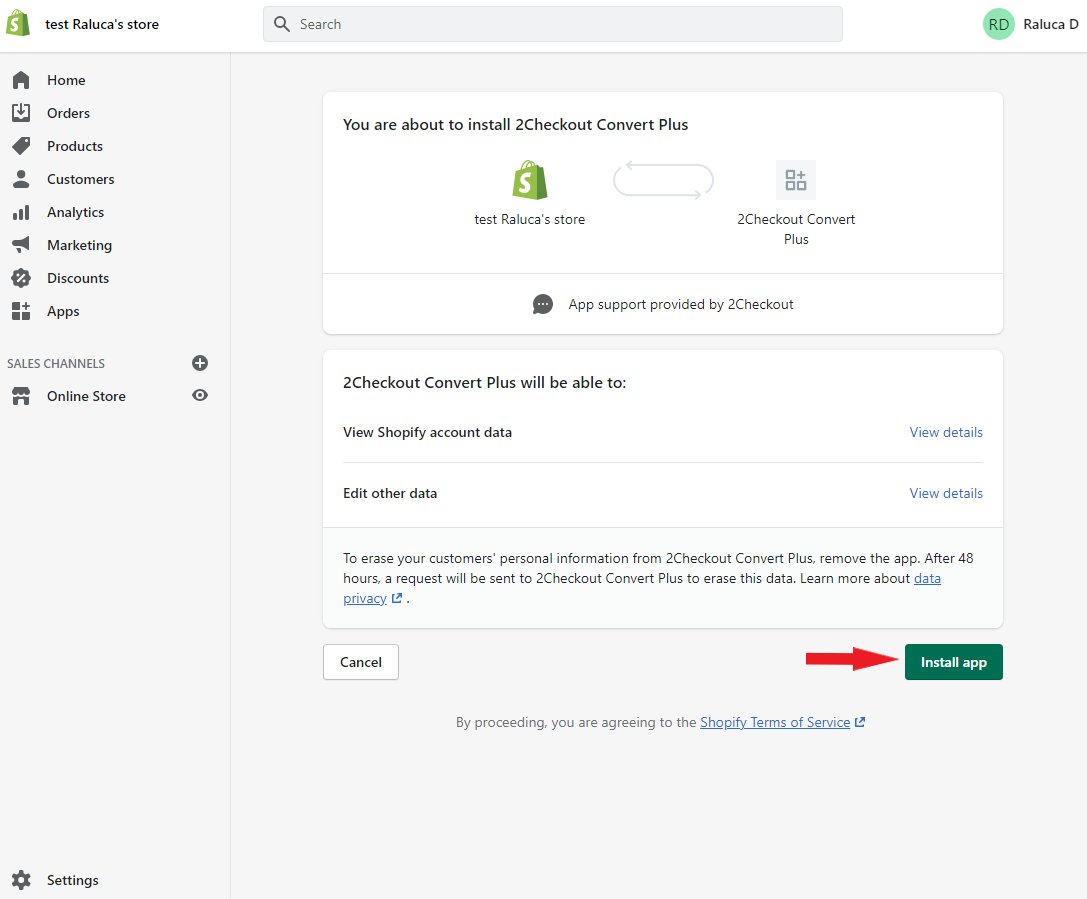 7. In the next window, input your Merchant Code and your Secret Word. You can find these details by logging in to your 2Checkout Merchant Control Panel account and navigating to Integrations → Webhooks & API.
Copy the Merchant Code in the API section and paste it in the corresponding field on your Shopify admin page.
Go back to the 2Checkout Merchant Control Panel and scroll down to the Secret Word section. Check if the INS secret word and the buy-link secret word match. If they don't match, edit them to match each other.

Copy the buy-link secret word and paste it in the Secret Word field back in the Shopify admin page.
Activate the Redirect URL by checking the Enable return after sale checkbox in the Redirect URL section. Then click Update to save your changes.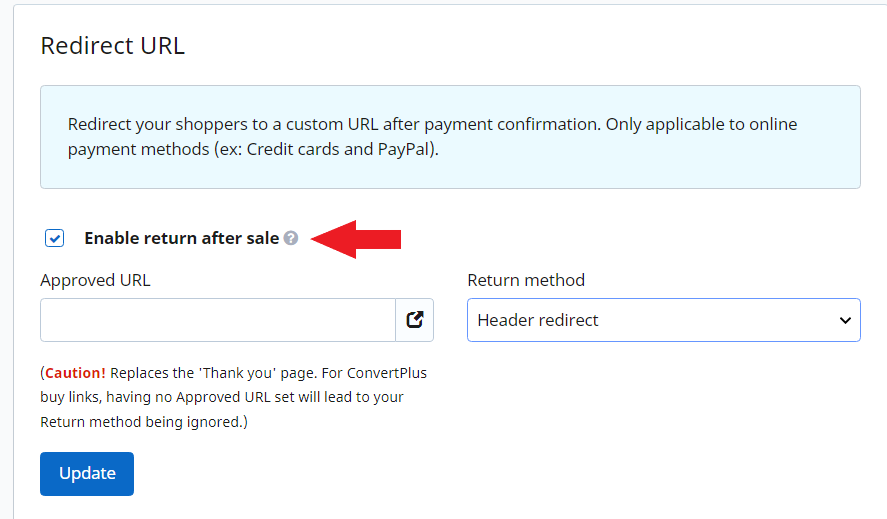 8. Once you input your Merchant code and Secret word, click on Update settings.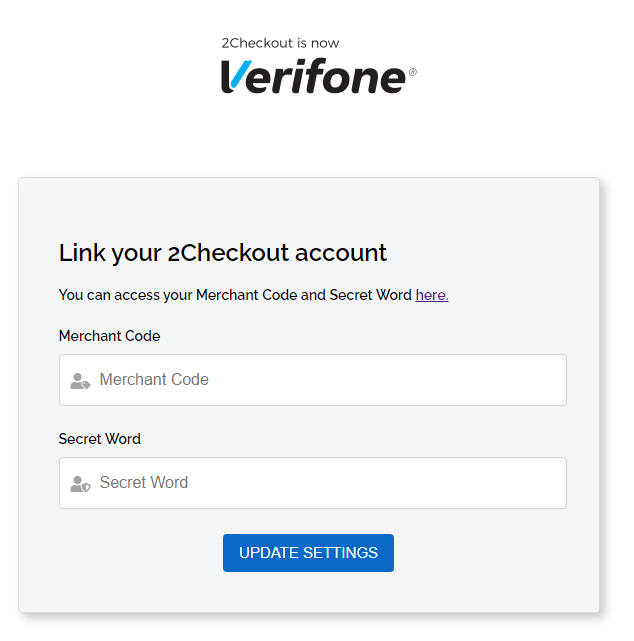 9. Once your integration with Verifone is complete, click on Activate 2Checkout ConvertPlus (by Verifone) to start processing payments with us.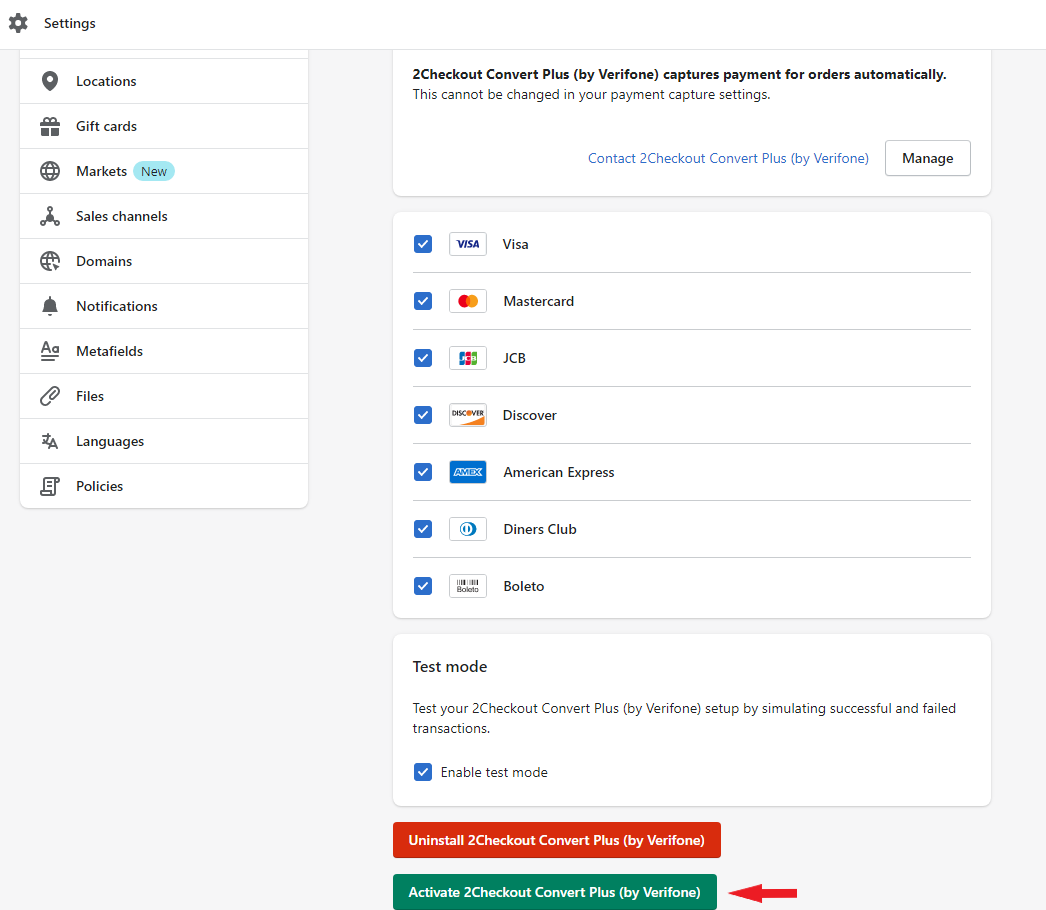 10. Before activating the plugin, you can check the Enable test mode box for test transactions or leave unchecked for live transactions.
While in test mode, visitors coming to your website will not be able to place real orders, so do not forget to switch off this feature after doing a test in order to start accepting payments.
That's it! The 2Checkout Convert plus integration is enabled on your Shopify store. Go to your store to see it in action!
1. To avoid potential delays with account activation, ensure that you have created your store in Shopify and that your store is visible so that the required reviews can take place. Please refer to Shopify's manual here for instructions detailing their system's operation. Shopify support can also be contacted here.
2. If any changes are made to your domain (to a custom Shopify domain/other), e-mail us the new URL at supportplus@2checkout.com in order to update your 2Checkout account, and thus avoid a communication mismatch. Currently, when you are using a third-party cart and want to have multiple URLs, you need to create a new account for each new URL.
About Shopify
Shopify is the Internet's most elegant, simple, and affordable commerce platform aimed at providing businesses with easy to use e-commerce solutions, taking the challenge out of setting up and managing e-commerce storefronts. Shopify's scalable and flexible full-featured platform enables any size business to efficiently launch and operate an online or in-store retail presence with ease.
Integrations with major shipping companies make shipping easier, while fulfillment services let Shopify store owners take the hassle out of inventory management and logistics. Shopify has an App Store (http://apps.shopify.com) which hosts a variety of apps to fill every need, ranging from accountancy services to shipping label printers, analytics to social media integration tools. The Theme Store (http://themes.shopify.com) features over 100 premium and free eCommerce templates.
In addition to powering your eCommerce website, Shopify also includes free, built-in mobile commerce shopping cart features so your customers can browse and buy from your store using their mobile phone. Shopify also includes a Mobile App so you can view all vital information about your shop from your iOS device, like checking your sales statistics, or viewing products, orders, and customer data.
To sign-up and receive 10% off, visit www.shopify.com.
F.A.Q.
1. How can I find out what type of account I have on the 2Checkout platform?
Read this article to find out information on how to find out the type of 2Checkout account you have.