Last updated: 06-Jul-2022
Organisations
Overview
The Organisations tab displays all the organisations you have access to.
Depending on the structure and size of your business (and your access level), your organisation might be a single business with one store, a single business with multiple stores, or have multiple stores across multiple businesses.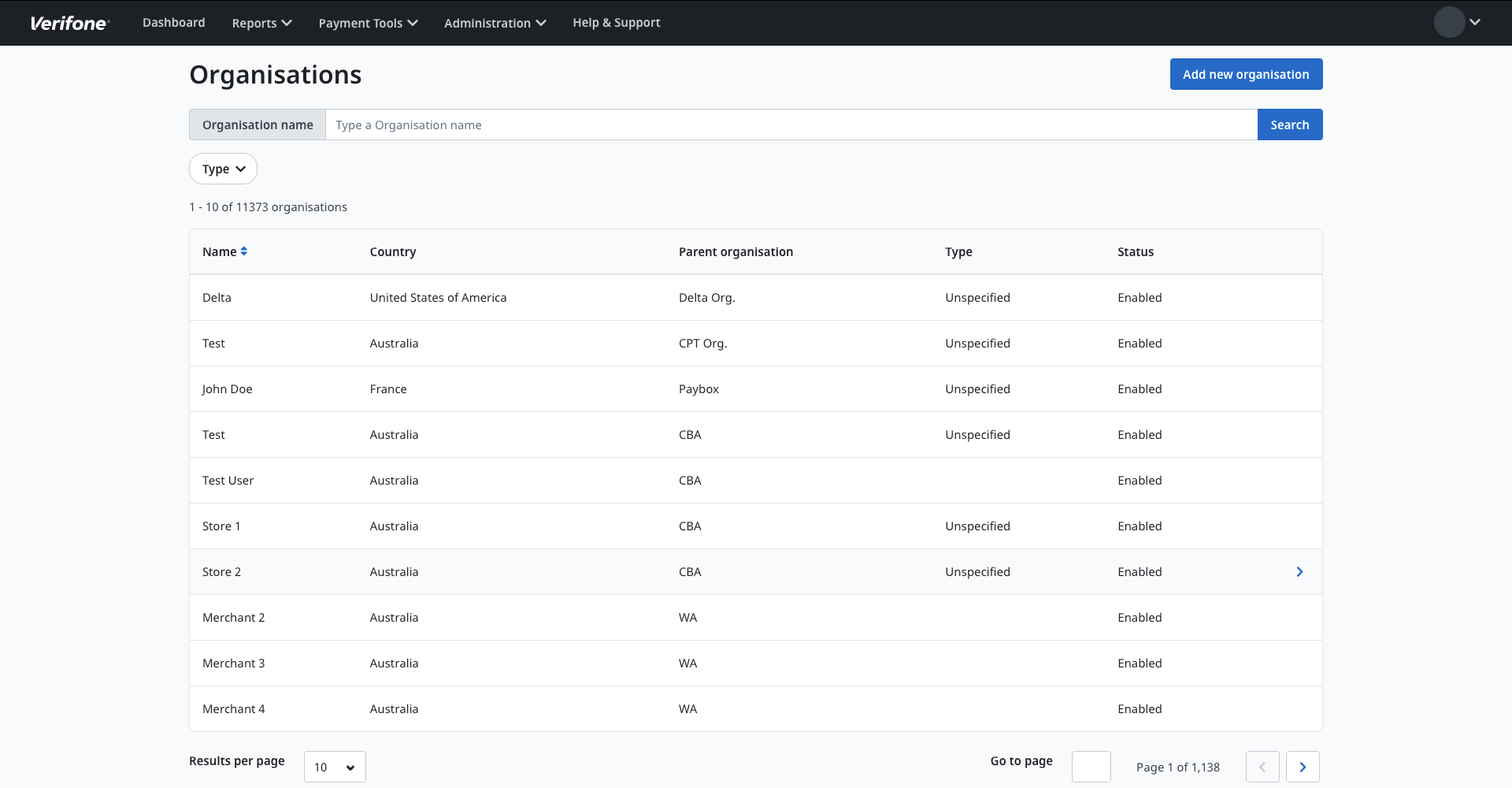 Click on the blue arrow on an organisation record to view the organisation details.
The initial structure of your organisation is based on your Eftpos NZ account structure. If you need to make changes to your organisation, call our Technical Helpdesk on 0800 338 767.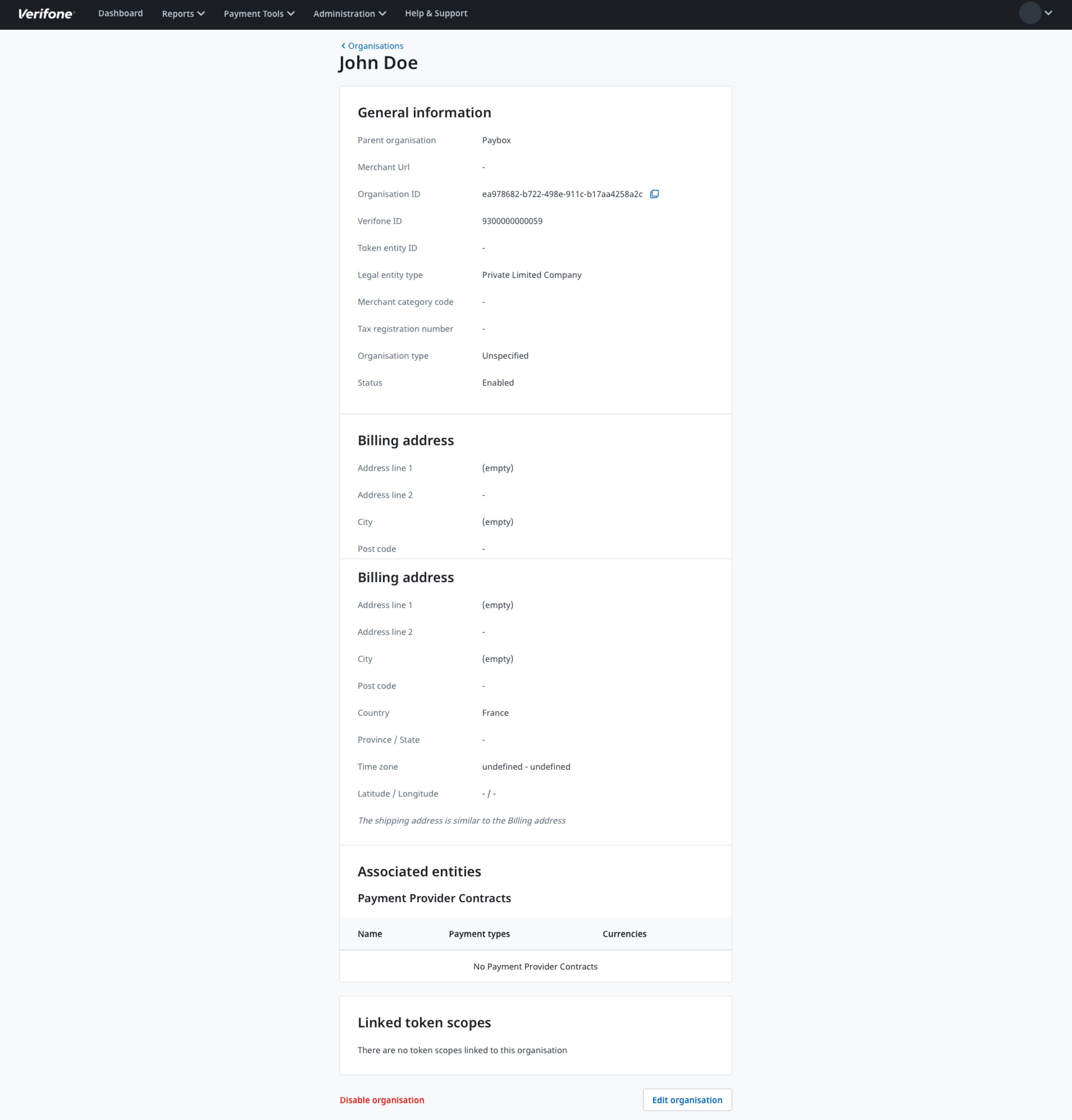 Availability
The organisations are available to all merchants.
Note: A Verifone representative will create an Organisation for you.
Payment Provider Contracts
On the Payment Provider Contracts (PPC) tab, you will be able to view contracts and agreements with your payment solution providers. The PPC tab will provide a list of all your current Merchant Facilities with useful information such as your Merchant IDs and supported features and payment types for each facility.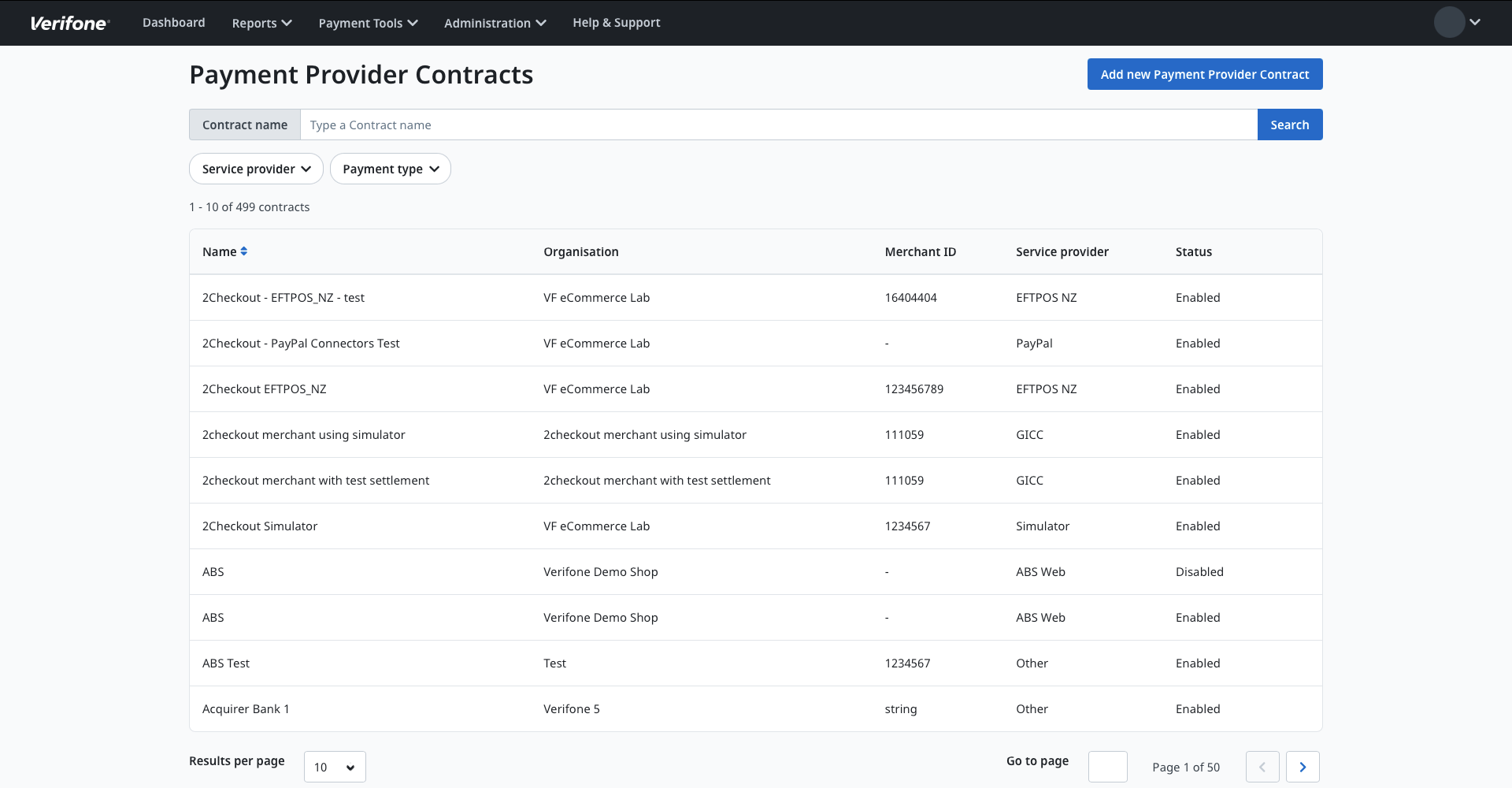 Points of Interaction
The Points of Interaction (POI) tab lists the points of interaction that populate your Transactions dashboard. This tab currently only lists your in-store terminals, but may include additional payment services as we roll out new products and features.
Name: Currently, this is the unique four-digit number at the end of your Terminal ID, which identifies which terminal this POI is
Organisation: The organisation associated with the POI
Terminal ID: Currently the same as the name column
Type: Displays the POI type. This field will be populated with 'Point of Sale' if the POI is an in-store terminal.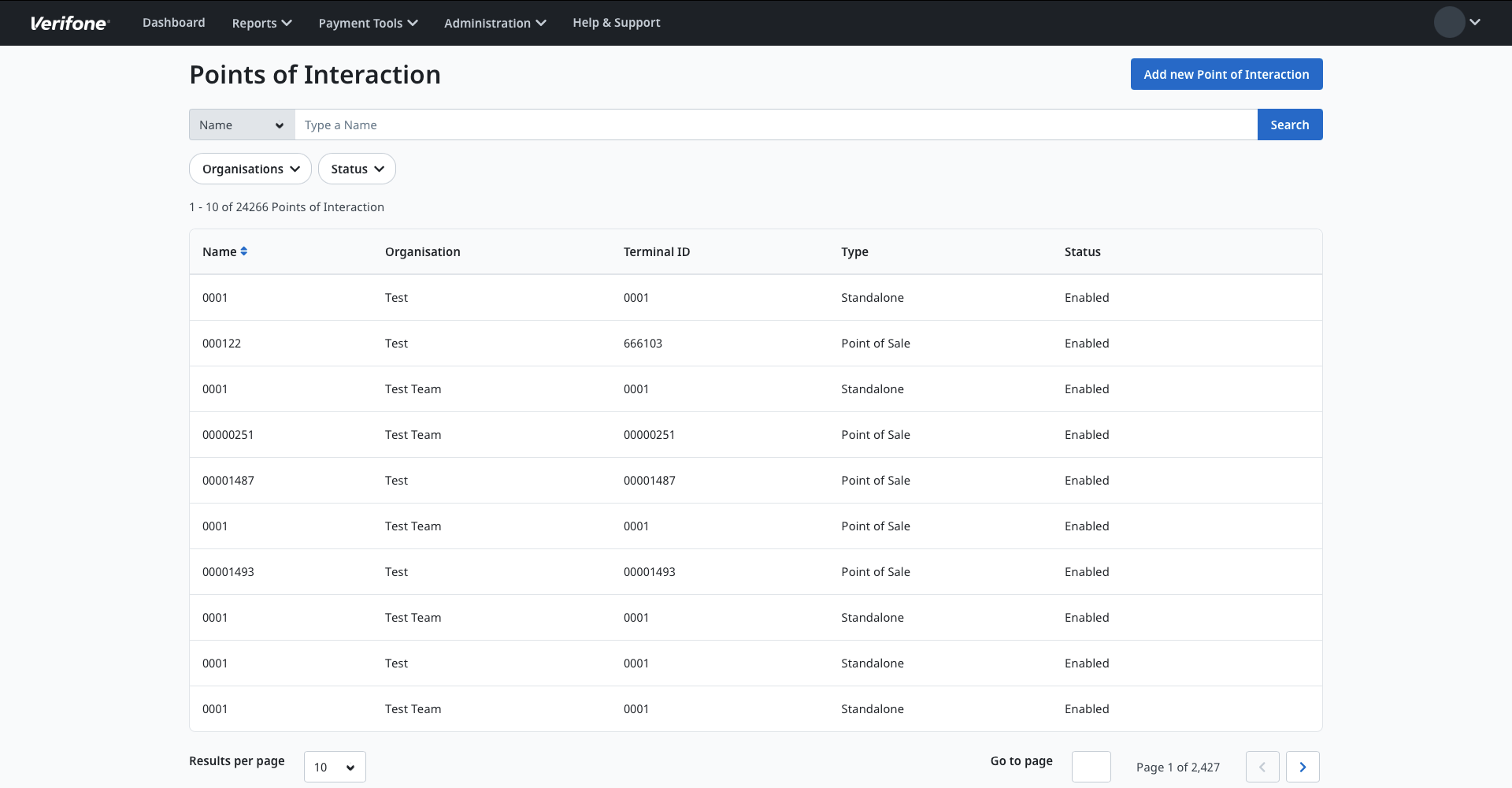 Users
You can view and search for users in your organisation by name or email address on the Users tab, depending on your access level. Merchant admins can also add new users on the Users tab.
Creating new users
Here is how you can create a new user:
Select Administration > Users
Click Add New User
Complete the following fields:


Full name
Email address
Organisation
Access rights - determines the level of access needed for transaction tasks. See the "Merchant roles" section below.
The new user will receive an email inviting them to set up a password to activate their account.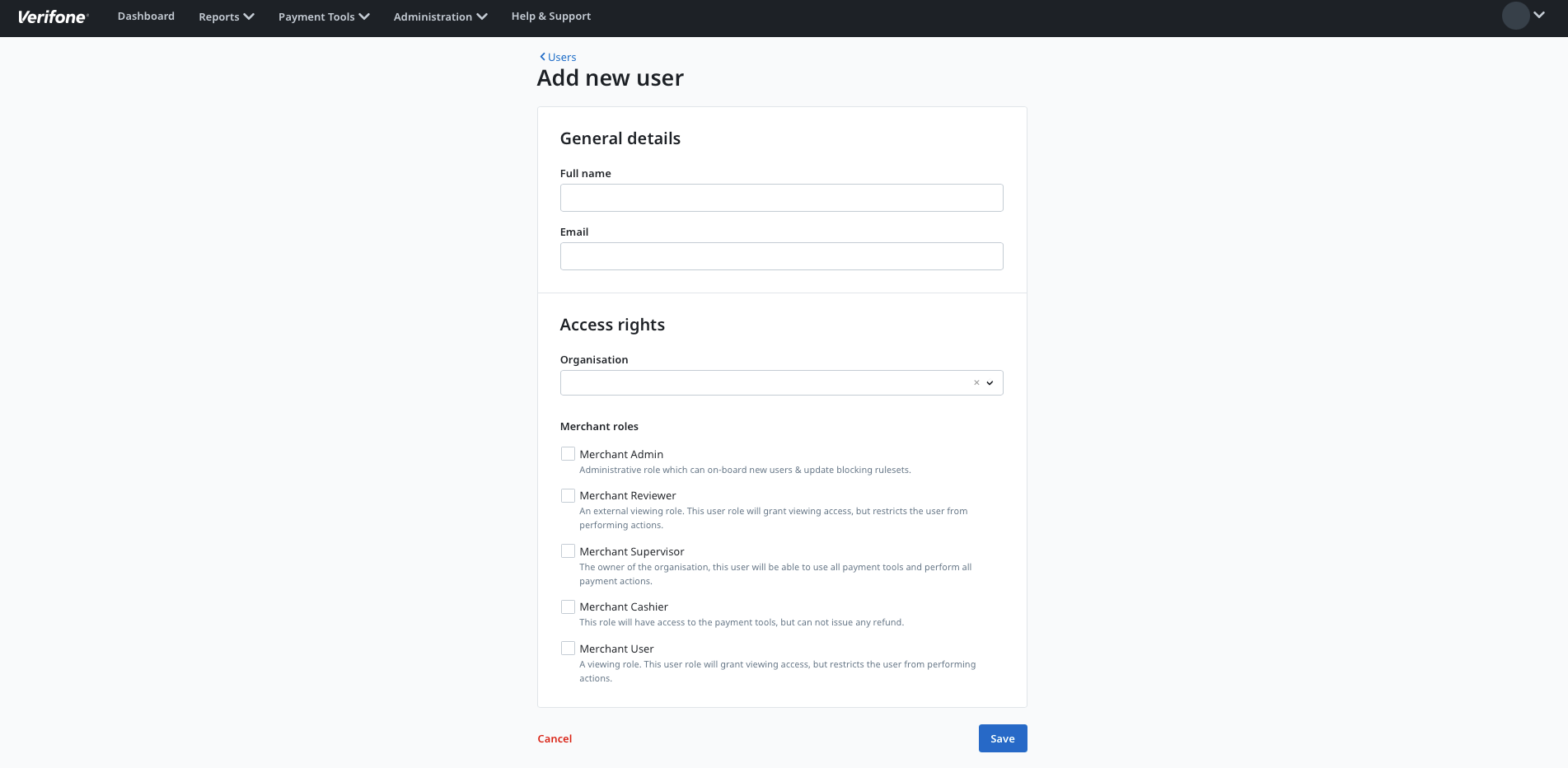 Note: Only users with Merchant Admin access can set up new users. 
Merchant roles
Here are the merchant roles and the permissions level of merchant's users:
Merchant Admin – This is an administrative role which can onboard new users & updates blocking rulesets. It is the Verifone Cloud Services account contact person providing Portal access to your employees. An organisation may have more than one Merchant Admin.  
Merchant Supervisor – This role is assigned to the owner of the organisation. This user is able to use all payment tools and perform all payment actions. It has read access for the Transaction dashboard, Organisations list, and POI list.
Merchant Cashier – This role has access to the payment tools, but cannot issue any refund. It has read access for the Transaction dashboard, Organisations list, and POI list.
Merchant User – This role and is granted viewing access, but restricts the user from performing actions. It is ideal for call center support staff. It has read access for the Transaction dashboard, Organisations list, and POI list.
Merchant Reviewer – This role is an external viewing role. It will grant viewing access for all dashboards on the Portal, but restricts the user from performing actions.
Merchant Order Admin – This role is assigned to users who can have permission to create, view and modify orders with Order Service and MOP UI. It is complimentary to the MERCHANT_ADMIN role, meaning this can be added to a user which also has the MERCHANT ADMIN role.
CP Section
Components & features
Permissions

Merchant Admin

Merchant Order Admin

Merchant Reviewer

Merchant Supervisor

Merchant User

Merchant Cashier

Administration — Merchant Account Configuration & Onboarding

 

Organizations
Create
No

No

No 

No 

No 

No 

Read

Yes 

Yes

Yes 

Yes 

Yes 

Yes

Update

No 

No 

No 

No 

No 

No 

Delete

No

No

No

No 

No 

No

Secure Card Capture

Yes

Yes 

No

No

No

No

Token Scope

Yes

Yes 

No 

No 

No 

No 

Payment Provider Contracts

 

Create

No

No 

No 

No 

No 

No 

Read

Yes

Yes 

Yes 

Yes 

Yes 

No

Update

No 

No 

No 

No

No 

No 

Delete

No 

No 

No 

No 

No 

No

See Fees

No 

No

No 

No 

No 

No 

Points of Interaction

 

Create

Yes

Yes 

No 

Yes 

No 

No

Read

Yes 

Yes 

Yes 

Yes 

Yes 

Yes 

Update

Yes

Yes 

No

Yes 

No

No 

Delete

Yes 

Yes 

No 

Yes 

No

No 

3-D Secure Contracts

 

Create

No

No

No 

No 

No 

No 

Read

Yes 

Yes 

Yes 

Yes 

Yes 

No 

Update

No 

No 

No

No

No 

No 

Delete

No 

No 

No 

No 

No 

No 

Enable/Disable

No 

No 

No 

No 

No 

No

Read Password

No 

No 

No 

No 

No 

No 

Wallets
 
Create

No

No

No

No

No

No

Read

Yes

Yes

Yes

Yes 

Yes 

No

Update

No 

No 

No 

No 

No 

No 

Disable

No 

No

No 

No 

No 

No 

Users
Create

Yes

Yes

No

No

No 

No 

Read

Yes 

Yes 

Yes 

No 

Yes 

No 

Update

Yes

No

No 

No

No

No 

Delete

Yes 

No

No 

No 

No 

No 

Self Read

Yes

Yes 

Yes 

Yes 

Yes 

Yes 

Self Update

Yes 

Yes 

No

Yes  

Yes

Yes 

Reset Password

Yes

No

No

No 

No 

No 

Create API key 
Yes
Yes 
Yes
Yes 
Yes 
Yes 
Blocking Rulesets
Create

Yes 

Yes 

No 

No 

No

No 

Read

No

No  

Yes

Yes

No

Yes 

Update

Yes

Yes

No

No

No

No

Delete

Yes 

Yes

No

No 

No 

No 

Notification Service
Create

Yes

Yes  

No 

Yes

No 

No 

Read

Yes

Yes   

No

Yes

No

No

Update

Yes

Yes 

No

Yes

No

No 

Disable

Yes 

Yes 

No

Yes

No 

No  

Added Value Services
Fraud Providers
Create

No 

No 

No 

No 

No

No 

Read

No 

No

No 

No

No

No

Update

No 

No

No 

No 

No 

No 

Disable

No

No

No

No

No

No

Payment Tools
Virtual Terminal

 

Access

No 

No 

No 

Yes 

No 

Yes 

View

No 

No 

No 

Yes 

No 

Yes 

Create & Initiate payment / void payment

No 

No 

No 

Yes 

No 

Yes 

Capture payment / refund / cancel

No

No  

No 

Yes

No 

No 

Pay by Link

 

Access

No

No 

No 

Yes

No

Yes 

View PbL list
No

No

No

Yes 

No 

Yes 

Create link 

No 

No 

No 

Yes 

No 

Yes

Reenable link

No  

No  

No  

Yes  

No  

Yes 

Disable link

No   

No   

No   

Yes 

No   

Yes 

Reporting & Analytics

 

 

 

 

 

Transaction Reporting

 

Access

Yes

Yes

Yes 

Yes

Yes 

Yes 

View transaction list

Yes 

Yes 

Yes 

Yes 

Yes 

Yes 

Transaction details: history, actions, details, customer, documents

Yes 

Yes 

Yes 

Yes 

Yes 

Yes 

Export CSV

Yes 

Yes 

Yes 

Yes 

Yes 

Yes 

Refund

No 

No 

No 

Yes 

No

No 

Capture

No 

No 

No 

Yes  

No 

No 

Void

No

No 

No

Yes 

No

Yes

Access Receipts

Yes 

Yes 

No 

Yes  

No 

Yes 

Void Capture

No

No

No

Yes

No

No

Settlements
Read

No 

No 

Yes

Yes 

Yes 

No

Monthly Invoice Summary

Read

Yes  

Yes  

No 

Yes 

No 

No 

3-D Secure Authentications
 
Access

Yes   

Yes   

Yes   

Yes   

Yes  

Yes

View

Yes    

Yes    

Yes    

Yes    

Yes

Yes

Report Scheduler
View

Yes    

Yes    

No 

Yes    

Yes    

No 

Generated Reports
View

Yes    

Yes    

No 

Yes    

Yes    

No 

Payout Report
View

Yes    

Yes    

No 

Yes    

No 

No 

Payment Analytics / Dashboard

 

Access

No 

No

No

Yes

Yes 

No 

View

No  

No  

No  

Yes 

Yes 

No 

Device Management

 

 

Devices Report
 
View

Yes

Yes

No 

Yes

Yes

No 

Chain of Custody

 

View

Yes

Yes

No 

Yes

Yes

No  

Create / Edit

Yes

Yes

No 

Yes

Yes

No