Last updated: 21-Dec-2022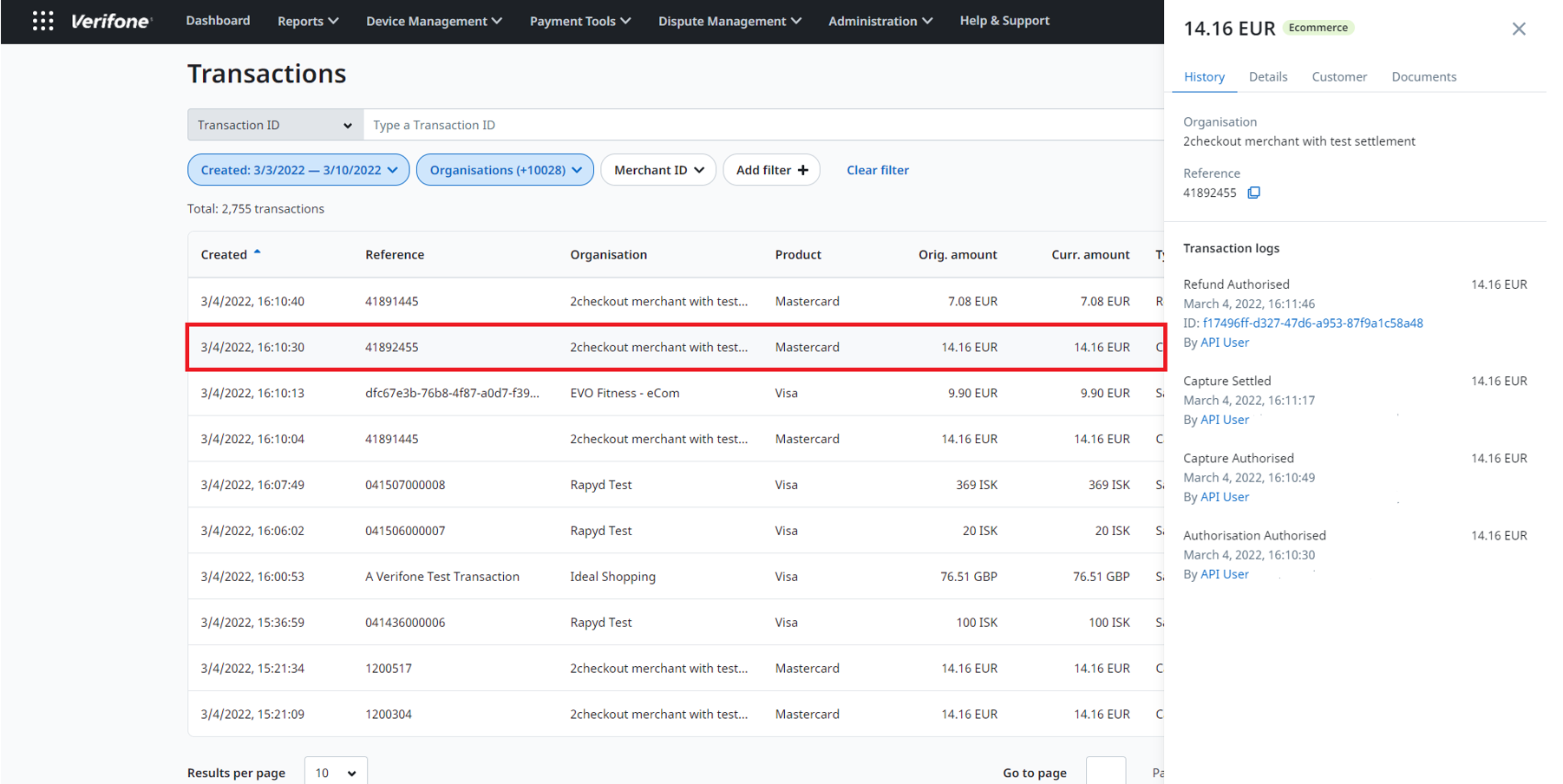 Click a particular transaction to see additional details about the transaction:
Organization: The organization associated with this transaction
Reference: The transaction reference number. For New Zealand in-store EFTPOS terminals, this is the RRN
Channel: Where the sale originated, i.e., on a terminal or online. If the channel is given as 'POS', this means the transaction was processed on a terminal in-store.
Click on the tabs to see more information about the transaction:
History: Past transactions with their log information: date, time, amount, currency, user
Actions: Operations that can be performed on each transaction such as: Capture, Void and Refund. The actions available depend on the type and status of the transaction.
Details:  More detailed information on the transactions including organization, settlement status and 3DS details. See the Report column section below for more information.
Customer: General customer information such as name, billing and shipping address.
Documents (Available in limited regions):  The tab enables the option to resend either the Merchant or Cardholder Copy of the transaction receipt. After clicking the appropriate button, you will need to enter an email address.


(Available in Israel) 

You are also able to see the Invoice4U identifier of the receipts below the Merchant and Cardholder Copies
You have the option of e-mailing the Merchant and Cardholder Copies

(Available in France) Merchants using Cartes Bancaires services also have the option of e-mailing copies of the Merchant and Cardholder receipts
(Available in New Zeeland) Merchants using Australia and New Zealand Bank and MPGS acquirers also have the option of e-mailing copies of the Merchant and Cardholder receipts.
For retail (in-store solution), the receipts will be displayed in a similar way as for ecommerce receipts, in the Transactions section from Verifone Central under the "Documents" tab. However, some specific particularities may appear depending on countries/regions.
Mexico retail solution supports the following cards: Amex, Mastercard, Visa, Carnet. The receipts can be sent by e-mail and seen in browser in Verifone Central application. The supported receipts types are the following:
Sale
Sale + TIP
Sale + QPS
Sale +  installments
Sale + BBVA points
Check in
Check out
Refund
Void
The receipts will not be sent automatically to the shopper's mailbox, after creation. They will be saved and will be available, in Verifone Central, when merchants will need to manually send a receipt to their mailbox. The receipts are accessible for a minimum of 180 days.