Last updated: 10-Jul-2023
Overview
Invoice4U is an application which provides digital invoices and receipts for any transaction. It helps merchants streamline the process of digital invoicing. Each time the new sale order is created, the application issues a tax invoice and/or receipt, as required.​
If you are a merchant from Israel, who already has an Invoice4U account, you can use Verifone's Invoice4U value-added service so that Verifone will provide transaction information to Invoice4U on your behalf.
As a merchant, you can capture all the required transaction information via Verifone's various integration types: Virtual Terminal, Pay by Link, checkout and ecom API (by server-to-server integration). Once the transaction is captured, you can access your Invoice4U account and see all the relevant payment documents there.
Availability
Invoice4U via Virtual Terminal and Pay by Link is available for the following roles:
Merchant Cashier
Merchant Supervisor
Requirements
To use Invoice4u Payment Documents, a merchant will have to have a Receipt contract ID set in Verifone Central.
A Payment Document via Invoice4U will only be generated if the Transaction Type and Status are eligible, either of the following:
Sale (Authorization):

Type = Sale, Status = Authorized/Settled

Type = Capture (after capturing an Authorization)

PreAuthorization
Workflow
The document is created only after a transaction is captured and is sent automatically to the customer's email address and available in your Invoice4U account. To deactivate this feature, please contact a Verifone representative. 
Activate Invoice4U
To activate Invoice4U, contact your Verifone merchant representative.
During set-up, you will receive your Invoice4U credentials and a Verifone administrator will set Invoice4U as your documents provider in your Organization entity.
To do the onboarding for Invoice4U, you will have to provide the API token from your Invoice4U account to the Verifone onboarding team through a secure channel (e.g., PGP encryption, not by email). See below image for reference from Invoice4U app: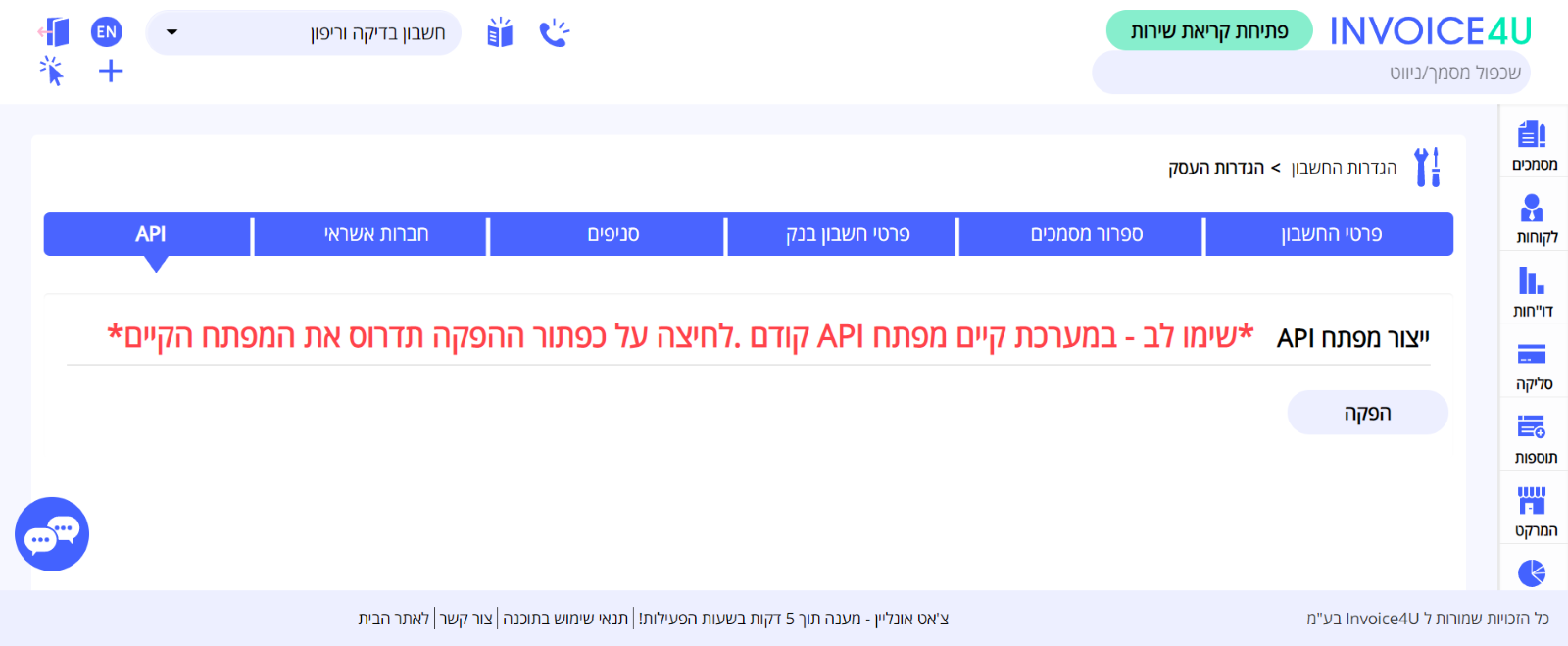 Integrate Invoice4U
There are four integration types available:
Reporting
The Invoice4U document is available in Verifone Central under Documents tab from Transaction Report section.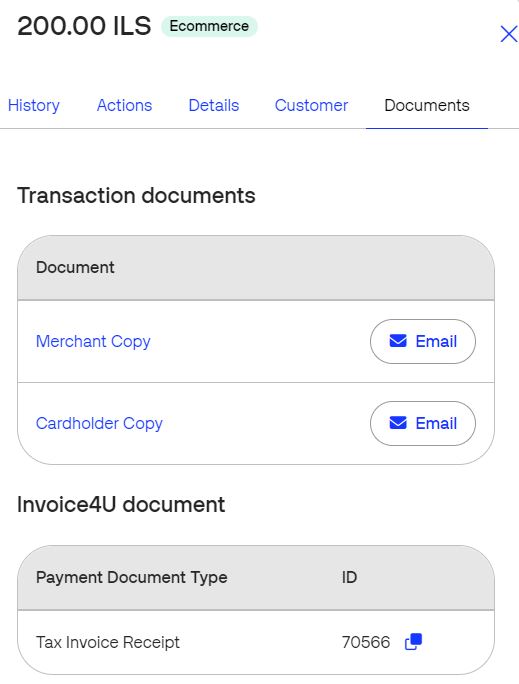 The Payment Document types are:
Tax Invoice

Receipt

Tax invoice receipt
These are also available in the exportable full CSV report from your Verifone Central account.