Last updated: 09-Dec-2022
Overview
Verifone Hosted Tokenization offers a seamless Omnichannel solution with an additional layer of security across all retail sales channels, including in-store, online, and telephone payments. 
Many retailers have multi-channel operations with brick-and-mortar stores using payment terminals, call centers taking payments via phone and eCommerce environments processing payments over the internet.  
Omnichannel Tokenization means that tokens can be generated and used interchangeably between different sales channels. The goal of omnichannel tokenization is that it should not matter what was the Sales Channel that requested the Token, it is possible to create and use a token also cross-Sales channels.
Through Omnichannel tokenization we map the customer journey and take a proactive technical approach to simplify and enhance the journey of consumption. By tokenizing in the core, we can create what typically seem complex links across multiple channels to provide more fluid experiences.
Benefits
Same token is accessible from all channels which simplifies and enhances the purchase journeys for the customer.

Less impact on the customers who are migrating to a new channel, by being able to use on the new channel the tokens that were created on the old channel.
Use cases
Use case 1: The Cardholder pays for a product via a POS Terminal in a Retail Shop and the Merchant convinces him to also use an extra service, their Shop's monthly vitamin delivery service. The Cardholder agrees that he would like to also sign up for this subscription delivery from that Shop, therefore, he consents that his Card details can be saved for later use. During the Transaction, the POS Terminal triggers the creation of a Token. Afterward, the regular payments for the subscription will be automatically processed via the Token, the card data not being necessary anymore.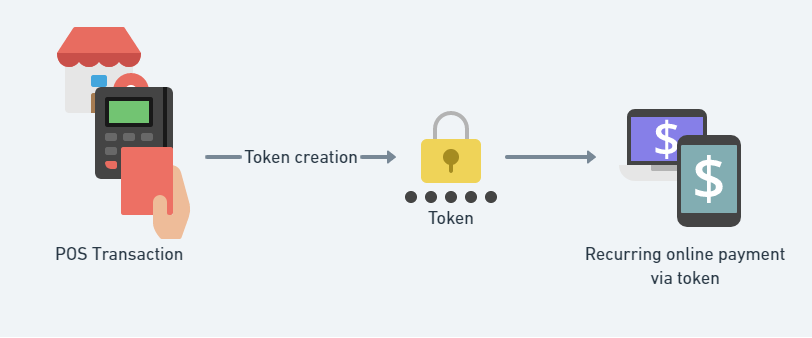 Use case 2: The cardholder buys a product from the merchant's online store. During checkout, the cardholder signs up for a customer account and authorizes the merchant to store their card details for future payments. His tokenized payment data is saved with the account. Later that week he visits a physical store of the same merchant and uses his credit card when buying a new product. The system recognizes the cardholder and the payment will be processed via the token previously generated and not by using the card data.