Last updated: 31-Mar-2022
Overview
Swish is a Swedish payment method that allows shoppers to accept online payments in-app. It has more than 7 million users and is owned by the largest banks in Sweden using account-to-account payments. By offering Swish to your shoppers as an online payment option for online web shops, both on desktop, tablets, and smartphone devices, you can make your business more attractive to customers in Sweden.
Availability
Swish is available to shoppers in Sweden who use Swedish krona (SEK) to pay online.
Benefits
Increased conversion and buying as Swish is the preferred payment method in Sweden
Attracting a larger customer pool that prefers using Swish to pay for online purchases
Simplified payment acceptance across different sales channels 
Swish has a year-on-year growth of 53% 
Workflow
Swish Checkout (HPP) Flow
To use Swish during the checkout flow, the shopper needs to download the Swish app on their phone, sign into their internet bank, and connect their phone number to one bank account. Shoppers also need to download Mobile BankID for identification purposes.
The shopper initiates an online payment from either the desktop/laptop browser or on their mobile phone and proceeds to the checkout by choosing to pay via Swish.
The shopper proceeds to checkout, inputs their phone number, and clicks Continue with Swish.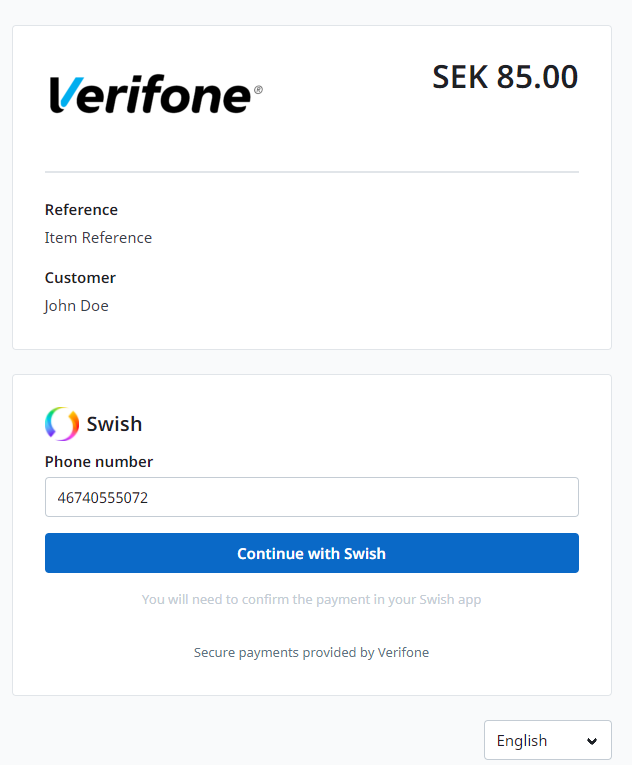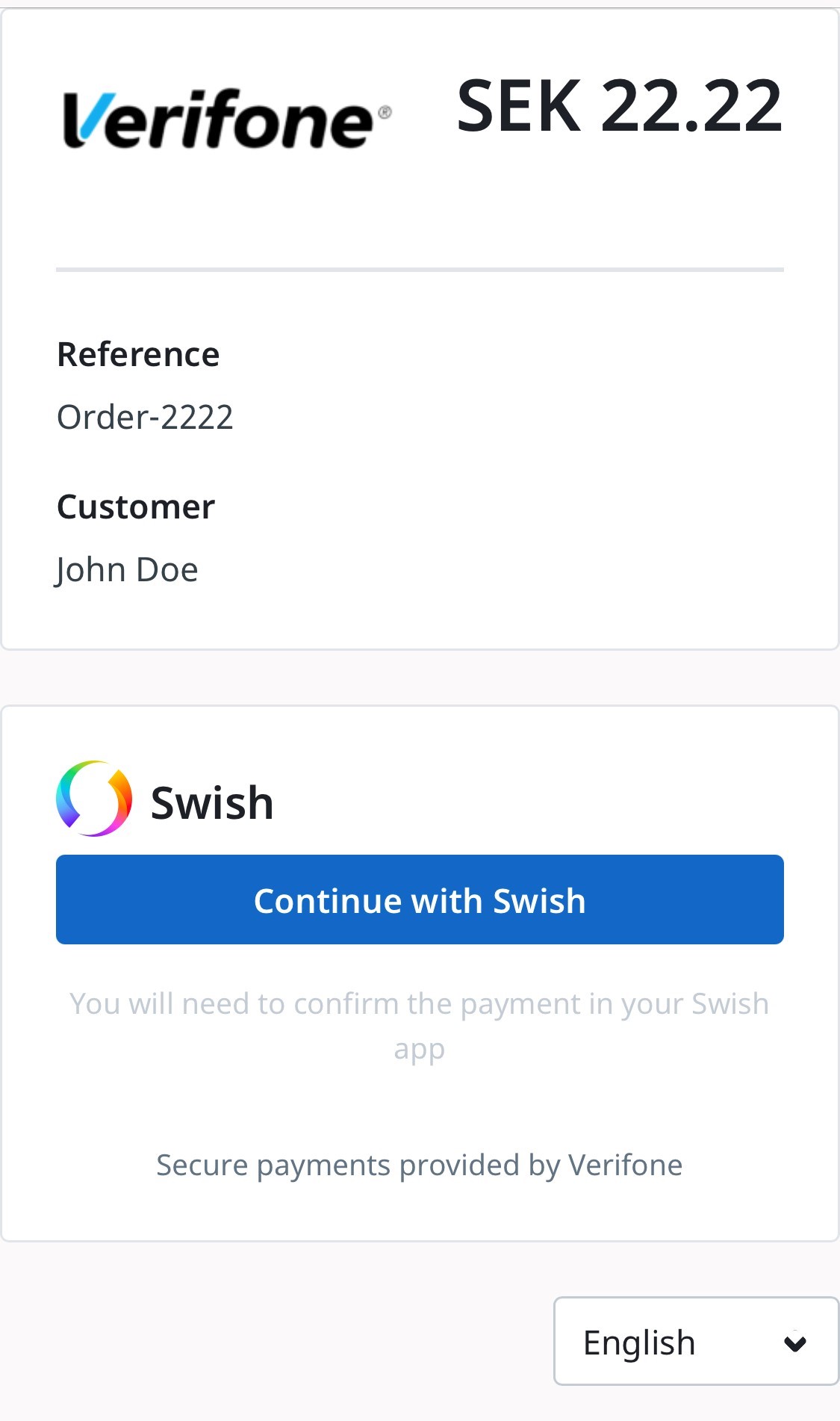 3. The shopper is then prompted with the message "Check your Swish app for a payment request". 
 4. The shopper opens the Swish app to approve the payment.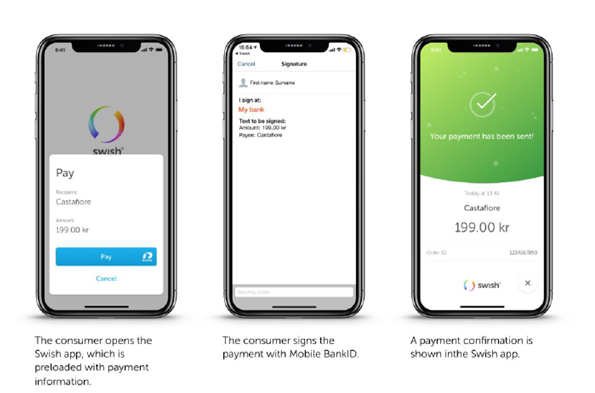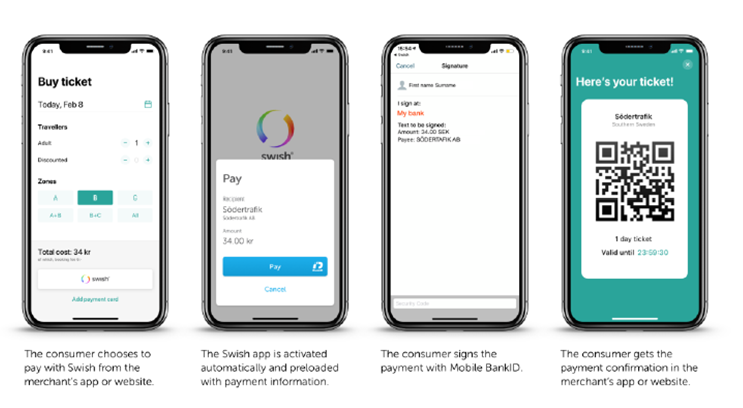 5. The payment is approved and signed with BankID app. 
 6. The shopper sees on the Swish app and HPP page that the payment was successfully approved.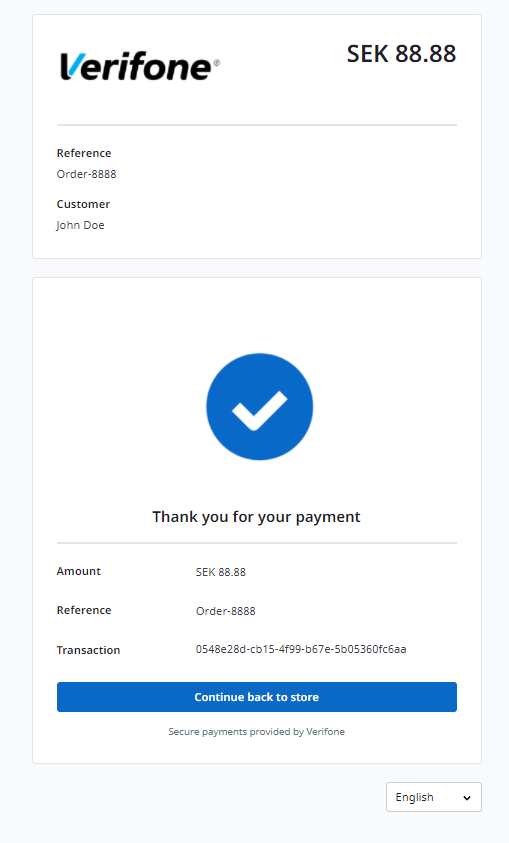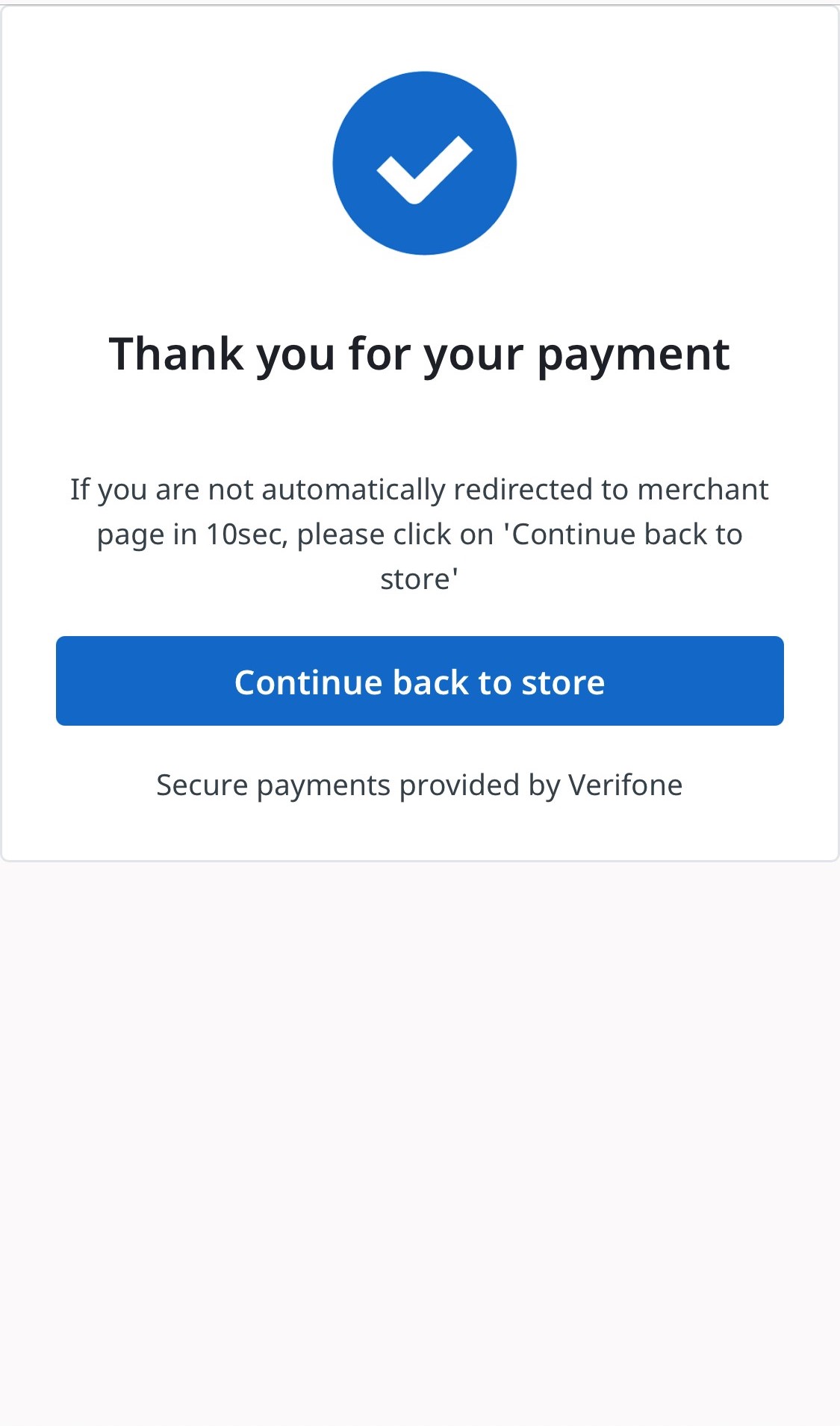 7. The shopper can check in the Transaction History section in the Swish app that the payment was successfully finalized. 
Activate Swish
Merchant onboarding on the Swish side
The merchant contacts their bank to register for Swish online. Swish is offered by the largest banks in Sweden. Each bank is responsible for offers, terms, and eventual charges for the service provided to their customers. For information regarding the terms and conditions for using Swish, merchants need to visit their bank website.
The bank will connect the merchant's Swish number with Verifone, as a technical supplier,

 also known as Partner, and helps merchants integrate with Swish.
Merchant Onboarding on the Verifone side
A Verifone admin helps you with your new settings in Verifone Central. 
The Verifone admin creates and enables a Payment Provider Contract (PPC) for you, which is associated with the Organization.
The PPC should include the following information for Swish eComm:  


Service provider - Swish
Sales channel - eCommerce 
Merchant ID - Swish number is mandatory (string, numeric 10 digits, starting with "123..." for merchants)
Currencies - only Swedish Krona (SEK) can be selected for this payment method
Payment Types - Swish is prefilled

You will then receive the onboarding email notifications that inform you about the creation of your account and the setting of a username and password so that you can access Verifone Central.
Integrate Swish as a payment method
You can accept payments through Swish via:
Checkout (Hosted Payments Page - HPP)
Verifone's eComm API (payment modification only) 
Payment actions
By using Swish with automatical capture, you can perform the following payment modification: refund and cancelation will be made by the system if the sale is in sale-initiated status and there are timeouts or system issues. 
You can perform the following payment actions using Swish, either via Verifone Central or via the Verifone eComm API.