India local processing and card support
Last updated: 21-Sep-2022
Overview
In 2020, India reached an internet user base of about 700 million, about 52% of the population. But despite being the second-largest user base in the world, only behind China (930 million, 67% of the population), the penetration of eCommerce is low compared to more mature markets like the United States (284 million, 87%), or France (82% of the population).
However, the online market is growing in India at an unprecedented rate, adding around 6 million new users every month, and is expected to surpass the US to become the second-largest eCommerce market in the world by 2034. Revenue in the Indian eCommerce market is projected to reach US$45,894m by the end of 2020.
Key payment methods
Credit and debit cards are a popular payment method for eCommerce in India, though other local card brands such as RuPay, and digital wallets are also preferred (the most popular being NetBanking). However, most online shoppers in India still prefer to pay COD (cash on delivery) for their purchases.
Types of payment methods preferred by shoppers:
COD - 60%
Credit cards – 17%
Debit cards – 13%
Net Banking – 9%
EMI - <1%
3rd party/digital wallets - <0.5%
Benefits of local processing
Increase local processing options for merchants in India
Improve authorization rates
Enables Indian shoppers to pay with their preferred methods
Enable entry for international clients and increase sales into one of the largest markets in the world
How to integrate with a local payment processor
Currently, 2Checkout offers integration with a local payment processor in India. If you sell in India, you can follow these simple steps below to integrate with our local processor there:
Log in to your Merchant Control Panel.
Navigate to Setup → Ordering options.
Click on the Payment methods tab.
Click on the Edit button for the Visa/MasterCard payment method.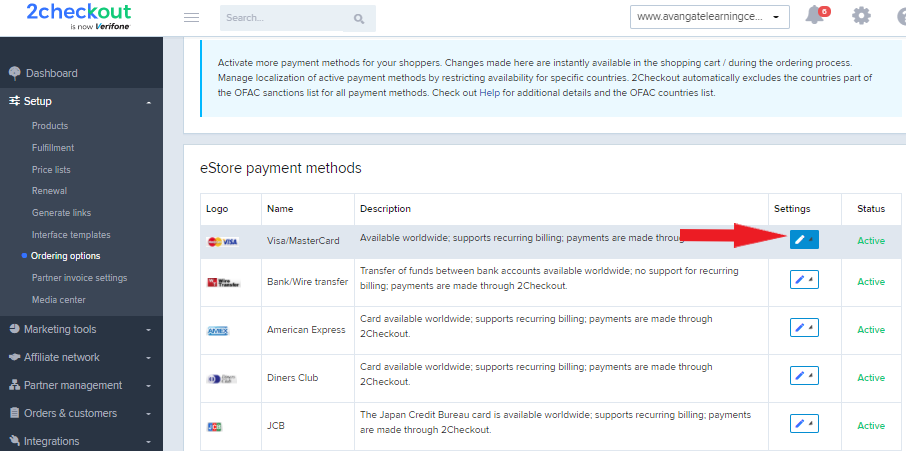 5. When prompted with the checkbox selection, tick the India option to request the activation of domestic cards in this country.