Follow-up unfinished instant payment methods
Last updated: 20-Apr-2022
Overview
2Checkout automatically sends out the Follow-up unfinished Instant payment methods email as part of the overall strategy to increase the conversion rate for new purchases. Shoppers receive unfinished payment follow-up messages if they place orders, but 2Checkout cannot successfully complete transactions and collect funds. This notification makes it easy for customers to return to the shopping cart and finalize a purchase without having to go back through the ordering process.
Availability
The lead management set of tools is available for 2Monetize accounts (merchants on the Reseller business model).
Follow-up emails
2Checkout sends out follow-up messages for unfinished payments made using one of the following payment methods:
Instant payment methods (Visa/MasterCard/Eurocard, American Express, Diners Club, JCB, PayPal, Discover/Novus, Chinese Debit Card, 支付宝 (Alipay), WebMoney, iDEAL, sofortbanking.com).
Online direct debit.
Failed transactions can happen because of various reasons, such as expired cards, insufficient funds, authorization declined, etc.
You can add follow-ups, up to a maximum of 15 notification emails.
Email content
The email includes:
Link to the shopping cart for the retry.
Alternative payment methods to finalize the purchase.
Order, product, and subscription details.
Sample emails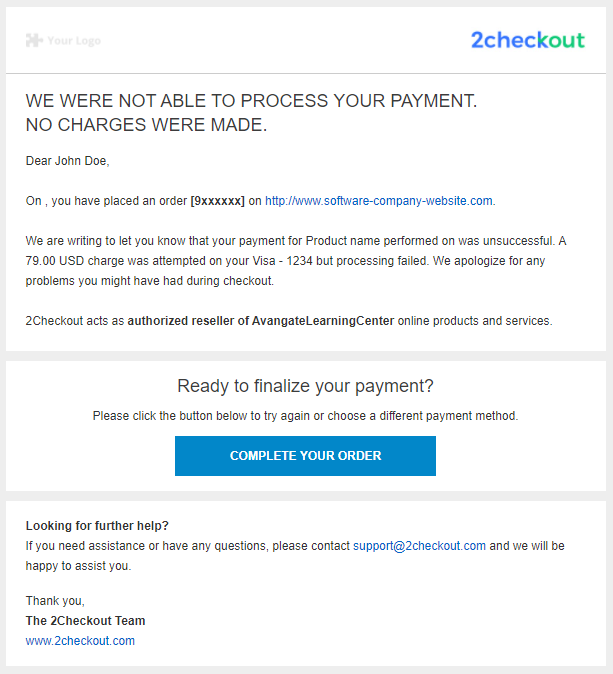 Preview and test the email
Navigate to the Email template manager section to:
Preview and test current templates for emails sent to your shoppers
Customize the header and the footer sections by creating custom templates you can assign to your emails
Access the Follow-up unfinished Instant payment methods email under the Follow-Up section.
Why don't I see the new template for this email?
The redesigned template for this email has automatically replaced default templates.
If your preview of the follow-up notification does not show the new template, you are most probably using a customized version that includes content and/or styling your company requested at a certain point in time.
You can compare the above sample to your current template and send us an email if you decide the new one suits your business needs better. We will work with you on the switch.