2Checkout Customer myAccount
Last updated: 24-May-2022
​​Overview
2Checkout myAccount is designed to centralize information on your shoppers and their activities in the 2Checkout network, including order status and evolution, transaction data, product, subscription, and subscription history as well as personal customer information.
Equipped with a collection of subscription and product management capabilities, 2Checkout myAccount streamlines a variety of tasks from renewing a subscription to ordering upgrades, downloading product files, accessing subscription keys/codes for purchased products, viewing order details (including status information), verifying payments, downloading and printing invoices, getting support, etc.
Your shoppers can access 2Checkout myAccount through a secure, encrypted connection at https://2co.com/. You can also host myAccount on your own custom domain and offer a unified shopping experience.
Shoppers are automatically registered into 2Chekcout myAccount when they first place an order on your website if you're taking advantage of the 2Checkout platform. They need the email address used during the ordering process or the order number to receive all their login credentials, including a password. At the same time, shoppers can easily log in to their account using their Google, Yahoo! or AOL ID, without the need to know the password that was set for their myAccount.
Sell worldwide and leverage 2Checkout's newest ordering engines to offer shoppers a seamless and customized buying experience. Download this solution brief to learn how!
Home page
The 2Checkout myAccount home page offers shoppers an overview of their orders and links to additional details for each purchase. Additionally, they can subscribe to news about product updates, software deals, and releases from 2Checkout partners. They can opt-in or opt-out from various 2Checkout marketing programs and access myAccount support.
Order Lookup
Your shoppers can use myAccount to track the evolution of orders from the moment they were placed to delivery/fulfillment.  
After logging in to myAccount, customers need to click the Order Lookup tab. Provided that they have a valid purchase reference and the email address used when placing the order, they can leverage Order Lookup to track order status in real-time. 
In addition to getting status information, Order Lookup can also be used to search for transaction details. This feature enables your shoppers to monitor the payments made through the 2Checkout system and receive all their details. They first have to provide the first and last four digits from the card used in the transaction, the total amount paid, and the currency. If the information supplied matches payment data in the 2Checkout system, the system offers additional transaction details via email.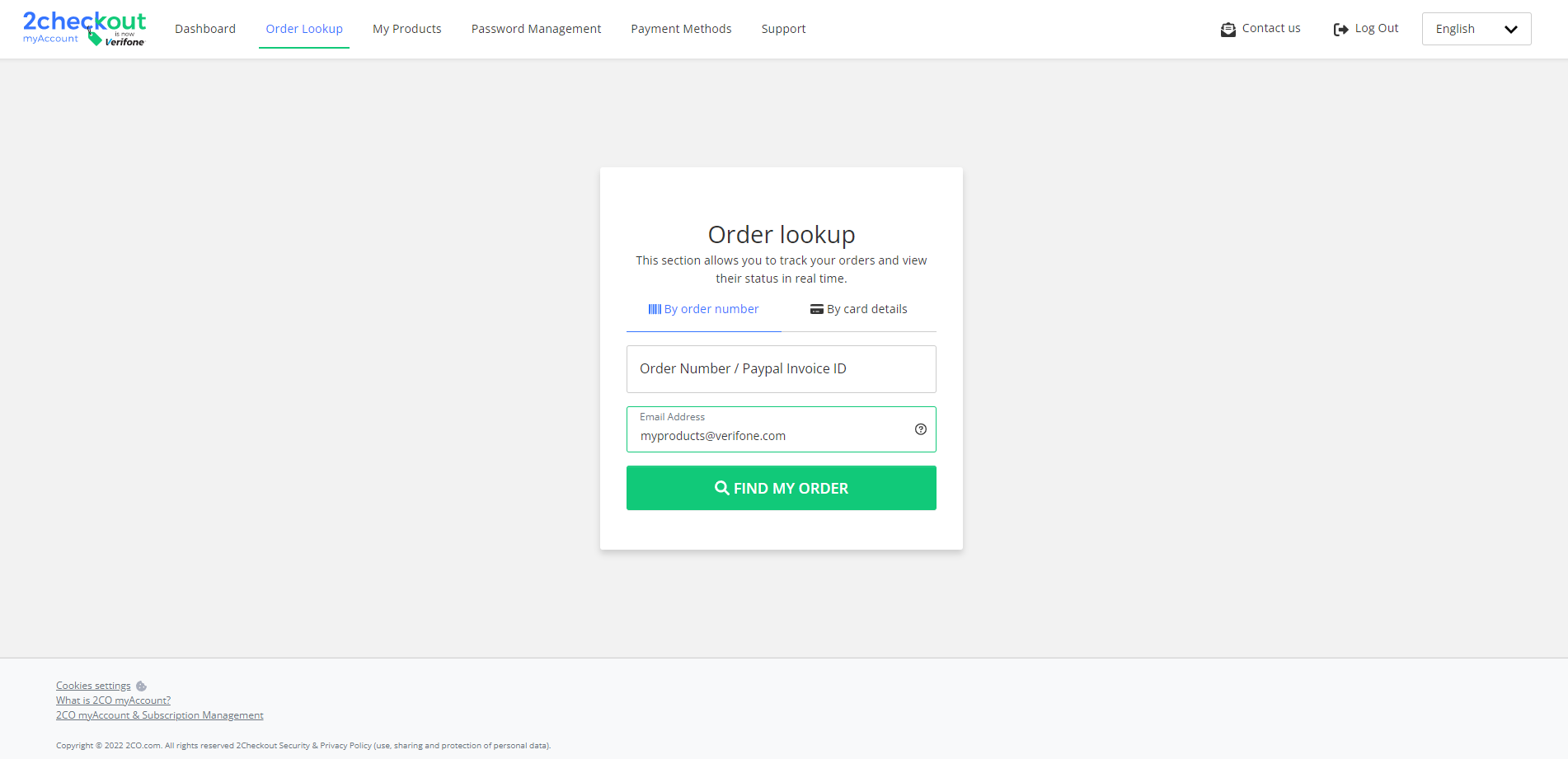 Both examples of the functionality described above are available regardless of whether your shoppers logged into their myAccount or not. However, it's recommended that they create a myAccount and log in to access complete order and product/service data.
My Products
Your shoppers can:
View detailed information of all products/services purchased through 2Checkout;
Access the complete details of each product/service, including subscription status, reference number and history, costs, invoice, delivery and billing information, registration info, product history, subscription reference, and expiration date;
Gain insight into per-product subscription-specific history in the 2Checkout eCommerce system including all changes and amendments, renewals, upgrades, and subscription settings modifications;
Manage subscriptions and configure the settings of the renewal process and associated notifications. The option to disable automatic subscription renewals is also available;
Renew (on-demand) subscriptions of purchased software (the Renew now link only becomes visible when a subscription is at 90 days or less from expiration);
Upgrade (on-demand) products; 
Retrieve keys and codes;
Download product files. If the Download Insurance Service is selected, files download links of the purchased software will continue to be available for up to two years from the purchase date;
Change and update payment information for subscriptions;
Re-enable the auto-renewal system of subscriptions on-demand;
On top of disabling the auto-renewal system for subscriptions/licenses, 2Checkout allows myAccount users to re-enable the option and have subscriptions renewed automatically per the recurring billing configuration of products.
Re-enabling the auto-renewal system requires the subscription to not have any of the following statuses:
lifetime
imported
trial
disabled
In addition to the above requirements, the payment terminal must support auto-renewal, and the reference of the transaction made for the previous order needs to be available.
Subscription renewals
2Checkout myAccount features a set of subscription management capabilities, enabling shoppers to easily deal with the renewal process of existing subscriptions.

Clicking Upgrade now redirects users to a shopping cart that is pre-filled with the data stored in 2Checkout (also available in their myAccount), where they can proceed to prolonging the subscription/buying a subscription renewal. The purchase process involves reviewing the existing details and making sure they're correct, entering financial information for the transaction, and placing the order.
When purchasing subscriptions, shoppers can choose to enable auto-renewals/recurring billing. If enabled, the feature automatically renews subscriptions before they expire, avoiding any usage interruption. This service is provided through highly secure protocols in compliance with PCI-DSS standards.
Shoppers can cancel auto-renewal any time by logging in to their 2Checkout myAccount and clicking the Stop automatic subscription renewal link or by following the instructions in the subscription expiration notification email. Shoppers can also use myAccount to configure the setting of automatic email subscription expiration notifications.
Upgrades
Customers can manually order upgrades, when they're available, from their myAccount. 2Checkout redirects shoppers to a checkout interface where they can configure the upgrade details in accordance with their preferences. 
Order details 
Product history becomes available as soon as the first change in the licensing of a product/service is performed, whether it's an action executed by the customer or an automated task, such as auto-renewal. Once it's available, shoppers need to log into their myAccount, and access to product history will be available by clicking on the product name or on the Product history link. At the bottom of the page, the 2Checkout system will list all licensing changes track, enabling customers to easily get even more information, such as the order details for renewal, for example.
Unlike product history, purchase details are available for orders successfully placed, even if not finalized/delivered. Clicking on the order reference number for each purchase provides access to a complete set of details including status, reference number, and evolution, costs, invoice (complete with print and download options), delivery and billing information, download links, registration info, product history, subscription reference, and expiration date.
Download product files and keys/codes
Shoppers can find product file download links and keys/codes on the My Products page. Activation keys/codes are listed under Registration info, along with additional delivery information. Customers need to click Download product to access the product file associated with the offering. When the DIS (Download insurance service) is enabled, your shoppers will enjoy an extended life span of the download link for a total of two (2) years. DIS also allows them to download the item an unlimited number of times.
Both keys and download links are also available when clicking the order reference number to access the complete details of a purchase.
Password Management
Your shoppers have control over changing their myAccount password:

Support
Should your shoppers require it, they can also get help to use 2Checkout myAccount by visiting the Support section.
Change and update billing data
2Checkout myAccount capabilities enable your shoppers to make sure that the subscriptions they acquired from you will not suffer any interruptions. Payment data can be updated only for subscriptions with auto-renewals enabled. This implies that shoppers need to use a payment method that supports recurring billing, namely credit or debit cards, PayPal, or Direct Debit. Payment data for any of the methods mentioned above can be switched with cardholder information.
While shoppers can provide new credit/debit card details to update/replace the initial payment method used, they won't be able to switch auto-renewal transactions from a credit/debit card to PayPal or Direct Debit.
Shoppers need to click Update card info to enter the new payment details. This will ensure that shopper billing information is always up to date and that charges for renewal orders will take place without any issues.
The 2Checkout system is designed to automatically generate and sent out notifications when a credit card or a debit card cannot be charged in scenarios in which automatic renewals are enabled for the product or service shoppers purchased from you. The notifications offer subscribers the chance to log into their myAccount and update their card details.
Add/delete PayPal flow
Regardless of the myAccount layout, shoppers can add and or delete PayPal to/from multiple recurring subscriptions. They can also change the payment method associated with their subscriptions from any payment method to PayPal, from PayPal to card, or from one PayPal account to a different one at any point.
Find our more on how to add/delete PayPal account to/from multiple recurring subscriptions.