Last updated: 09-Nov-2021
Overview
The Affiliate Network module can help you generate extra revenue with the help of an external sales force our affiliates can bring. Use the marketing power of affiliates to sell more and increase your revenue and consumer base. Merchants in the 2Checkout network make up to 25% of their revenue via affiliates.
The Affiliate Network can help you:
Boost sales. According to statistics from the 2Checkout system, a merchant selling mainstream software can increase sales by 10%-15% on average when leveraging the 2Checkout Affiliate Network.
Associate yourself with strong voices in the industry.
Get worldwide product and brand awareness. Our affiliates speak every language in the world and can recommend your products to their local or worldwide audiences.
Have your products sold by other companies working with 2Checkout. See cross-selling for more details.
Get started with the Affiliate Network
Enable the Affiliate Network module
Go to Affiliate network -> Settings.
Decide how to approve your affiliates.


Manually approve each affiliate (you need to periodically review the Pending Relationships section and analyze affiliate partnership requests). By choosing a Manual approval policy, you can easily filter the affiliates in your program and focus on developing partnerships with the ones that match your requirements.
Let 2Checkout approve them automatically following a review process.
Commission
Specify the commission you are willing to offer for each successful sale (pay-per-sale model). The default commission is 25%. You can offer an affiliate commission of up to 75%. Change this commission according to your policy. All of the settings enumerated here can be modified at a later date. Contact 2Checkout directly if you wish to offer affiliate commissions larger than 75%.
Affiliates Network Settings
There are three distinct option menus:
Affiliates Network General Settings - the initial Affiliates Network General Settings configured when you activate the module. The default cookie life is set up for 120 days and represents the interval of time during which you are willing to award your affiliates a commission for sales they refer to. The countdown for the affiliate cookie life starts when shoppers click on affiliate links. You can modify cookie life from 30 to 180 days. For instance, if the cookie life is set at 120 days and the referred sale happens after 110 days, the affiliate gets the commission. If the sale happens after 130 days, the affiliate doesn't get any commission for that particular referral. Tip: From our data, most of the purchases take place within the first 24 hours, but for the affiliates' comfort, you can set the cookie life to its maximum: 180 days.
Affiliates sign-up settings. Define the commission lists your affiliates are automatically assigned through Link Source. For example, if you plan a marketing campaign offering a preferential commission to new affiliates, you will be able to automatically assign all new affiliates to a defined commission list. All affiliates sign-ups from the link specified in the Link Source field will be automatically assigned to the commission list you previously created for this campaign. Affiliates sign-up links and pages can be created from the Build your network menu.


| | |
| --- | --- |
| | Use this feature to create custom terms sign-up campaigns to your 2Checkout affiliate program. You can easily revert the commissions in case of a time-limited promotion (e.g. "Sign-up until August 31st and get 2 months double commission!") |

 

Create/edit a commission list. When activating the 2Checkout Affiliate module, you will already have a commission list created: "Default List". You can either edit that or create one or several new commission lists based on the products you sell through affiliates. The same product can be assigned to more than one list. The default commission for a list is 25% but you can change it according to your policy.
You have the possibility to define different commissions for each purchase type:
new purchases
trials (first purchase with a trial customer acquisition model; Trial can be free or paid and trial period can be customized, minimum period 7 days, default 30 days)
trial conversions (the first conversion after the customized trial period expires)
renewals (the first billing cycle after trial conversion in case of trials, or after purchase)
You can also define the number of renewals for which affiliates will be commissioned, or maintain the commission applicable for all subscription renewals.
In case you set the affiliate commission to 0 (zero), affiliates won't receive any commissions or notifications for customers' orders. Un-commissioned orders will not be registered in the affiliate reports, but are tracked in the Merchant Control Panel as orders generated by the affiliate.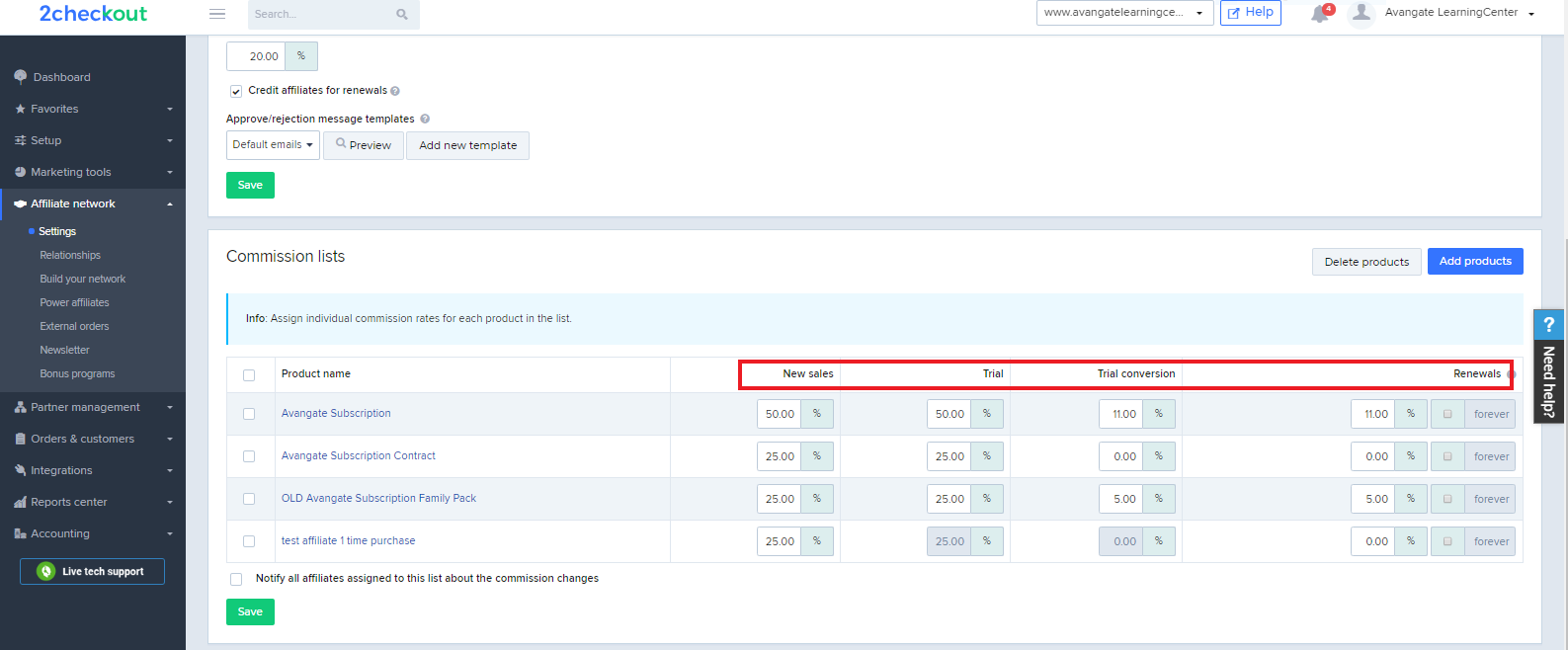 4. Terms and Conditions. Define your own Terms & Conditions regarding the affiliate marketing practices that your affiliates should adhere to. Enable the Add custom terms and conditions option and use the editor to insert and format the terms & conditions. Click Save settings when you're done and your affiliates will see the terms & conditions when they request a new partnership. The terms and conditions are subject to compliance approval, following a review done by 2Checkout. Once we approve or reject the custom terms and conditions, you will receive an email notification. Network cross-selling discount controls the incentives you offer for your products when used as cross-selling options by other merchants (which act as your affiliates, in this particular case).
Discounts
Inside a commission list, you can allow the assigned affiliates to generate discount coupons from their own commissions and specify the maximum amount for the discount. You enable affiliates to control the price of your offerings within a specified range and provide potential customers with better deals. The price difference is deducted from the affiliate commission. This type of marketing is ideal for affiliates running coupon/discounts oriented websites. Allow Affiliates the freedom to offer discounts from their own margin. This can help boost conversion rates on their part.
Credit affiliates for renewals 
The option to credit affiliates for renewals allows you to credit the 2Checkout affiliate that originally referred a sale with their commission for license renewals of the same product(s). The commission for license renewals will be the same as for the original sale. Enable this option if you sell software products that support license renewals / SaaS products.
Affiliate account statuses
Affiliate accounts can have one of the following statuses:
New - the affiliate account hasn't had any sales yet as it was just created
Active - the affiliate account has active sales and ongoing activity
Dormant - the affiliate account is in dormant mode following extended periods of inactivity 
Dormant account behavior 
Affiliates can log in to the 2Checkout Affiliate Control Panel.
The buy links they generated continue to work.
Their partner relationships are still active.
They won't receive any accounting emails while their account is marked as dormant.
While their account is dormant, they see a notification in the 2Checkout Affiliate Control Panel informing them about the account being under review.
As soon as we finish reviewing an affiliate account's activity, we remove the dormant status and inform the affiliates whether they need to take any further action.