Upselling campaigns for manual subscription renewals
Last updated: 18-Jan-2022
Enable upselling campaign for manual subscription renewals
Configure upselling campaigns to impact manual (in-cart) subscription renewals.
Go to Marketing tools -> Upselling.
Create a new upselling campaign or edit an existing item in this area.
Check the option Display campaign for manual subscription renewals.
Impact
Once enabled, this functionality impacts all manual (in-cart) subscription renewal flows, that shoppers access:
From renewal notification emails.
From their myAccount.
From custom emails where you include manual subscription renewal links generated using the 2Checkout API or that you create manually.
How do upselling campaigns for manual subscription renewals work?
You can set up up-sell campaigns to recommend a premium version of the same product or of a different products configured for your account when shoppers add to cart a primary product set up to trigger the special offer. You can:
Offer a discount (fixed or percent).
Change the product associated with the subscription.
Modify the quantity.
Amend the price options.
Example
In the example below, subscribers renew their subscription (initially generated for Product A) through a manual renewal and choose the recommended product (Product B) per the up-sell campaign configuration. As a result, their existing subscriptions change to reflect Product B's configuration and pricing, as well as the quantity and discount you set up for the campaign.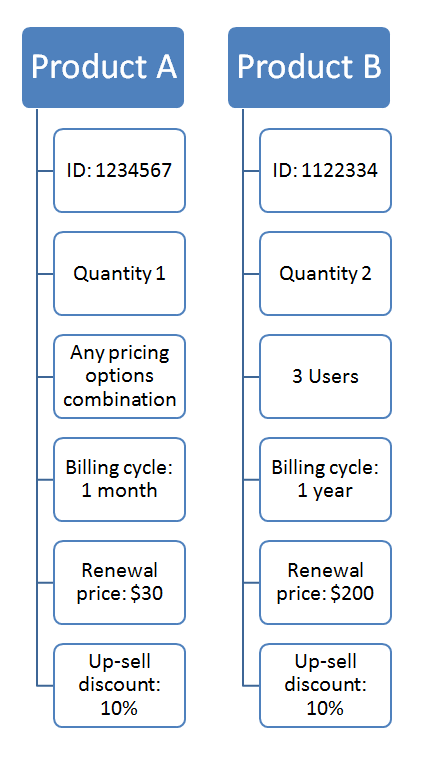 Does the initial subscription change?
Yes. The 2Checkout system does not generate a new subscription for renewals from up-sell campaigns, but the details of the initial subscription change to reflect the up-sell campaign settings, per the setup you made, including but not limited to:
Price
Price options
Subscription billing cycle
Quantity
Product
Renewal price
Your shoppers pay the renewal price you configured for the recommended product in upselling campaigns and not the new acquisition price. Furthermore, unless you defined specific pricing options for the upselling campaign, shoppers are able to change the price options in the cart.
Reporting
2Checkout includes sales generated through upselling campaigns for manual subscription renewals in the Upselling report. 2Checkout does not differentiate between new acquisition and manual renewal purchases when it comes to sales resulting from upselling campaigns.
FAQ
Does this feature impact manual trial conversion links?

2Checkout restricts the trial conversion process to the same product, billing cycle and price as the moment when your customer first accessed the evaluation version.​

Do upselling campaigns work with in-cart upgrade?


2Checkout does not support this functionality at this point in time.​

Do you prioritize upselling discounts?


Yes. 2Checkout will apply upselling discounts first of the triggered campaign. Upselling discounts take priority over auto-applied regular promotions.