Last updated: 24-Jun-2022
Overview
Apply discounts to the total order value, including taxes. Offers configured with Order Promotions are designed to discount a fixed amount from the total value of all products added to the cart during the shopping process.
Order promotions apply globally to all orders, and they apply to the order total value after taxes (such as VAT) are included.
Availability
Available for all 2Checkout accounts.
Example
2Checkout displays order promotions as an additional product added to the shopping cart, either automatically or after the shopper adds the coupon code.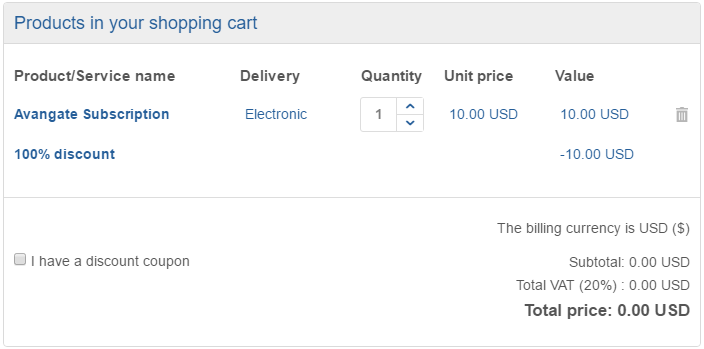 Adding an order promotion
Log in to your Merchant Control Panel account.
Navigate to Marketing tools → Promotions → Order promotions.
Click on Add order promotion.
Give the promotion a suggestive title and description. Shoppers can see the promotion title during purchase.


Add localized promotion names for any of the supported languages. The 2Checkout shopping cart automatically displays localized promotion names based on the selected shopping cart language.

Select when you want the promotion to run. You can limit promotions to a specific time interval or let them run indefinitely. To start a promotion as soon as you mark it Active, leave the start date empty. If you don't set the end date, the promotion will stop when the maximum number of orders has been reached or will continue to run if the maximum number of orders is unlimited.
Choose the coupon/voucher type:


Single - one voucher to impact multiple orders;
Multiple - individual and unique, per-order vouchers.

Choose whether to restrict the promotion to a number of orders, or apply it for all orders. This option is only available for single coupons.
Fill in the promotion coupon/voucher code. The maximum length of a coupon code is 255 alphanumeric characters.


Single: enter the coupon values manually
Multiple: either add the values manually one coupon per line or use the coupon generator available in the Control Panel to generate 5, 10, 20, 30, 50, or 100 vouchers at a time and either append them to an existing list or replace existing items. The generator creates random vouchers that resemble this: D8C10E32. 2Checkout recommends limiting the number of coupon codes to a maximum of 25000.

Choose whether or not to apply discounts automatically. Only available for single coupons. This option applies discounts to all selected products in all orders, without the need for shoppers to enter the coupon manually.
Choose whether or not to publish the promotion to the 2Checkout Affiliate Network.
Activate the promotion.
Click Save.