Last updated: 13-Oct-2021
Set up A/B testing campaigns for backup media options to identify the best way to offer backup media to your shoppers.
Requirements & limitations
The Backup Media Options A/B test will only be available if Backup Media Options are active for your account.
Important
When shoppers place the orders, the test is considered successful regardless of the order or payment status.
Setup
Go to the A/B Testing page and click Overview.
Click the New campaign button in the Backup Media options section. If you already have an unfinished campaign, click Edit.
Fill in the details of the new campaign, such as the campaign name, maximum number of tests and the date when the campaign should end.
Add the test variations by allocating traffic to each of them and selecting the desired Backup Media options.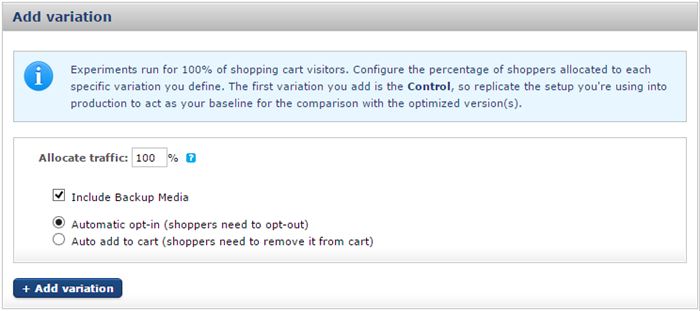 Click Add variation.
Repeat steps 4 and 5 until you have used the entire available traffic.
Click Save campaign.
Go back to the Overview tab and click the Start Campaign button when you want the campaign to begin.